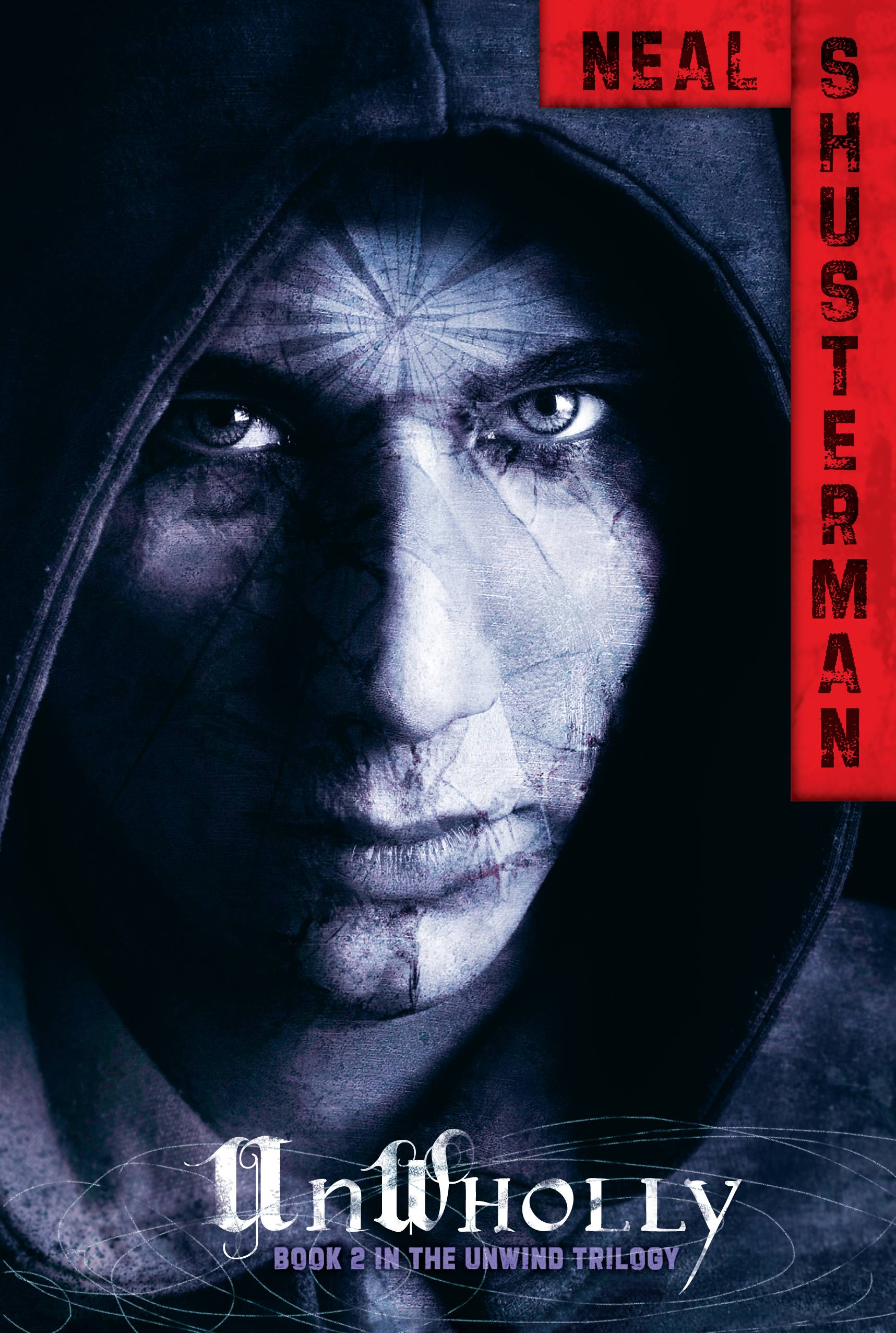 Author: Neal Shusterman
Title: Unwholly
Series: Unwind
Date read: 28 August to 31 August
Published: August 2012
Publisher: Simon & Shuster
Length: 402 pages
Genre: Young adult dystopian fiction
Why I picked it up: Loved the first book
Rating: 4 stars
Buy:
IndieBound
|
Chapters
| Check your local bookstore!
CONTAINS SPOILERS
This has been sitting as a draft for months! I read it immediately in the days following it's release, but for some reason I could never bring myself to blog about it. I'm still feeling reluctant but I really need to get this out of my drafts pile. I was planning on being one of those people who get a relatively early review up but nope, that clearly did not happen.
I never thought Unwind needed a sequel. I adore the book the way it is, and while there was lots more Shusterman could have written about, I was satisfied with the conclusion. When I heard the book was going to be part of a trilogy now, though, I was ecstatic. I loved the world Shusterman had built and the characters it inhabited and I was definitely interested in hearing more. If Shusterman wanted to write more, than I trusted to him to write more well – he did not disappoint! I didn't make a lot of 'general' notes while I was reading, I just specified bits I liked so here they are.
I absolutely adored Lev in this book. I think he is a great character – they all are (Connor, Risa, Hayden, etc.) but Lev really undergoes the most change and development. He was fantastic in this book. I don't usually have crushes on book characters but I think if Lev were in a movie I would probably have a crush on him. Which we can blame on Shusterman! He just writes Lev so well.
Through Miracolina, the religious beliefs debate plays an even larger role in this book than in Unwind with Lev. Props to Shusterman for tackling such a touchy subject head on. I love the dynamic between Lev and Miracolina; it adds a really intriguing dimension. I don't really want to talk about this too much here because a lot depends on whether Miracolina chooses to be unwound by the end of the trilogy. I'm reserving judgement on her character til then, because I'm not sure how I'll feel if Lev convinces her unwinding really is bad. This is a complicated subject that I can't really explain my thoughts well on because it's been a little while since I read the book, but basically – I'm on hold about Miracolina. She does make a great new character for Lev to play off, though!
Cam's thoughts – really interesting way to play that out (see page 47)
The ads throughout the book are really fascinating and provide some interesting perspectives the reader wouldn't get through the main characters. I particularly like the ad on page 63, from the perspective of a man who wants legal adult unwinding so he can unwind himself to support his family.
Parts pirates + illegal harvest camps = brilliant, logical idea I never anticipated.
Connor's reasoning as to why he should push Risa away made me tear up. These books are intense and have made me 'feel all the feels' but this was the first time my eyes actually watered. Heartbreaking. (For the curious – the note I wrote in my iPod was DAWWWWW poor Connor ;-;)(Page 105)
When I get very involved in a story, I am totally blind as to what might happen next, so when I began to see how the scene with the cookie girl was playing out I could not stop saying 'NO NO NO NO NO', like I said, I adore Lev and my heart ached for him.
GOOD GOD Hayden in the plane. I was so tense, I was so certain that scene was going to end terribly. Wow. What a well-written sequence. (I wish I had written down the page number so I could quickly reference it again!) I let out a massive breath at the end.
These books aren't really where I look for prose inspiration, but I did like this metaphor: "How do you judge the brightness of a light when you're the source? A spotlight caqn never see the shadow it casts." (Page 198)
While Unwind felt like a solid stand-alone novel, Unwholly certainly feels like the middle, or even beginning, of something. Lots and lots of setup for what's going to go down in the next book – the story clearly screams 'sequel needed!!'. I don't really mind that but…it did just feel really open ended, asking you to wait patiently for the second book. I prefer a book that can stand solidly on its own and not need support from another story. This is why I still like Unwind more than Unwholly. Still, for a sequel, Unwholly still manages to push the bounds with some provocative ideas, stellar scenes and really really great characters.