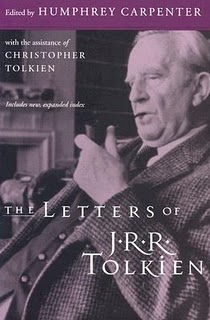 Editor: Humphrey Carpenter
Title:
The Letters of J.R.R. Tolkien
Date read: 30 December to 3 January
Published: 2000
Publisher: Houghton Mifflin
Length: 502 pages
Genre: Non-fiction
Why I picked it up: Fan of Tolkien's
Rating: 5 stars
Buy:
IndieBound
|
Chapters
| Check your local bookstore!
I thought I would breeze through this book and finish it in two days maximum. Not because it would be an 'easy' read, but because I had lots of time to read and I am highly interested in the subject matter. Not so! While the book only contains around 430 reading pages (additional pages of notes and index), the letters are so dense and filled with so much that it took me much longer to read. This is not at all a complaint; I was absolutely delighted to have so much to sink my teeth into.
I don't read books about Tolkien to think 'Oh, so that's why he wrote it like this!' I agree with him (in this instance, at least) that an author's life should not be examined with intention of gaining insight with regards to authorial intent (have I phrased this sentence correctly?). I simply find him a fascinating person, for having created such a detailed and vast mythology. It really does delight me to read about someone so seemingly normal and yet so extraordinary. To be able to read hundreds of his letters, to read his thoughts, is a treat in itself. I would have read them even if they had been more dull! But this collection is not at all boring, it is a treasure trove. The letters cover so many topics, from troubles with translators, family matters, C.S. Lewis, religious debate, and of course, much on The Hobbit, The Lord of the Rings and Middle-Earth lore in general.
I didn't make any notes while reading this, I was wholly absorbed in letting Tolkien's words wash over me. Note taking will come on the reread! But there are a few letters that still stuck in my memory, such as an unsent response (Tolkien sent two versions to his publisher to forward; they did not use the one that appears in the book) to a publisher looking to do a German translation of The Hobbit inquiring if Tolkien is Aryan. He writes a clever and pointed response, not confessing any Aryan lineage and refusing publication. Of course, the lengthy letter he wrote to another publisher who expressed interest in publishing LotR and The Silmarillion, was fascinating. I also especially enjoyed the letters he wrote to enquiring fans – I doubt there any authors today who would put so much thought into their responses (let alone have that much information to impart about their imaginary worlds). These letters are chockful of highly valuable information to any fan of Middle-Earth I do have to add a caveat – I've not yet read any of Tolkien's writings besides The LotR and The Hobbit, so I can't say how much of this information is exclusive but to read Tolkien's own words feels very special indeed.
So this post consists mostly of me gushing…I might be a bit of a fangirl. But really, needless to say, this tome is a highly valuable read for anyone interested in Tolkien or his works.