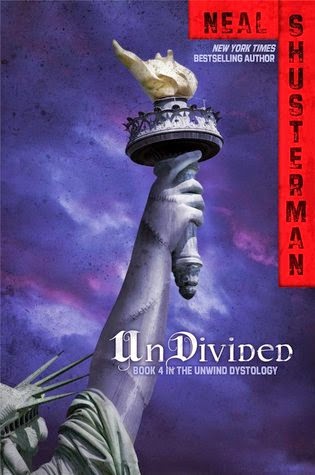 Author: Neal Shusterman
Title: Undivided
Series: Unwind Dystology #4
Format/Source: eBook/Amazon
Published: October 2014
Publisher: Simon & Shuster
Length: 432 pages
Genre:Young adult dystopia
Why I Read: Loves the series
Read If You're: Already invested in the story
Quote: "Measure F allows the Juvenile Authority to identify and track incorrigible children for the purpose of unwinding them as soon as they turn thirteen – which will be legal once the Parental Override bill becomes law." (7%)
Rating: ★★★½ [ratings guide]
GoodReads | IndieBound | Chapters | Amazon
Please note: This is a review of the final book of a series. Contains spoilers!
I first read Unwind back in 2007. I was pleasantly shocked when I learned there would be a sequel, followed by two more books. Unwind was a fantastic self-contained story, but its world could definitely be explored further. Unwind's progeny don't (and perhaps coudn't) live up to the greatness of their parent, though they still pack an engaging story. This final volume is perhaps the weakest in the series. This doesn't mean it's a bad book – it's definitely 'enjoyable, worth your time' if you liked the previous books. But for me it doesn't live up to the expectations created by book one and two. Because of this, it's difficult for me to give a balanced review of this book independent from the others in the series. This post is less of a review and more of a reaction.
I felt like very little happened until about 75% of the way into the book. Everything felt like set up, set up, set up. The suddenly, close to the end – BAM HOLY CRAP AHHHH WHOA WHAT'S GOING ON I CAN'T BELIEVE IT, oh it's over now…? I blazed through the ending far too quickly, but how can you not? The narrative suddenly accelerates at such a pace that I couldn't help but be pulled along. I loved Unwind because the plot was intense and rapid, yet character-driven. This book, however, was largely not intense and quickly paced, so when it suddenly became so I felt like the story gave me whiplash. Being the final book in the series, I suppose there isn't a lot of room for new characters or development in the ones we already know, as they're at the point they need to be to finish the story. But that development and those side characters were part of what I love so much about the Unwind books, so it was too bad they didn't really fit in the concluding book.
Even so, there are plenty of emotions to be felt while reading, most driven by the three main characters but also due to the creepy social developments and tactics that come into play. I allowed myself to get worked up about Connor even though I knew he couldn't be dead (I didn't guess at his rewinding until a couple chapters later, though, once I was certain he had been unwound). Sometimes you just have to let the story do its work. I had tears in my eyes! Lev's journey – wow, just wow, Lev. It'll be incredible to follow his journey from start to finish in a reread of the dystology. What a character. In one way I'm happy of course that he survived, but what an impact it would have made had he died. On the other hand, Risa. What happened to her since the first book!? Her character became little more than a prize for Connor. She was great in the first book but in the last two she's just a helpless pawn for the bad guys 🙁 Huge disappointment.
The Bottom Line: I have a lot of mixed emotions about this book. Although I feel it's the weakest in the series, Shusterman delivers an acceptable conclusion to the main storylines, if not a spectacular one. It has some of the distinguishing fiery action I came to love in the series, but overall the story is lacking in character development and plot excitement.
Elsewhere: