I did it! I finally read a Gillian Flynn novel. I had this one on hold since last year.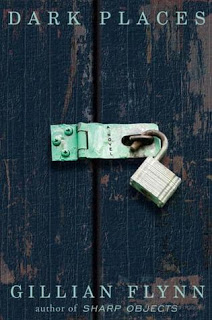 Dark Places by Gillian Flynn

Rating: ★★★
I chose to read this Flynn novel because I'd heard it was her best and didn't contain the aspects of Gone Girl that didn't appeal to me.

If I regularly liked to read mysteries/thrillers, this is the kind I would read. The story is very dark and bleak, with some mild graphic violence (is that an oxymoron…).Poverty, amateur detectivism, abuse, teen shenanigans, failings of the justice system, and 'satanic worship' all play key roles.
I liked that the main character was meant to be 'unlikeable', but you could still sympathize and understand why she acted the way she did. She wasn't too awful. However, I didn't really connect with her or any of the characters. They were just actors in the plot for me.

I did think her change of thought towards her brother was too abrupt. She changes her mind with little prompting or emotional debate about what's true. Granted, she doesn't completely change her mind, but she opens it more quickly than I expected.

I'd never read a story set during the 1980s 'satanic panic'. I thought of Criminal Minds and how one of the characters debunked Satanic cults, and I thought of a course I took in university about new religious movements (many people would call them 'cults'). It was pretty strange to think that people really believed in that – I mean, that people believed Satan worshipers were engaging in all sorts of terrible activity.
The story gripped my attention. I read it after work in two evenings. It was just the sort of distraction I needed.
I don't think I'll watch the movie. Too bleak for me!