Author: Kenneth Oppel
Title: The Nest
Format/Source: Hardcover/Purchased
Published: September 2015
Publisher: HarperCollins
Length: 244 pages
Genre: Middle grade gothic
Why I Read: Good creative team, intriguing plot, sister recommended
Read If You: Like creepy fairy tales, spooky stories, Coraline, etc.
Rating: ★★★★★ [ratings guide]
Links: GoodReads | IndieBound | Chapters | Amazon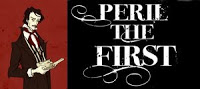 This book kind of fell into my lap. I only added it to my TBR on 30 September. My sister talked a bit about it on the weekend. I wasn't feeling any of the spooky books I planned to read, even though I want to read stuff that fits that mood. Suddenly I felt like I really needed to read this book, so I had my sister pick it up from work yesterday and I finished it this morning. Considering I have reading scheduled until the end of the year, this shows you just how much of a mood reader I can be. Thankfully, The Nest fits solidly in the realm of the RIP Challenge, becoming my first read for the challenge. I enjoyed The Boundless earlier this year, and Silverwing when I was young, but this surpasses anything Oppel wrote previously. I never would have expected such a satisfyingly eerie story from him.
If you're anything like me, you'll want to know right away whether this book stands up to the claims that it's a "haunting gothic tale for fans of Coraline" (skip this paragraph if you don't really care). Normally I would not compare one book to another so closely in a review. However. I have been looking for a Coraline successor for years. I have read many books that purport to be spooky or creepy or eerie but come nowhere close. The Nest captures that feeling I found in Coraline. Some readers will forever say "It's good, but it's not as good as Coraline…" I acknowledge that The Nest is somewhat of a different story than Coraline. Regardless, I still recommend it to fans of Coraline. I think the book will appeal to Gaiman fans, as long as they aren't too dead-set on finding a perfect spiritual successor to Coraline in this book. I hope future readers will come to love this story for itself, and not for the ways in which it is like Coraline!
There was something wrong with the baby, but no one knew what. Not us, not the doctors. After a week in the hospital, Mom and Dad were allowed to bring the baby home, but almost every day they had to go back fro more tests. Whenever Mom and Dad returned, there were new bits of information, new theories. (1)
The Nest is a creepy fairy tale, a changeling story presented in dreamy eerie prose, peppered with melancholic moments and stinging moments. More than once did I make an anxious sound while reading. Oppel carefully portrays a believable family, living alongside a couple of darkly fantastical characters. Steven makes a great protagonist (I appreciated the portrayal of his anxiety/OCD – it's never named) and the Queen a nasty villain. The dialogues between the two stand out as one of the highlights of the story. This isn't the kind of story where the frightening 'fantasy' bits play a subpar role (I'm looking at you, Doll Bones). This story is all about Steven and his encounter with the wasps. The prose is just what I like for this kind of tale – sparse yet pointed and clear, creating (at least for me) a dream-like impression that makes the story feel truly otherworldly, especially when paired with a limited first-person narrative. One word that might describe The Nest is balanced. It's got just the right amount of characters and dialogue, realistic bits and terrifying bits, all at a good pace with good prose.
Nicole was the one who was always all over the baby. She loved the baby. To her the baby just meant this wonderful happy new thing in her life. She said once, not long after the baby had come home, "Just let me bask in his glory!" It always made me feel mean when I watched Nicole with the baby. Because when I looked at him, I saw all the things that were supposed to be wrong with him; and I saw Mom looking tired and worried; and I saw Dad staring out the window, sometimes just into the distance, sometimes at our driveway, where the car was. (113-4)
The Nest is also a physically striking object, highlighting all the reasons I love a solid book. A handful of subtle yet stark illustrations by one of my favourite illustrator/authors, Jon Klassen, add a subtle boost of the creepy to Oppel's prose. I found the illustrations less integral to the story than Dave McKean's for Coraline, but they definitely add another welcome dimension to the tale. The book itself is also well-designed. I liked the soft pages and the typeface (which is just Baskerville, but anyhow.) This book has a glossy dust jacket with clear spaces poking through to the hardcover itself. Here are some photos to supplement my lacklustre description: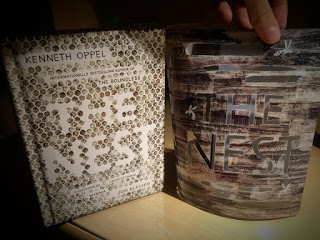 The Bottom Line: Not something I would have expected from Oppel, yet one of my favourite reads this year. A great collaboration with Jon Klassen. If you want something that embraces the spirit of Coraline and truly creepy middle grade tales, look no further.
Further Reading: