Top Ten Books I've Recently Added To My TBR
Whoaaaa, my first time participating in Top 10 Tuesday :O I don't expect this will become a regular thing, as I usually don't feel creative enough or that I have enough books to list, but this one seems doable (and I have an idea for next week!).
I've already added 21 books to my TBR shelf since the start of 2016. This may be the year things finally spiral out of hand (AKA my TBR shelf holds more books than my read shelf). For this list, I'm counting the past two months as 'recent'.
National Audubon Society Guide to Landscape Photography – My favourite kind of photography. I want to be able to do justice to the Middle-earth landscapes of NZ!
The Reason You Walk by Wab Kinew – A memoir by a local figure, I was eyeing it while working at the bookstore in December.
"When his father was given a diagnosis of terminal cancer, Winnipeg broadcaster and musician Wab Kinew decided to spend a year reconnecting with the accomplished but distant aboriginal man who'd raised him. The Reason You Walk spans that 2012 year, chronicling painful moments in the past and celebrating renewed hopes and dreams for the future. As Kinew revisits his own childhood in Winnipeg and on a reserve in Northern Ontario, he learns more about his father's traumatic childhood at residential school. "
On the Shores of Darkness, There is Light by Cordelia Strube – I recently requested some ARCs because they don't add any weight to my suitcase and give me something to work on while travelling! The cover caught my eye and the local setting encouraged me to hit request.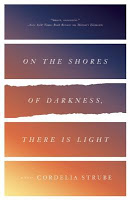 "

Harriet is 11 going on 30. Her mixed-media art is a source of wonder to her younger brother, Irwin, but an unmitigated horror to the panoply of insufficiently grown-up grown-ups who surround her. She plans to run away to Algonquin Park, hole up in a cabin like Tom Thomson and paint trees; and so, to fund her escape, she runs errands for the seniors who inhabit the Shangrila, the decrepit apartment building that houses her fractured family. Determined, resourceful, and a little reckless, Harriet tries to navigate the clueless adults around her, dumpster dives for the flotsam and jetsam that fuels her art, and attempts to fathom her complicated feelings for Irwin, who suffers from hydrocephalus. On the other hand, Irwin's love for Harriet is not conflicted at all. She's his compass. But Irwin himself must untangle the web of the human heart

."
The Boy Who Drew Monsters by Keith Donohue – Another book I spotted at work last month. Sounds like my kind of story.
"

Ever since he nearly drowned in the ocean three years earlier, ten-year-old Jack Peter Keenan has been deathly afraid to venture outdoors. Refusing to leave his home in a small coastal town in Maine, Jack Peter spends his time drawing monsters. When those drawings take on a life of their own, no one is safe from the terror they inspire. His mother, Holly, begins to hear strange sounds in the night coming from the ocean, and she seeks answers from the local Catholic priest and his Japanese housekeeper, who fill her head with stories of shipwrecks and ghosts. His father, Tim, wanders the beach, frantically searching for a strange apparition running wild in the dunes. And the boy's only friend, Nick, becomes helplessly entangled in the eerie power of the drawings. While those around Jack Peter are haunted by what they think they see, only he knows the truth behind the frightful occurrences as the outside world encroaches upon them all.

"
English Passengers by Matthew Kneale – A recommendation from my best friend. Usually our tastes differ but this sound likes fun. The ship factor enticed me the most.
"

In 1857 when Captain Illiam Quillian Kewley and his band of rum smugglers from the Isle of Man have most of their contraband confiscated by British Customs, they are forced to put their ship up for charter. The only takers are two eccentric Englishmen who want to embark for the other side of the globe. The Reverend Geoffrey Wilson believes the Garden of Eden was on the island of Tasmania. His travelling partner, Dr. Thomas Potter, unbeknownst to Wilson, is developing a sinister thesis about the races of men. Meanwhile, an aboriginal in Tasmania named Peevay recounts his people's struggles against the invading British, a story that begins in 1824, moves into the present with approach of the English passengers in 1857, and extends into the future in 1870. These characters and many others come together in a storm of voices that vividly bring a past age to life.

"
I Have a Bed of Buttermilk Pancakes by Jaclyn Moriarty – One of my favourite YA authors. She's Australian, and I hope to run across the book (an adult fiction novel not readily available in Canada) while I'm there.
"

Cath Murphy, second-grade teacher, was feeling awkward and foolish, but she also felt this: quirky, cocky, small, funny, wicked and extremely blonde. As her mother liked to say, all meetings with new people, even locksmiths or seven-year-olds, can make you a little afraid. She was about to meet her new class and she had just met the new teacher: Warren Woodford.However, Cath Murphy has yet to meet the Zing family…

"
The First World War by John Keegan – Planning to finish this before NZ, treating it as my foundation book for WWI. I like to get an overview of a topic, then delve into the specific that I'm interested in (in this I'd like to learn more about the Canadian role in WWI and the role of the war in Tolkien's life and writing).
The Children's Home by Charles Lambert – This one sounds like a delicious story. I like the cover as well.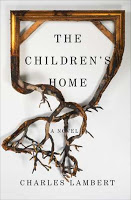 "The Children's Home is a genre-defying, utterly bewitching masterwork, an inversion of modern fairy tales like The Chronicles of Narnia and The Golden Compass, in which children visit faraway lands to accomplish elusive tasks. Lambert writes from the perspective of the visited, weaving elements of psychological suspense, Jamesian stream of consciousness, and neo-gothic horror, to reveal the inescapable effects of abandonment, isolation, and the grotesque – as well as the glimmers of goodness – buried deep within the soul."
Drown: A Twisted Take on the Classic Fairytale by Esther Daleno – Could be wonderful or terrible. "The Little Mermaid" is my favourite Hans Christian Anderson story, so I want to check this out.
"

Belonging to a race that is mostly animal with little humanity, a world obsessed with beauty where morality holds no sway, a little mermaid escapes to the ocean's surface. Discovering music, a magnificent palace of glass and limestone, and a troubled human prince, she is driven by love to consult the elusive sea-witch who secretly dominates the entire species of merfolk. Upon paying an enormous price for her humanity, the little mermaid begins a new life, uncovering secrets of sexuality and the Immortal Soul. As a deadly virus threatens to contaminate the bloodstreams of the whole merfolk race, the little mermaid must choose between the lives of her people, the man she loves, or herself.

"
Diving Belles by Lucy Wood – A Goodreads generated recommendation based on Stories for Nighttime and Some for the Day.
"

Straying husbands lured into the sea can be fetched back, for a fee. Magpies whisper to lonely drivers late at night. Trees can make wishes come true – provided you know how to wish properly first. Houses creak, fill with water and keep a fretful watch on their inhabitants, straightening shower curtains and worrying about frayed carpets. A teenager's growing pains are sometimes even bigger than him. And, on a windy beach, a small boy and his grandmother keep despair at bay with an old white door. In these stories, Cornish folklore slips into everyday life. Hopes, regrets and memories are entangled with catfish, wrecker's lamps, standing stones and baying hounds, and relationships wax and wane in the glow of a moonlit sea. This luminous, startling and utterly spellbinding debut collection introduces in Lucy Wood a spectacular new voice in contemporary British fiction.

"
Have you read any of these? What books recently added to your TBR are you most looking forward to?