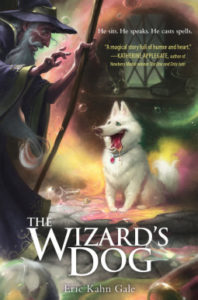 Author: Eric Kahn Gale
Title: The Wizard's Dog
Format/Source: ebook/Publicist
Published: 17 January 2017
Publisher: Crown Books for Young Readers
Length: 288 pages
Genre: Middle-grade fantasy
Why I Read: Light-hearted fantasy – something I needed!
Rating: ★★★½
GoodReads | Indigo | Amazon
I received a complimentary copy in exchange for my honest review.
Meet Nosewise. He's spunky. He's curious. And he's a dog who can't understand why his pack mates Merlin and Morgana spend all day practicing magic tricks. If it's a trick they want, he's the dog to ask! He can already Sit!, Stay!, and Roll Over! But there's no way Nosewise is Stay!ing when his master and best friend, Merlin, is kidnapped. There's nothing Nosewise won't do to get Merlin back, even if it means facing the strange Fae people and their magic-eating worms, or tangling with the mysterious Sword in the Stone. But it may take more than sniffing out a spell to do it! Nosewise's hilarious escapades and steadfast loyalty get him and his companions through King Arthur's Dark Ages.
Arthurian legend is one of those literary fields I have always assumed would interest me, but it is one I have yet to properly pursue. (The Once and Future King has been on my TBR for longer than Goodreads has existed. My best knowledge of King Arthur probably comes from Monty Python and the Holy Grail…). It's taken a tale told from a dog's perspective to ease me into the literary retellings! 😉 The Wizard's Dog stars Nosewise, a dog Merlin rescued who has an exceptional nose (even for a dog). The story describes Nosewise's adventure in rescuing Merlin and Morgana, with the help of young Arthur. No spoilers, but this isn't the most traditional retelling of how Arthur pulled the Sword from the Stone!
Nosewise is definitely the star of this tale. He is an easy character to love, sounding just like you might imagine a loyal dog would. His unique perspective as a dog infuses humour (ex. when the magical Asteria allows him to speak, he's excited that he's learned a trick no dog has learned before because that will impress Merlin [20]) and difficulties (ex. he's a dog; he can't open doors!) into an Arthurian fantasy that's likely never been told like this before.
Speaking more generally, I haven't read a lot of (any?) stories that have an animal speaking regularly with humans in a world where animals don't speak. That normally doesn't work for me (I prefer all or nothing), but I think The Wizard's Dog balances the human-animal interactions well. Nosewise doesn't chat throughout the whole book – there is a chunk where he has lost the Asteria and is without his voice.
Black and white shaded illustrations appear throughout the book. I like their style – not too cartoony or simplified. Nosewise's silly expression on the cover is as animated as the characters get. My favourite illustrations are the darker ones depicting castles, magic, or fae. The story wraps up neatly, though not without leaving room for further adventures of Nosewise, Arthur, and the gang.
The Bottom Line:
A light-hearted tale narrated in first person by a dog, I recommend The Wizard's Dog to those who might enjoy an 'animalistic' twist on Arthurian legend.
Further Reading: