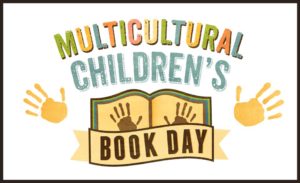 Today is Multicultural Children's Book Day 2017! A perfect day to kick of my series of Cybils nominee recommendations that will run for the next few weeks.  The goal of MCCBD is "to not only raise awareness for the kid's books that celebrate diversity, but to get more of these books into classrooms and libraries". Check out the Twitter chat at 9PM EST to discuss with the state of children's book publishing (and maybe win an excellent MCCBD book bundle!). Use the hashtag #ReadYourWorld.
***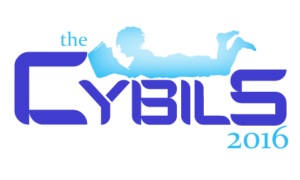 From October to December of last year, I read just over 50 middle-grade fiction books in my role as a round one judge for the Cybils. To share some of the books I've read, I've decided to create a few lists grouping books by similar characteristics. All of the books meet the Cybils nominating criteria, which means they were published in English in Canada or the US between 16 October 2015 to 15 October 2016. Today's list features three books that explore Japanese or Japanese-American experiences of World War II.
Paper Wishes by Lois Sepahban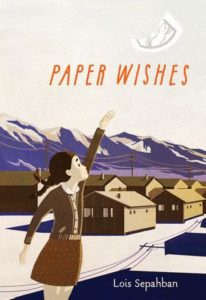 Ten-year-old Manami did not realize how peaceful her family's life on Bainbridge Island was until the day it all changed. It's 1942, after the attack on Pearl Harbor, and Manami and her family are Japanese American, which means that the government says they must leave their home by the sea and join other Japanese Americans at a prison camp in the desert. Manami is sad to go, but even worse is that they are going to have to give her dog, Yujiin, to a neighbor to take care of. Manami decides to sneak Yujiin under her coat, but she is caught and forced to abandon him. She is devastated but clings to the hope that somehow Yujiin will find his way to the camp and make her family whole again. It isn't until she finds a way to let go of her guilt that Manami can accept all that has happened to her family.
This is a short tale that would be a good introduction to the interment of Japanese-Americans. I liked the characters, and thought Manami's withdraw demonstrated how difficult the experience was. A somewhat sad and quiet story, the story of the lost dog provides a way into Manami's life to which children may relate.
Review @ The Children's War | Add to  GoodReads
The Last Cherry Blossom by Kathleen Burkinshaw
Yuriko was happy growing up in Hiroshima when it was just her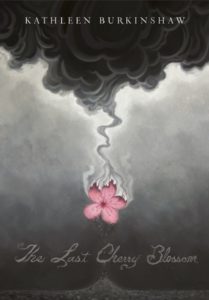 and Papa. But her aunt Kimiko and her cousin Genji are living with them now, and the family is only getting bigger with talk of a double marriage! And while things are changing at home, the world beyond their doors is even more unpredictable. World War II is coming to an end, and Japan's fate is not entirely clear, with any battle losses being hidden from its people. Yuriko is used to the sirens and the air-raid drills, but things start to feel more real when the neighbors who have left to fight stop coming home. When the bomb hits Hiroshima, it's through Yuriko's twelve-year-old eyes that we witness the devastation and horror.
I visited Hiroshima a couple of years ago. Visiting the Peace Memorial Museum was one of the most sobering experiences I've had. This book compliments historical artifacts and information by focusing largely on what life was like for a young girl growing up in Japan during WWII. Told in first person, Burkinshaw's writing is sensitive yet evocative. Burkinshaw's mother's experience surviving the Hiroshima bombing loosely inspired the story. Like Paper Lanterns, The Last Cherry Blossom would make an excellent introduction to the atomic bombing of Japan.
Review @ Randomly Reading | Review @ Ms. Yingling Reads | Add to Goodreads
Click Here to Start by Denis Merkell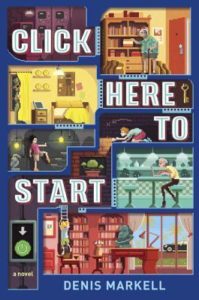 Twelve-year-old Ted Gerson has spent most of his summer playing video games. So when his great-uncle dies and bequeaths him the all so-called treasure in his overstuffed junk shop of an apartment, Ted explores it like it's another level to beat. And to his shock, he finds that eccentric Great-Uncle Ted actually has set the place up like a real-life escape-the-room game! Using his specially honed skills, Ted sets off to win the greatest game he's ever played, with help from his friends Caleb and Isabel. Together they discover that Uncle Ted's "treasure" might be exactly that—real gold and jewels found by a Japanese American unit that served in World War II. With each puzzle Ted and his friends solve, they get closer to unravelling the mystery—but someone dangerous is hot on their heels, and he's not about to let them get away with the fortune.
This story differs from the other two in that the Japanese connection is not the main focus of the story. The main character is a Jewish-Japanese American whose now deceased great-uncle fought in World War II. The story has a lot of fun action-adventure components. It also deals with how second and third generation Americans navigate their cultural identities.
Review @ Ms. Yingling Reads | Goodreads

Be sure to check out some of the other posts in the Multicultural Children's Book Day 2017 link-up.  What other books (picture books, MG, YA, anything) about Japanese experiences in WWII would you recommend?