I have found two more reading challenges to sign up for this year. Both compliment my 2017 reading goals.
2017 Diverse Reads Book Challenge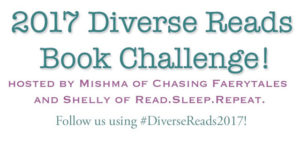 Hosted by Mishma @ Chasing Faerytales and Shelly @ Read, Sleep, Repeat, the purpose of this challenge is to "encourage the reading and support of diverse books and marginalized voices, and therefore this challenge hopes to help you read more diversely in 2017!" I remember seeing this challenge back in December, but I totally forgot about it when I wrote my looking forward post. Thankfully January hasn't ended and there's still time for me to complete this month's mini-challenge. The monthly challenges are one of the reasons why I like this challenge in particular. I plan on reading a book for this challenge and reviewing it for Naz's Read Diverse challenge. Here's my reading list (subject to my reading mood whims. Throughout the year, I hope to find more new releases/lesser known books to read):
January – When the Sea Turned to Silver by Grace Lin (based on/inspired by diverse folktales/culture/mythology)

February – Shadowshaper by Daniel Jose Older (POC/biracial/multiracial MC – Latinx)

March – Handbook for Dragon Slayers by Merrie Haskell (disability – club foot)

April – More Happy Than Not by Adam Silvera (mental health – depression)

May – Amina's Voice by Hena Khan (religious diversity – Muslim)

June and July – When the Moon Was Ours by Anna-Marie McLemore, If I Was Your Girl by Meredith Russo, Nevada by Imogen Binnie (sexuality and gender identity – trans)

August – One Half From the East by Nadia Hashimi (non-Western setting – Afghanistan)

September – Sanaaq: An Inuit Novel by Mitiarjuk Nappaaluk (Own voices – Inuit)

October – A Two-Spirit Journey: The Autobiography of a Lesbian Ojibwa-Cree Elder by Ma-Nee Chacaby (Intersectionality – LGBT+ and Indigenous)

November – The Seafarer's Kiss by Julia Ember (Diverse retelling – lesbian Little Mermaid)

December -TBD (2017 release)
Newbery Reading Challenge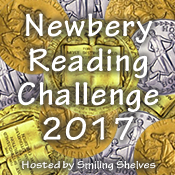 I stumbled upon this challenge via Monika @ Lovely Bookshelf. Hosted by Julie @ Smiling Shelves, this is a points-based challenge, where points are awarded for each Newbery medal winner (3 pts), Newbery honour book (2 pts), and Caldecott book you read (1 pts). I'm aiming for the first level – L'Engle (15-29 points). I'm undertaking this challenge because I think it will help me with my goal of reading more classic children's literature.
Between these two and Read Diverse, Canada 150, and Diversity Bingo, I think I'm all set for challenges! I suppose it's about time I update my 2017 Challenges page… What reading challenges are you undertaking this year?