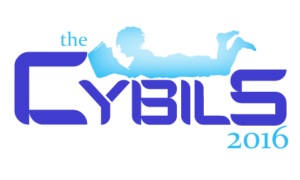 From October to December of last year, I read just over 50 middle-grade fiction books in my role as a round one judge for the Cybils. To share some of the Cybils nominees I've read, I've decided to create a few lists grouping books by similar characteristics. All of the books meet the Cybils nominating criteria, which means they were published in English in Canada or the US between 16 October 2015 to 15 October 2016. Today's list features four books told in alternating first person chapters.
Two Naomis by Olugbemisola Rhuday-Perkovich and Audrey Vernick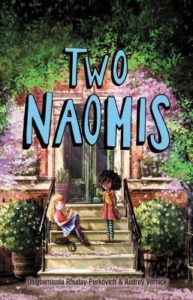 Other than their first names, Naomi Marie and Naomi Edith are sure they have nothing in common, and they wouldn't mind keeping it that way. Naomi Marie starts clubs at the library and adores being a big sister. Naomi Edith loves quiet Saturdays and hanging with her best friend in her backyard. And while Naomi Marie's father lives a few blocks away, Naomi Edith wonders how she's supposed to get through each day a whole country apart from her mother. When Naomi Marie's mom and Naomi Edith's dad get serious about dating, each girl tries to cling to the life she knows and loves. Then their parents push them into attending a class together, where they might just have to find a way to work with each other—and maybe even join forces to find new ways to define family. .
I think Two Naomis has such a cute cover. I love how the greenery frames the girls. The images on the cover distinguish the girls much better than the words in the book, however. Although it's told in alternating chapters from a first person perspective, their voices are not distinct enough from each other. I had to keep checking back to remind myself which girl was speaking. I wonder how the book was co-authored. Did each author write one of the Naomi's chapters, or did they write everything together? The parent's actions seemed a bit over the top. Why did they have to keep so many secrets? I found the girls' reactions to one another, and growing relationship over the course of the story, more realistic. I appreciated that even though they were reluctant to attend a computer game programming class together, the activity eventually grew on them.
Review @ Ms. Yingling Reads | Review @ Random Musings of a Bibliophile | Add to GoodReads
Ms. Bixby's Last Day by John David Anderson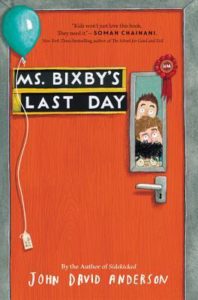 Everyone knows there are different kinds of teachers. The good ones. The not-so-good ones. The boring ones, the mean ones, the ones who try too hard. The ones you'll never remember, and the ones you want to forget. But Ms. Bixby is none of these. She's the sort of teacher who makes you feel like the indignity of school is worthwhile. Who makes the idea of growing up less terrifying. Who you never want to disappoint. What Ms. Bixby is, is one of a kind. Topher, Brand, and Steve know this better than anyone. And so when Ms. Bixby unexpectedly announces that she is very sick and won't be able to finish the school year, they come up with a plan. Through the three very different stories they tell, we begin to understand just what Ms. Bixby means to Topher, Brand, and Steve—and what they are willing to go to such great lengths to tell her.
Topher, Brand and Steve narrate this one. Each boy has their own, unique reason for wanting to give Ms. Bixby a special 'last day'. The story does an excellent job at conveying how a great teacher can make such a positive difference in a kid's life. There are some fun action/adventure elements that are a touch over the top – but this is middle grade fiction. I expected the story to be more sad than it was. I didn't cry until the epilogue 😛 I came away thinking, "Man, we need more teachers like Ms. Bixby".
Review @ KinderLit | Review @ Ms. Yingling Reads | Add to Goodreads
Save Me a Seat by Sarah Weeks and Gita Varadarajan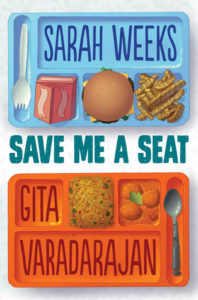 Joe and Ravi might be from very different places, but they're both stuck in the same place: SCHOOL. Joe's lived in the same town all his life, and was doing just fine until his best friends moved away and left him on his own. Ravi's family just moved to America from India, and he's finding it pretty hard to figure out where he fits in. Joe and Ravi don't think they have anything in common — but soon enough they have a common enemy (the biggest bully in their class) and a common mission: to take control of their lives over the course of a single crazy week.

My sister and I reviewed this book for my Family Reads series. Joe and Ravi narrate the story. I wrote the Cybils shortlist blurb for this one: "Joe has lived in New Jersey his entire life. Ravi has just moved to New Jersey from Bangalore. As they start grade five, both face new challenges. Ravi discovers he is no longer a star pupil as he was in India. His attempts to befriend Dillon Samreen (an American-born Indian) don't go over as he expects. Joe's best friends have moved away and his mom now supervises lunch, giving Dillon an additional excuse to pick on Joe beyond his auditory processing disorder. Over the course of one hectic week, Joe and Ravi move beyond misunderstandings and snap judgements to overcome their common challenge – Dillon. Narrated in alternating chapters by the very real voices of Ravi and Joe, Save Me a Seat offers a fresh take on bullying and friendship narratives."
Review @ Puss Reboots | Review @ Ms. Yingling Reads | Add to Goodreads

Slacker by Gordon Korman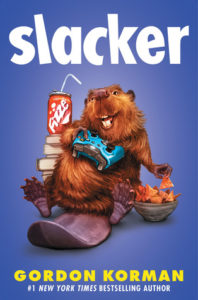 Cameron Boxer is very happy to spend his life avoiding homework, hanging out with his friends, and gaming for hours in his basement. It's not too hard for him to get away with it . . . until he gets so caught up in one game that he almost lets his house burn down around him. Oops. It's time for some serious damage control–so Cameron and his friends invent a fake school club that will make it seem like they're doing good deeds instead of slacking off. The problem? Some kids think the club is real–and Cameron is stuck being president.  Soon Cameron is part of a mission to save a beaver named Elvis from certain extinction. Along the way, he makes some new friends–and some powerful new enemies. The guy who never cared about anything is now at the center of everything . . . and it's going to take all his slacker skills to win this round.

Slacker is primarily Cameron's story, but a variety of characters narrate different chapters. It had been a long time since I read something new by Gordon Korman. I adored his hilarious books in grade five, when my teacher read them aloud to the class. Slacker was kind of fun, though the writing and characters didn't stand out to me. I didn't find it was as funny as, say, the Macdonald Hall Books, but I am perhaps biased from having read those books when I was actually 10 😉 A recommended book for a reluctant reader.
Review @ Ms. Yingling Reads| Review @ Puss Reboots | Add to Goodreads
Cybils Winners
ICYMI – This past Tuesday (14 February) the Cybils winners were announced! Ghost by Jason Reynolds won in the middle grade fiction category. No surprise there 🙂 Of course, any of the books we shortlisted could have won and I wouldn't have been surprised. When the shortlist was announced, I wrote this about Ghost: "I have never been a reader of 'sports book', but here is a book that will appeal to sports fan and non-fans alike – even if the feature sport is track. Ghost is a story about a kid finding something he loves doing, and learning how to push himself and be better. This is the first book I've read by Reynolds. Now I can see his appeal!" Congratulations to Reynolds and all the other Cybils nominees.