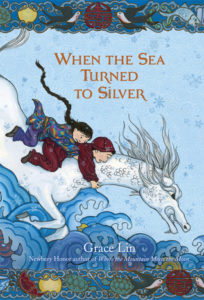 Author: Grace Lin
Title: When the Sea Turned to Silver
Format/Source: Hardcover/Library
Published: October 2016
Publisher: Little, Brown Young Readers
Length: 370 pages
Genre: Middle-grade fantasy
Why I Read: Cover + premise
Rating: ★★★★½
GoodReads | Indigo | Indiebound | Book Depository
I had some trouble with this review, as the beauty of this book distracted me from constructing thoughts beyond "It's so lovely!" When the Sea Turned to Silver exemplifies beauty in both its physical design and story-telling prose. The final book in Grace Lin's loosely connected trilogy of middle-grade novels, this delightful book tells the story of Pinmei and Yishan's journey from their mountain homes to rescue Pinmei's renowned storytelling grandmother.
Let's start with the stunning book design, as that's really where any reader starts. Lin's artistic talent impresses me. My first thought upon holding this book was, "Wow, who is the illustrator?" Then I found out she both writes and illustrates her books. Lin "found her artistic voice" after painting a family portrait in the style of "flat, colorful Chinese folk art" (source). I love seeing a non-Western aesthetic featured so beautifully in a work for children. Lin's artwork stars not only on the dust jacket, but inside the text as well – in the form of full page colour illustrations, line drawings at the start of each chapter, and bright borders that introduce each story. One of my favourite illustrations can be found on page 120. (…Can you tell why I'm not on bookstagram?)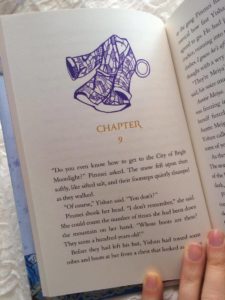 |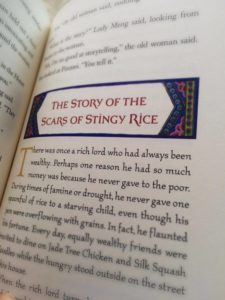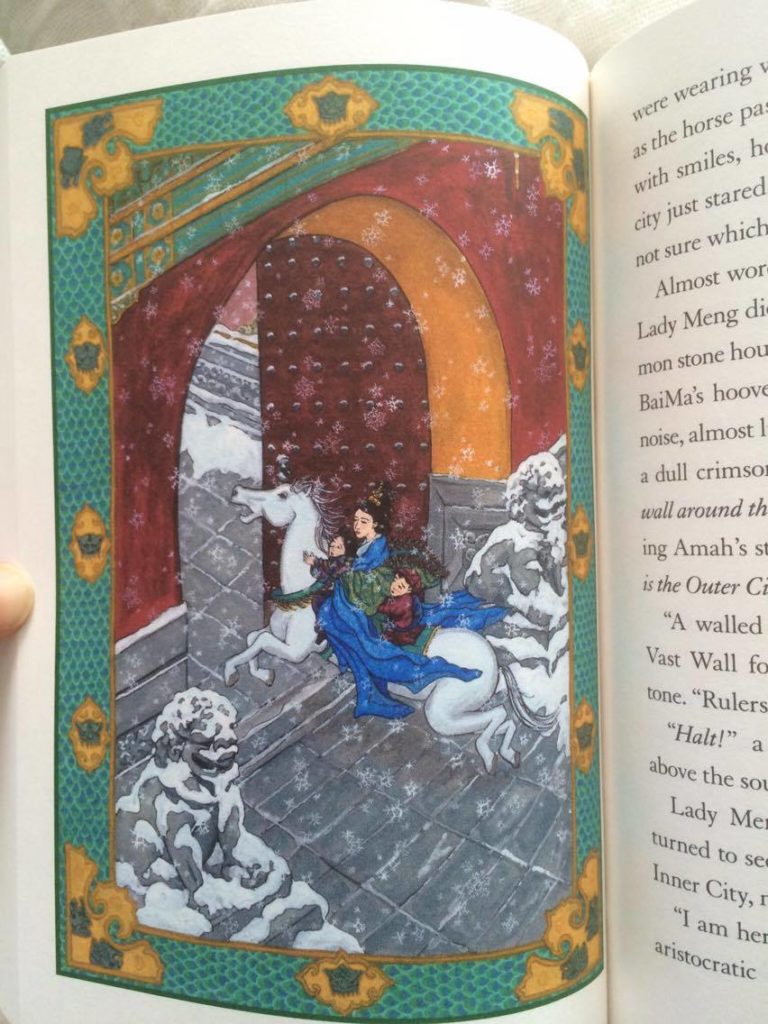 The illustrations and book design work well to convey the writing style. This kind of prose is what I enjoy most about middle grade fiction. Simple yet descriptive, everything parred down to get at the essence of what will spark your imagination.
I took a uni course on Chinese women and gender which we studied primarily via Chinese literature throughout the centuries, so I have a general familiarity with the flavour of Chinese storytelling. That being said, Chinese folklore is largely unfamiliar to me so I can't speak much to how the tales coincide with or differ from traditional Chinese tales. What I can say is that is that stories are just what lovers of fairy or folk tales might expect. Characters trying to get ahead in life or trying to do their best, traces of the fantastic influencing their actions, and a relevance of the mini-story to the grander narrative. Aside from the sheer loveliness of When the Sea Turned to Silver, the storytelling theme is the aspect of this book I adored. I like how Pinmei learns how valuable her stories and her storytelling ability can be. I like how the stories bleed into Pinmei's own journey. And I like what the climax of the story has to say about the importance of stories. This is a book for those who love stories. (The book read to me like a starter edition of The Orphan's Tales ,  another book rich in prose with interconnecting tales, which is in itself a spin off One Thousand and One Nights.)
If I were pressed to be more critical of this novel, I might say that it's a bit slow-paced. Although Pinmei and her friends are 'racing' to save Amah, the story does not hold a lot of tension. While there are a few chapters from Amah's perspective, and a couple stories that describe her history and relationship with Pinmei, I would have loved more. I wonder if she pops up in the other two novels at all?
The Bottom Line:
When the Sea Turned to Silver is a gorgeous rendering of Chinese folktales, told in a novel that explores the significance of stories through a young storyteller's own adventure.
Further Reading: