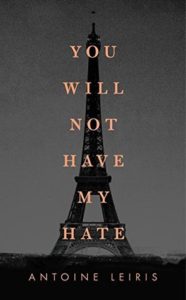 Author: Antoine Leiris (trans. Sam Taylor)
Title: You Will Not Have My Hate
Format/Source: Hardcover/Library
Published: October 2016
Publisher: Penguin Press
Length: 129 pages
Genre: Memoir
Why I Read: Read an excerpt
Rating: ★★★★
GoodReads | Indigo | IndieBound | Book Depository
In November 2015, Antoine Leiris's wife Hélène was killed in the attack on the Bataclan Theatre. Their son Melvil was 17 months old at the time. You Will Not Have My Hate, a slim volume of Leiris's reflections on the time immediately following the shooting (particularly the impact on Melvil, not yet old enough to understand), is a devastating yet hopeful read. I first read an excerpt of this book in the October 2016 issue of Vogue. I immediately knew I had to read the rest. The title stems from an open letter Leiris wrote to the terrorists who perpetrated the attack. This memoir contextualizes that letter.
If you have read the letter, you will know that Leiris's book is not really about terrorism or the attack. His letter says all he needs to about that. The book digs deeper into grief and how to keep going, especially when a little one needs you. Leiris's beautiful writing might break your heart. (Sam Taylor translated the book from French; I assume he's done an excellent job.) I nearly forgot it wasn't fiction (because how can this be real, how can someone have to experience this, how can they translate it into words?). I could have selected any passage from the book to demonstrate this. Here's a bit about viewing Hélène in the mortuary:
"I cry, I talk to her. I would to stay another hour, at least a day, perhaps a lifetime. But I must leave her. The moon must set. Today, November 16, the sun rises on our new 'once upon a time.' The story of a father and a son who go on living alone, without the aid of the star to whom they swore allegiance." (40-41)
The book clocks in at just 129 pages. I estimate nearly half to be blank space, though this blank space is certainly not wasted space. This needs to be a small story, a contained story, otherwise it is too overwhelming. The blank space allows for breathing room. That little bit of space you need to pause and reflect and process. A photo at the end – of Hélène standing outdoors, looking lovely, holding Melvil snuggled against her breast – made me gasp. What a punch that photo packs after reading Antoine's tale.
The Bottom Line:
A short yet devastating read, Antoine Leiris's You Will Not Have My Hate gives the reader a glimpse into what it's like to tragically and unexpectedly lose someone.
Further Reading: