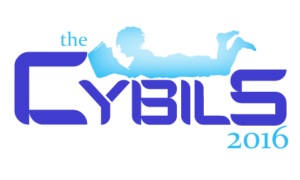 From October to December of last year, I read just over 50 middle-grade fiction books in my role as a round one judge for the Cybils. To share some of the Cybils nominees I've read, I've decided to create a few lists grouping books by similar characteristics. All of the books meet the Cybils nominating criteria, which means they were published in English in Canada or the US between 16 October 2015 to 15 October 2016. Today's list features 7 historical fiction books (that weren't featured on any of my other lists).
Full of Beans by Jennifer L. Holm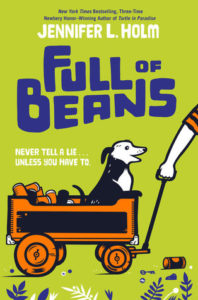 Grown-ups lie. That's one truth Beans knows for sure. He and his gang know how to spot a whopper a mile away, because they are the savviest bunch of barefoot conchs (that means "locals") in all of Key West. Not that Beans really minds; it's 1934, the middle of the Great Depression. With no jobs on the island, and no money anywhere, who can really blame the grown-ups for telling a few tales? Besides, Beans isn't anyone's fool. In fact, he has plans. Big plans. And the consequences might surprise even Beans himself.

First book I read for Cybils judging
Exemplifies how great historical fiction can be
Unique setting (Key West in the 1930s)
Beans solves his troubles on his own
Made it to the shortlist
Review @ Randomly Reading | Review @ Ms. Yingling Reads | Add to GoodReads
Ruby Lee and Me by Shannon Hitchcock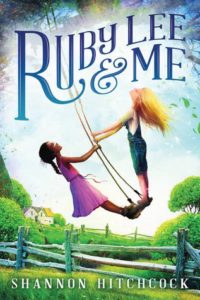 Everything's changing for Sarah Beth Willis. After Robin's tragic accident, everyone seems different somehow. Days on the farm aren't the same, and the simple fun of riding a bike or playing outside can be scary. And there's talk in town about the new sixth-grade teacher at Shady Creek. Word is spreading quickly–Mrs. Smyre is like no other teacher anyone has ever seen around these parts. She's the first African American teacher. It's 1969, and while black folks and white folks are cordial, having a black teacher at an all-white school is a strange new happening. For Sarah Beth, there are so many unanswered questions. What is all this talk about Freedom Riders and school integration? Why can't she and Ruby become best friends? And who says school isn't for anybody who wants to learn–or teach? In a world filled with uncertainty, one very special teacher shows her young students and the adults in their lives that change invites unexpected possibilities.

I don't really remember much about this one, except that it was less about race relations than you might expect from the description…
Review by Aimee Rodgers | Review @ Ms. Yingling Reads | Add to GoodReads
Wolf Hollow by Lauren Wolk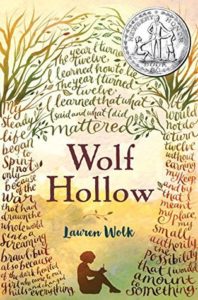 Growing up in the shadows cast by two world wars, Annabelle has lived a mostly quiet, steady life in her small Pennsylvania town. Until the day new student Betty Glengarry walks into her class. Betty quickly reveals herself to be cruel and manipulative, and while her bullying seems isolated at first, things quickly escalate, and reclusive World War I veteran Toby becomes a target of her attacks. While others have always seen Toby's strangeness, Annabelle knows only kindness. She will soon need to find the courage to stand as a lone voice of justice as tensions mount.

Nastiest character I've met in a middle grade book = Betty
On GoodReads, I wrote: "Wow, this is a dark book. It would have made me squirm if I had read it when I was 12. I'm not sure I enjoyed it now, at 24. I do like a dark story, but this had too many cruel moments and a bleak ending."
Review by Briana @ Pages Unbound | Review @ The Children's War | Add to GoodReads
Finding Fortune by Delia Ray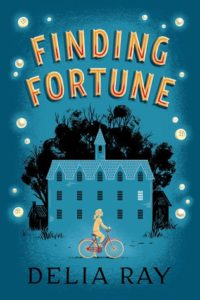 Running away from home isn't as easy as Ren thinks it will be. At least she isn't running very far-just a few miles to the ghost town of Fortune… or Mis-Fortune as everyone else calls it. Mis-Fortune on the Mississippi. Supposedly, there's an abandoned school on the outskirts with cheap rooms for rent. Ren knows her plan sounds crazy. But with only a few more weeks until Dad comes home from his tour of duty in Afghanistan, she also knows she has to do something drastic so Mom will come to her senses and stop seeing that creep Rick Littleton, the creep she promised she would stop seeing but didn't, for good.
From the moment she enters the school's shadowy halls, Ren finds herself drawn into its secrets. Every night old Mrs. Baxter, the landlady, wanders the building on a mysterious quest. What could she be up to? And can Mrs. Baxter's outlandish plan to transform the gym into a pearl-button museum ever succeed? With a quirky new friend named Hugh at her side, Ren sets out to solve the mystery that could save Fortune from fading away. But what about her family's future? Can that be saved too?

I included this on the list without thinking – is it actually historical fiction? Though it's set in the present day, history plays a strong role and it feels like a historical tale, with the primary setting being the old school building and the plot focused on uncovering the past.
Though I found the plot less than exciting, I enjoyed the atmosphere of the novel because it reminded me of a converted schoolhouse I stayed at in the mountains of Japan.
Review @ Puss Reboots | Review @ Ms. Yingling Reads | Add to GoodReads
Aim by Joyce Moyer Hostetter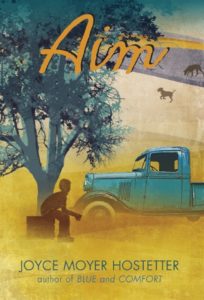 As World War II threatens the United States in 1941, fourteen-year-old Junior Bledsoe fights his own battles at home. Junior struggles with school and with anger—at his father, his insufferable granddaddy, his neighbors, and himself—as he desperately tries to understand himself and find his own aim in life. But he finds relief in escaping to the quiet of the nearby woods and tinkering with cars, something he learned from his Pop, and a fatherly neighbor provides much-needed guidance. This heartfelt and inspiring prequel to the author's Blue and Comfort also includes an author's note and bibliography.

Didn't capture my interest. Perhaps more interesting if you've read the other two novels?
Review @ The Children's War | Add to GoodReads
Some Kind of Courage by Dan Geimenhart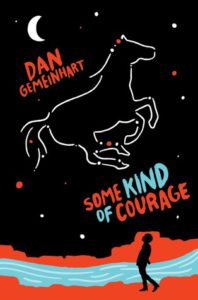 Joseph Johnson has lost just about everyone he's ever loved. He lost his pa in an accident. He lost his ma and his little sister to sickness. And now, he's lost his pony–fast, fierce, beautiful Sarah, taken away by a man who had no right to take her. Joseph can sure enough get her back, though. The odds are stacked against him, but he isn't about to give up. He will face down deadly animals, dangerous men, and the fury of nature itself on his quest to be reunited with the only family he has left. Because Joseph Johnson may have lost just about everything; but he hasn't lost hope. And he hasn't lost the fire in his belly that says he's getting his Sarah back–no matter what.

10 year old me would have liked this book, despite the setting. I liked the quietness about it.
Caution regarding the portrayal of Indigenous people: Joseph's mother taught him not to be derogatory towards Chinese people but she didn't teach him the same about 'Indians'. Deb Reese does not recommend this book.
Review by Barbara | Review @ Ms. Yingling Reads | Add to GoodReads
Nine, Ten by Nora Raleigh Bashkin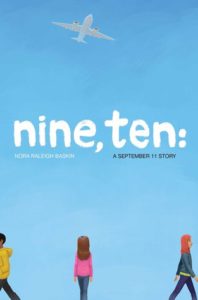 Ask anyone: September 11, 2001, was serene and lovely, a perfect day—until a plane struck the World Trade Center. But right now it is a few days earlier, and four kids in different parts of the country are going about their lives. Sergio, who lives in Brooklyn, is struggling to come to terms with the absentee father he hates and the grandmother he loves. Will's father is gone, too, killed in a car accident that has left the family reeling. Nadira has never before felt uncomfortable about being Muslim, but at her new school she's getting funny looks because of the head scarf she wears. Amy is starting a new school in a new city and missing her mom, who has to fly to New York on business. These four don't know one another, but their lives are about to intersect in ways they never could have imagined.

Yup, it's a little strange to think stories about 9/11 can be considered historical fiction for this age group.
This one didn't strike me in the same way as Towers Falling. This one felt more hokey, somehow.
I like the timeline – days leading up to 9/11 instead of the exact day of or many days later.
Review @ Puss Reboots | Review @ Ms. Yingling Reads | Add to GoodReads
The following MG historical fiction novels I reviewed previously:
This concludes the final installment in my series reviewing Cybils middle grade fiction nominees. I found participating in the Cybils as a round one judge to be a unique and enjoyable experience. Though it can be a lot of work, that 'work' is reading and thinking about books, so it's still a good time 🙂 If you're interested in serving as a judge for Cybils 2017 (applications open in September), check out the website here.