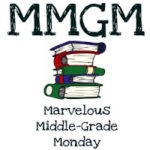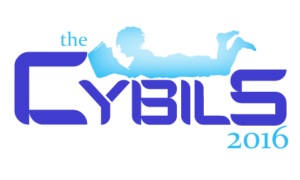 From October to December of last year, I read just over 50 middle-grade fiction books in my role as a round one judge for the Cybils. To share some of the Cybils nominees I've read, I've decided to create a few lists grouping books by similar characteristics. All of the books meet the Cybils nominating criteria, which means they were published in English in Canada or the US between 16 October 2015 to 15 October 2016. Today's list features four books which I personally enjoyed (that weren't shortlisted or featured on any of my other lists).
Some Kind of Happiness by Claire Legrand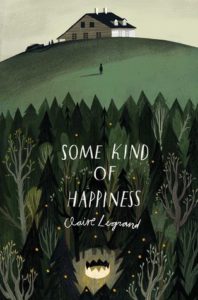 Finley's only retreat is the Everwood, a forest kingdom that exists in the pages of her notebook. Until she discovers the endless woods behind her grandparents' house and realizes the Everwood is real–and holds more mysteries than she'd ever imagined, including a family of pirates that she isn't allowed to talk to, trees covered in ash, and a strange old wizard living in a house made of bones. With the help of her cousins, Finley sets out on a mission to save the dying Everwood and uncover its secrets. But as the mysteries pile up and the frightening sadness inside her grows, Finley realizes that if she wants to save the Everwood, she'll first have to save herself. Reality and fantasy collide in this powerful, heartfelt novel about family, depression, and the power of imagination.

[Okay, this book was shortlisted, but I just have to talk about it here.] As a child, I would have loved Some Kind of Happiness. I can't argue that it has broad kid appeal, though I hope children who struggle with anxiety and/or depression may take comfort in this story. Sometimes Finley has blue days, where she feels desperately sad and overwhelmed, and she can't figure out why. Early on, she writes, "(If anyone around here should feel sad, and heavy, and unable to get up and brush her teeth before bed, it should be Gretchen, or stick.) (Not me.)" (63). She comes to learn that she likely has an anxiety disorder and depression, and that there are ways for her to manage both. I found the story beautifully written (particularly the excerpts of Finley's stories). This book sort-of straddles the boundary between fiction and speculative fiction. While Finley's fantastical stories aren't real within the context of the story, they feel real enough to me. It's no secret that I prefer speculative over contemporary fiction. Finley's writing injects that touch of fantasy I crave. Finally, I like story lines where kids are discovering the past wrongs of adults.
Own voices? – Yes. Legrand suffered from anxiety when she was a child (she wrote a guest post at SLJ about her experiences and the importance of mental illness representation in works for children).
Review @ Random Musings of a Bibliophile | Review @ Ms. Yingling Reads | Add to GoodReads
Allie, First at Last by Angela Cervantes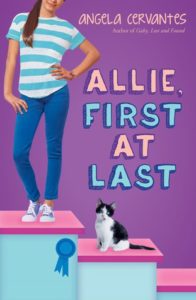 Allie Velasco wants to be a trailblazer. A trendsetter. A winner. No better feeling exists in the world than stepping to the top of a winner's podium and hoisting a trophy high in the air. At least that's what Allie thinks; she's never actually won anything before. Everyone in her family is special in some way; her younger sister is a rising TV star, her brother is a soccer prodigy, and her great-grandfather is a Congressional Medal of Honor winner. With a family like this, Allie knows she has to make her mark or risk being left behind. She's determined to add a shiny medal, blue ribbon, or beautiful trophy to her family's award shelf. When a prestigious school contest is announced, Allie has the perfect opportunity to take first, at last. There's just one small snag: Her biggest competition is also her ex-best friend, Sara. Can Allie take top prize and win back a friend, or is she destined to lose it all?
Please disregard that blah cover. That's what I should have done. Because I judged a book by its cover, Allie, First at Last turned out to be my biggest surprise read of the Cybils nominees. I appreciated that Allie's flaw is her desire to be competitive. I find that often, if a character is hyper-competitive, it's because they're good at something and want to always be the best. Allie is still struggling to find her 'thing'. The exploration of friendship via her relationships with Victor (new kid in school who Allie makes some negative assumptions about) and Sara (Allie's former friend who isn't totally sure why they're not friends anymore) strengthen the story. Finally, I liked the inclusion of some WWII history via Allie's great-grandfather.
Own voices? Yes – Cervantes is Mexican-American, like Allie.
Review @ Ms. Yingling Reads | Review by Barbara | Add to Goodreads
Just Like Me by Nancy J. Cavanaugh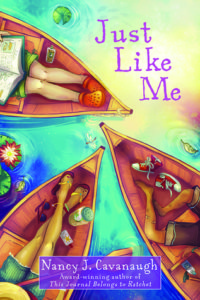 Who eats Cheetos with chopsticks?! Avery and Becca, my "Chinese Sisters," that's who. We're not really sisters—we were just adopted from the same orphanage. And we're nothing alike. They sing Chinese love songs on the bus to summer camp, and I pretend like I don't know them.  To make everything worse, we have to journal about our time at camp so the adoption agency can do some kind of "where are they now" newsletter. I'll tell you where I am: At Camp Little Big Woods in a cabin with five other girls who aren't getting along, competing for a campout and losing (badly), wondering how I got here…and where I belong.

Just Like Me = camp narrative + adoption narrative. I thought the camp atmosphere was portrayed well, capturing the spirit of competitiveness that can overtake kids. I liked that the girls couldn't always get along (although their bickering may grow old quickly for some readers). They had to learn to work together and empathize a little as they learnt about each other's backgrounds. This applies not only to Julia, Avery, and Becca, but to the other three girls in their cabin as well.
Own voices? – Not exactly… Cavanaugh is definitely not an American girl adopted from China. The author photo in the book showing Cavanaugh (a White woman) with her daughter might lead one to assume that Cavanaugh adopted her daughter from China. However, the description does not clarify this, nor have I found explicit evidence online. In a time when we are recognizing more and more the value of own voices narratives, I am curious about the experiences (or lack thereof) which an author draws from, especially when writing contemporary fiction. I find it a tad frustrating not to be able to do that.
Review @ Puss Reboots | Review @ The Book Wars | Add to Goodreads
Towers Falling by Jewell Parker Rhodes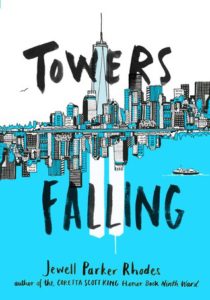 When her fifth-grade teacher hints that a series of lessons about home and community will culminate with one big answer about two tall towers once visible outside their classroom window, Deja can't help but feel confused. She sets off on a journey of discovery, with new friends Ben and Sabeen by her side. But just as she gets closer to answering big questions about who she is, what America means, and how communities can grow (and heal), she uncovers new questions, too. Like, why does Pop get so angry when she brings up anything about the towers?

I was in grade four when 9/11 happened. It's not something I think about very often, despite its astonishing repercussions on current events. I'd briefly thought about how nearly all my students (up to grade nine) were born after 9/11. I had never thought about how one would teach such students about 9/11. To these students, 9/11 may be just as historical as Pearl Harbour. I thought Rhodes sensitively handled the depiction of the event and how it impacted(s) people, including the PTSD of Deja's father. I loved the diversity of the characters and how they connected. Basically, I appreciated how the story unfolded and explained the events of 9/11, while exploring the concept of community. Deja has a strong voice, and is a key character in the story (ie., she's not just a mouth piece to teach about 9/11). Like Some Kind of Happiness, I'm not sure this one has broad kid appeal. I can imagine some kids reading Some Kind for pleasure, but this one has a strong classroom vibe to it. (The book was inspired by teachers who witnessed 9/11 and didn't have a way to talk about it with students.)
Own voices? Yes – Rhodes is an African-American educator.
Review @ Feed Your Fiction Addiction | Review @ Randomly Reading | Add to Goodreads