March 25 is Tolkien Reading Day. Organized by the Tolkien Society, the day was chosen to coincide with the defeat of Sauron. The day was established "to encourage fans to celebrate and promote the life and works of J.R.R. Tolkien by reading favourite passages". My posts covers my plans for today + 8 playlists to listen to while reading your favourite Tolkien tales.
Too much time has passed since  I read much by or about Tolkien. I recently completed Tolkien in Translation and that has renewed by hunger for Middle-earth. I read that book for a guest post I'm doing as part of Pages Unbound's two week long celebration of Tolkien Reading Day. They've been featuring a post a day about Tolkien (including many guest posts) since March 19, so be sure to check it out. My review of Tolkien in Translation will be posted there on 31 March.
I actually have some fun plans beyond reading Tolkien all day (see below for my book choices). Way back in October at Comic-con, I bought tickets to an event titled "All Who Wander" that will feature dramatic readings from the Middle-Earth canon and acapella renditions of songs from The Lord of the Rings. Sounds like a fun evening!
Today's Reading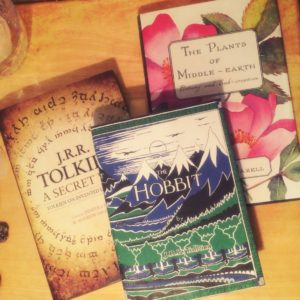 A Secret Vice by J.R.R. Tolkien, edited by Dimitra Fimi and Andrew Higgins – I started this book way back in the summer. I only finished the introduction. Time to delve into the lecture proper.
The Botany of Middle-Earth by Dinah Hazell – A lovely hardcover that's been sitting too long on my shelf.
The Hobbit facsimile first edition – I received this edition as a Christmas gift in 2016. This edition replicates both the original text (which Tolkien made some significant modifications to after publishing The Lord of the Rings) and the design of The Hobbit as first published in 1937.
Recommended Listening
One of my favourite websites for discovering thematic background music is 8tracks. 8tracks allows users to create and tag their own mixes. The website has an extensive tagging system so you can pinpoint just the kind of music you want to listen to. I would like to recommend 8 of my favourite Tolkien-themed playlists. Playlist themes include places, races, characters, and particular chapters. Below I've listed the title of the playlist and the description given by the playlist creator. Links to listen to the playlists on 8tracks. I've embedded my most listened playlist 🙂
(All the Elvish playlists I saved seem to no longer be in existence :/ Guess I'll have to find some new ones!) Do you have any plans for Tolkien Reading Day?