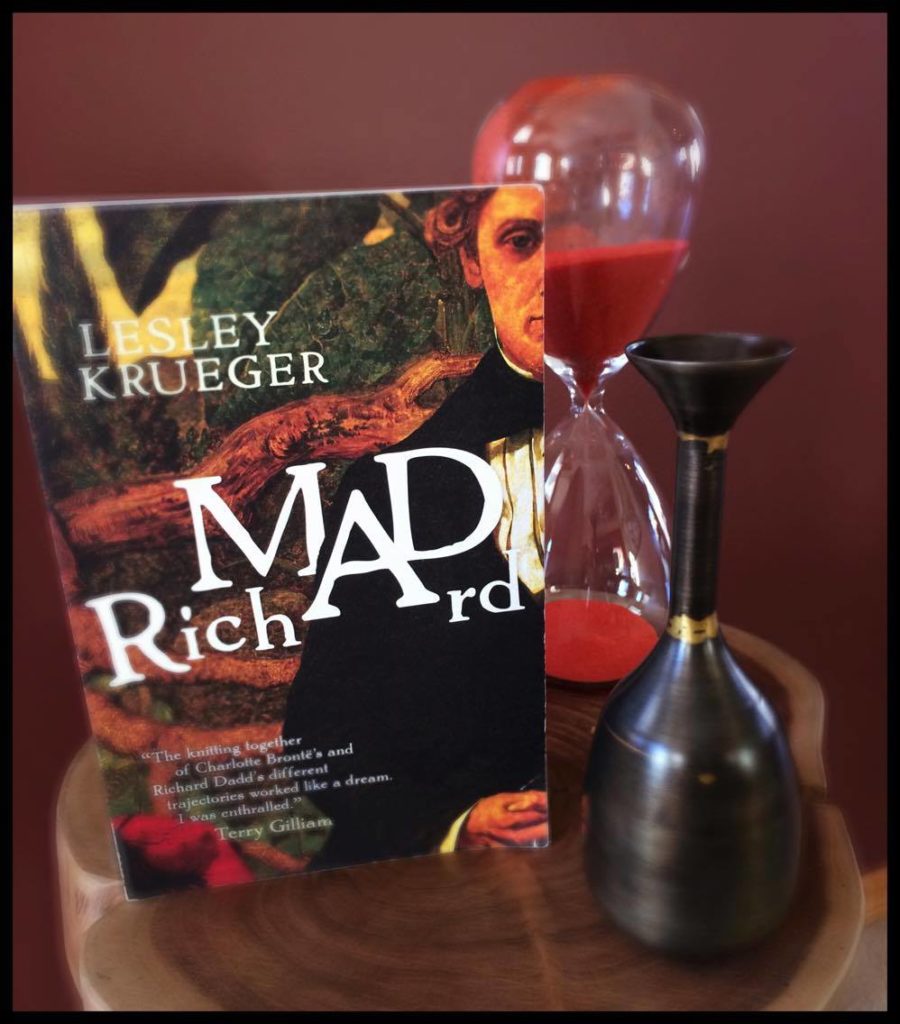 Author: Lesley Krueger
Title: Mad Richard
Format/Source: Paperback/Publisher
Published: 14 March 2017
Publisher: ECW Press
Length: 326 pages
Genre: Historical fiction
Rating: ★★★½
GoodReads | Indigo | IndieBound | Wordery
I received a copy from the publisher in exchange for my honest review.
Called the most promising artist of his generation, handsome, modest, and affectionate, Richard Dadd rubbed shoulders with the great luminaries of the Victorian Age. He grew up along the Medway with Charles Dickens and studied at the Royal Academy Schools under the brilliant and eccentric J.M.W. Turner.

Based on Dadd's tragic true story, Mad Richard follows the young artist as he develops his craft, contemplates the nature of art and fame — as he watches Dickens navigate those tricky waters — and ultimately finds himself imprisoned in Bedlam for murder, committed as criminally insane.

In 1853, Charlotte Brontë — about to publish her third novel, suffering from unrequited love, and herself wrestling with questions about art and artists, class, obsession and romance — visits Richard at Bedlam and finds an unexpected kinship in his feverish mind and his haunting work.

Masterfully slipping through time and memory, Mad Richard maps the artistic temperaments of Charlotte and Richard, weaving their divergent lives together with their shared fears and follies, dreams, and crushing illusions.
ECW Press, an independent Canadian publisher, has become my go-to for finding new fiction that expands my reading horizons. The linking of two historical figures not popularly known to have interacted and the "questions about art and artists, class, obsession and romance" drew me to Mad Richard. Written by Richard's "first cousin-in-law five times removed", the book apparently draws on the author's knowledge of "family information unknown to biographers" (author bio in book).
Mad Richard shares two protagonists, painter Richard Dadd and author Charlotte Bronte. I found Richard to be a likable character – well-rounded, considerate, and yet somehow not dull, haha. I specifically noted my fondness for Richard on page 113, where he awakens from a fainting spell, has a small epiphany about his art, then states "I'm famished. Don't imagine I could have a chop?" I knew just a smidgen more about Charlotte than I did about Richard going into this book. Mad Richard brings her to life in a way I've not experienced Victorian writers before. They have always felt so distant from writers I know of today or even from the 20th century. Krueger portrays Charlotte's hopes and fears in a relatable manner.
Krueger's prose often impressed me, particularly in the ways she chose to detail her characters. I find myself asking – "How can I see people like that? How could I be so observant, to write something like this?" (as I often find myself asking when I read good literary fiction). This bit about Elizabeth Gaskell particularly struck me:
Mrs. Gaskell's famous charm lay in her unaffected interest in people; her entire absence of self-regard. She didn't know why she should speak about herself. She knew all about herself. She would rather hear other people's stories. A beautiful, tall, solid woman, a tree trunk, she would fold herself into whatever chair was empty, and her "How are you?" to whomever she found beside her was so obviously sincere, her silences so attentive, her wit so fertile, she could draw even a pedant into the liveliest of conversations. Even Charlotte. (184)
My primary qualm with Mad Richard is that the story moves very slowly. The book begins with Charlotte's visit to Richard in Bedlam. They interact only once. The remainder of the book tells Charlotte's story from that moment onward, while telling Richard's story from his teen years to the time he commits a murder. Charlotte and Richard's stories were less interconnected than I expected. The connection is more in the parallels in their situations.
I found the passages about Richard often stretched on for longer than necessary. I wasn't bored, per se…The Victorian setting and ruminations about the process of creating art kept me interested, but there was only so much of the style I could manage at a time, resulting in me taking three weeks to read the 330 page book. The story dragged at times, bogged down in details and minor happenings. I did not feel that Charlotte's passages dragged on, though her story line was arguably no more riveting than Richard's. (I imagine one familiar with Charlotte's life might have found it more dull, knowing how her romances played out?)
The Bottom Line:
An enlightening work of historical fiction, although dry at times. Recommended for those interested in people creating art during the Victorian age.
Further Reading: