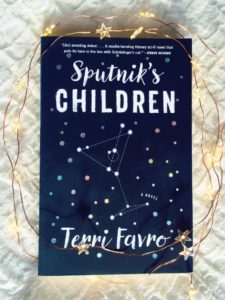 Author: Terri Favro
Title: Sputnik's Children
Format/Source: Paperback/Publisher
Published: 11 April 2017
Publisher: ECW Press
Length: 348 pages
Genre: Science fiction in literary clothes
Rating: ★★★★
GoodReads | Indigo | IndieBound | Wordery
I received a copy from the publisher in exchange for my honest review.
Cult comic book creator Debbie Reynolds Biondi has been riding the success of her Cold War era–inspired superhero series, Sputnik Chick: Girl with No Past, for more than 25 years. But with the comic book losing fans and Debbie struggling to come up with new plotlines for her badass, mutant-killing heroine, she decides to finally tell Sputnik Chick's origin story.

Debbie's never had to make anything up before and she isn't starting now. Sputnik Chick is based on Debbie's own life in an alternate timeline called Atomic Mean Time. As a teenager growing up in Shipman's Corners — a Rust Belt town voted by Popular Science magazine as "most likely to be nuked" — she was recruited by a self-proclaimed time traveller to collapse Atomic Mean Time before an all-out nuclear war grotesquely altered humanity. In trying to save the world, Debbie risked obliterating everyone she'd ever loved — as well as her own past — in the process.

Or so she believes . . . Present-day Debbie is addicted to lorazepam and dirty, wet martinis, making her an unreliable narrator, at best.
Alternate timelines + cult comic books = say no more. (Though I am generally not a fan of unreliable narrators, that turned out to be less of a transgression against my personal preferences than I braced myself for.) Sputnik's Children combines alternate history and literary character building to tell a creative and entertaining story.
I wasn't quite sure how to interpret the above summary, particularly this statement: "Sputnik Chick is based on Debbie's own life in an alternate timeline called Atomic Mean Time". Is Debbie imagining this alternate timeline or did she actually believe she lived it? The latter turns out to be true. To clarify, Debbie currently lives in 'the real world' of 2011. She's considering writing the origin story of her cult comic book hero, Sputnik Chick. Debbie believes she (herself, Debbie) grew up in Atomic Mean Time (AMT), an alternate universe similar to ours, but that's stuck in Cold War time with a constant threat of nuclear bombings and World War III. Debbie's youth in this other timeline inspires her Sputnik Chick stories. The bulk of the book is Debbie's first person narration of her time in AMT, with occasional chapters of third person narration in the 'real world' leading up to the present. The question is, did Debbie actually live through AMT or is this just a concocted story?
At its core, Sputnik's Children may be described as a coming of age novel. The majority of the story takes place during Debbie's teen years, beginning when she's 12 and continuing to mid-twenties. Debbie has to deal with a maturing body, unwanted sexual attention, and her first romantic relationship. This relationship is a significant component of Debbie's life in AMT. Debbie is White and her boyfriend John Kendall is Black. This relationship creates tension from societal expectations in their small town of the 1970s.
What sets Sputnik's Children aside from other small town stories is the science fiction setting of AMT. Debbie has to contend with the fact that her community expects to be destroyed at any moment by an atomic bomb. Favro establishes the AMT world in the first few pages, laying out the core differences between Atomic Mean Time and Earth Standard Time (the 'real world'). This gives the reader a chance to focus on character and plot right away, without having to spend too much effort on becoming oriented with the setting. AMT differs in slight ways from the real world, resulting in an alternate universe where the Cold War only intensified in the seventies and corporations manufacturing weapons rule the day. (I do love a shadowy overseer organization.)
The plot of the story comes in the form of a time-travelling man from the future, who wants to prevent World III. He believes Debbie is the key to doing that. Debbie herself only time travels once, with seemingly little impact on the plot (aside from the personal changes she notices, having skipped a few years into puberty).
The Bottom Line:
Sputnik's Children is a character-based take on science fiction that blends comics, the Atomic Age, the seventies, and interracial romance into one compelling tale. The question of whether Debbie has made everything up or actually lived it is almost irrelevant – you'll enjoy the story either way.
Further Reading: