The Blossoming Universe of Violet Diamond by Brenda Woods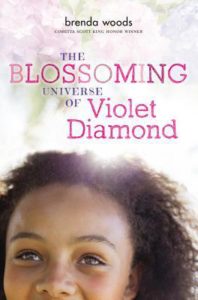 Format/Source: Hardcover/Library
Published: January 2014
Publisher: Nancy Paulsen Books
Length: 240 pages
Genre: Contemporary middle grade
Rating: ★★★★
GoodReads | Indigo | IndieBound | Wordery
Violet is a smart, funny, brown-eyed, brown-haired girl in a family of blonds. Her mom is white, and her dad, who died before she was born, was black. She attends a mostly white school where she sometimes feels like a brown leaf on a pile of snow. She's tired of people asking if she's adopted. Now that Violet's eleven, she decides it's time to learn about her African American heritage. And despite getting off to a rocky start trying to reclaim her dad's side of the family, she can feel her confidence growing as the puzzle pieces of her life finally start coming together. Readers will cheer for Violet, sharing her joy as she discovers her roots.
Earlier this year, my mom and I read Black Berry, Sweet Juice by Lawrence Hill, a non-fiction book which profiles the experiences of biracial Black Canadians. That book opened my eyes to the unique challenges biracial people can face. The Blossoming Universe of Violet Diamond explores those challenges from a middle-grade perspective.
This book focuses on Violet finding her space within both her White family and her Black family. There are brief yet important discussions about race. For example, when Violet mentions her Greek friend's grandmother's belief that 'there is no race, just the human race' and Violet's grandmother responds, "It's not so simple, Violet. White folks made the race laws in the first place, and our history is complicated" (pg. 165). Violet's grandmother's initial negative attitude to her son marrying a White woman is also addressed. There are other places that allude to debated issues on racial identity, but as Violet is just 11 years old and learning for the first time about what it means to be Black and biracial. She isn't drowned in too much information and neither is the reader.
Early in the book (around page 50), Violet learns about the circumstances of her father's death, which explains why Violet's paternal grandmother doesn't like Violet's mother. In two short sentences, Woods reveals the awful truth. Violet yelling at her mother caused me to cringe. I can't imagine what it would be like to learn that about your parent's past. The backstory is pretty intense way explain the disconnect between Violet and her father's family.
I think this would be a good book to ease kids into the concept of and challenges surrounding what it means to be biracial, as well as to start a discussion about coming to terms with a particular identity. A young adult novel featuring Violet as a teen would make an excellent follow-up, giving the opportunity to delve further into ideas that Woods briefly introduces in this book.
The Bottom Line
The Blossoming Universe of Violet Diamond features a spunky protagonist who learns what it means to be biracial. The book can serve as a good introduction to discussion about race and identity for younger readers.
Further Reading
This post counts towards the Read Diverse 2017 reviewing challenge!

Review by Jessica @ GoodReads
Review by Alex @ Randomly Reading
Review @ SLJ
Review @ Kirkus Reviews