Bannerless by Carrie Vaughn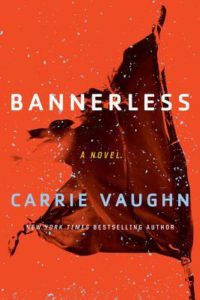 Format/Source: eBook/Netgalley
Published: 11 July 2017
Publisher: Houghton Mifflin Harcourt
Length: 352 pages
Genre: Post-apocalypse/Mystery
Rating: ★
GoodReads | Indigo | IndieBound | Wordery
I received a copy from the publisher via Netgalley in exchange for my honest review.
Decades after economic and environmental collapse destroys much of civilization in the United States, the Coast Road region isn't just surviving but thriving by some accounts, building something new on the ruins of what came before. A culture of population control has developed in which people, organized into households, must earn the children they bear by proving they can take care of them and are awarded symbolic banners to demonstrate this privilege. In the meantime, birth control is mandatory.  Enid of Haven is an Investigator, called on to mediate disputes and examine transgressions against the community. She's young for the job and hasn't yet handled a serious case. Now, though, a suspicious death requires her attention. The victim was an outcast, but might someone have taken dislike a step further and murdered him?  In a world defined by the disasters that happened a century before, the past is always present. But this investigation may reveal the cracks in Enid's world and make her question what she really stands for.
I went into this book hoping for some clever literary fiction exploring questions of population management, bodily autonomy, and maybe some critiquing of environmental and economic policies. I hoped the murder mystery would take a back seat, functioning as frame for those questions. Unfortunately, Bannerless falls short in all those areas. Bannerless instead tells a simple coming of age tale and murder mystery, neither of which are particularly compelling.
The first thing about this book that stood out to me was the repetitive and self-explanatory prose. One aspect that particularly grated on me was the hammering on about how investigators are feared, terrible, powerful. Their brown uniforms symbolize of something awful, but who knows what. We're told numerous times that the average person disdains investigators, yet the narration never shows why. I don't like being told something over and over with no evidence. Perhaps its because investigators enforce rules that people don't like? But we're never shown effects of that – the system that most people live by functions well and we don't see or hear about an investigator ruining someone's life. (One person has an outburst about a household that was split up because an investigator discovered they were doing something illegal, but that has no connection to this story.)
Another related issue I had with the prose is that many sentences felt unnecessary, in that they told me something I could have inferred from the dialogue. It was an odd case of telling instead of showing – at times, the telling happened in addition to the showing. One chapter contains five instances of glaring, by the same two characters. In general, the prose reads amateurish and undeveloped.
This critique about the investigators ties into my main issue with the novel. Where is the dystopia? How does the investigation "reveal the cracks in Enid's world and make her question what she really stands for"? Enid doesn't seem to question her role as the blurb hints. The story doesn't convincingly portray birth/population control as a negative thing, which, given the book's dystopic tropes, I would assume is the goal. There's talk of how children born bannerless (i.e. their parents didn't have a banner and thus shouldn't have had a child) are discriminated against. Enid encounters people living outside the households and banners structure, but they live desperate lives which enforces Enid's belief in the banner system (not that she ever questioned the system). Based on what happens in the novel, I support the banner system, which ensures  if you can support a child, then you can have one. Wouldn't that be the case in an ideal world? That everyone who has a child can support that child? Of course, that's a simplistic view that should open the door for a more complex exploration of bodily autonomy and other concepts, but Bannerless makes no room for such an exploration.
It occurs to me now perhaps the story is more complex than I'm giving it credit for. Maybe it really is advocating this method of population control, or just trying to start that discussion by showing a positive side of population control. Yet I still feel that the story would have been improved by a more nuanced exploration of the various sides of that discussion. Plus, the book is being marketed as a dystopia so I'm not sure what what Enid was supposed to discover as she investigated the murder.
The story follows two threads – Enid as a teen travelling with musician Dak and Enid as a twenty-something investigating a murder. The murder mystery itself is simple and predictable, and thus pretty boring. The investigation is blah. Enid tries to talk to people, they don't want to talk to her. She eventually figures it out. Hooray. I did like teen Enid, despite her slow story. She follows her own path. She makes the decision to travel with Dak and she makes the decision to leave him.
The Bottom Line:
Bannerless has the premise of a fascinating story, but the weak plot and dull storytelling make Bannerless one you can skip.
Further Reading: