Patina by Jason Reynolds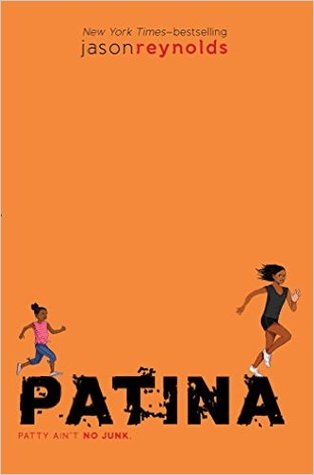 Series: Track #2
Format/Source: ARC/Publisher
Published: 29 August 2017
Publisher: Simon & Schuster Canada
Length: 240 pages
Genre: Middle grade contemporary
Rating: ★★★★
GoodReads | Indigo | IndieBound | Wordery
I received a copy from the publisher in exchange for my honest review.
Patina, or Patty, runs like a flash. She runs for many reasons—to escape the taunts from the kids at the fancy-schmancy new school she's been sent to since she and her little sister had to stop living with their mom. She runs from the reason WHY she's not able to live with her "real" mom any more: her mom has The Sugar, and Patty is terrified that the disease that took her mom's legs will one day take her away forever. So Patty's also running for her mom, who can't. But can you ever really run away from any of this? As the stress builds up, it's building up a pretty bad attitude as well. Coach won't tolerate bad attitude. No day, no way. And now he wants Patty to run relay…where you have to depend on other people? How's she going to do THAT?
I first encountered Jason Reynolds last year when I read Ghost, the first book in his Track series. Ghost ended up winning the 2016 Cybils award for middle grade fiction. Patina, the follow up to Ghost, hits just as many right notes as Ghost -even if they're different notes. In his first novel from a female perspective, Reynolds has crafted a unique voice that brings Patina to life in a distinct way from that of Ghost, the previous novel's male protagonist. If you haven't read anything by Reynolds, I highly recommend this series. The Track books do a great job of exploring middle grade life, the importance of friends and family, and how sport can benefit kids in more ways than one. Patina would be a good story if Reynolds tackled even just one of these topics, but he has managed to bring them all together in a well-balanced blend.
Patina's plot differs from Ghost in that it lacks a central conflict stemming from Patina's own actions (i.e. Ghost steals a pair of shoes and has to deal with the consequence). There is a tense pivotal moment, yet one of a very different nature than in Ghost. Instead, Patina focuses more on the exploration of Patina's relationships with friends, family, and track mates.  I loved reading along as Patina realizes how much she loves her family and how much she values everything they do for one another. She learns to balance her competitiveness and her track life with her school and family life.
Beyond his on-point exploration of life as a middle schooler, Reynolds also explores how Patina's life differs from her White classmates as she and her younger sister (who are Black) are raised by her White aunt and Black uncle. Patina's mother has lost her legs to diabetes and can no longer raise her children, but she still plays a large and important role in her children's lives. This is a family situation I haven't seen before in a middle grade novel. It sends a strong message that just because a mother of father can't provide for a child in a traditional sense, doesn't mean that they don't love and care about them.
Something would be missing from this review if I didn't mention track! I have (had?) no interest in sports novels before I was required to read Ghost. Now I can see where they get their appeal from. Track practice provides a unique setting for the characters to interact in. The advice from the coaches and banter between team mates felt refreshing to me – a change from the usual school or home life based discussions. And of course, the build-up to the big race creates a solid structure for pacing the novel.
The Bottom Line:
If you enjoyed Ghost, Patina won't disappoint. Patina demonstrates all of Reynold's writing chops as he tells an engaging story through a strong voice.
Further Reading: