The Painting by Charis Cotter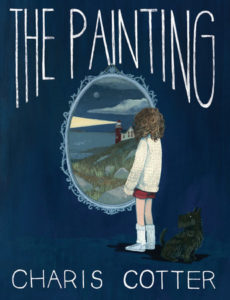 Format/Source: eBook/Netgalley
Published: 19 September 2017
Publisher: Tundra Books
Length: 288 pages
Genre: Middle grade time slip
Rating: ★★★½
GoodReads | Indigo | IndieBound
I received a copy from the publisher via Netgalley in exchange for my honest review.
Annie and her mother don't see eye to eye. When Annie finds a painting of a lonely lighthouse in their home, she is immediately drawn to it–and her mother wishes it would stay banished in the attic. To her, art has no interest, but Annie loves drawing and painting.
When Annie's mother slips into a coma following a car accident, strange things begin to happen to Annie. She finds herself falling into the painting and meeting Claire, a girl her own age living at the lighthouse. Claire's mother Maisie is the artist behind the painting, and like Annie, Claire's relationship with her mother is fraught. Annie thinks she can help them find their way back to each other, and in so doing, help mend her relationship with her own mother.

But who IS Claire? Why can Annie travel through the painting? And can Annie help her mother wake up from her coma?
Back in 2014, I was so charmed by Charis Cotter's debut The Swallow (review here) that I nominated it for a Cybils award. Today I'm reviewing Cotter's sophomore middle grade novel. The mention of a lonely lighthouse caught my interest. Cotter, a native of Toronto who now lives in Newfoundland, evokes crisp imagery in her descriptions of the coast and lighthouse. The atmosphere, for me, makes up for the lack of explicit ghosts.
Annie soon deduces Claire's identity, so I don't believe it's a spoiler to state that Claire is Annie's mother, some years in the past. I enjoy books that explore the familial relationships between children and adults (an enjoyment that can be traced back to my reading of Inkheart at 10 years old). The mother-daughter relationships explored in The Painting are the kind where the daughter wants one thing for herself and the mother wants something else for the daughter. Conflicts sparks as they fail to understand each other's needs. (The Pixar film Brave also did a great job at exploring this kind of relationship.) Annie sees her relationship with Claire inverted in Claire's relationship with her own mother Maisie – Maisie paints, Claire studies, Claire wants to attend high school in town and Maisie wants her to stay at the lighthouse. In the modern timeline, Annie finds herself clashing with Claire over Annie's interest in art and her introverted demeanor.
A number of poignant moments are scattered throughout the story. The death of Claire's younger sister complicates Claire and Maisie's relationship and gives further depth to their relationship. The first person narrative of a young girl who thinks she's to blame for her sibling's death or who believes her mother doesn't love her can sting to read.
If you liked the style of The Swallow, you will probably like the style of The Painting. The narrative alternates between the two girls in short segments. As with The Swallow, I found Annie and Claire's voices to be very similar. There is less creepiness in The Painting than in The Swallow – though atmospheric, the characters drive The Painting even more so than in The Swallow.
The Bottom Line:
A touching story primarily set along Newfoundland's atmospheric coast, Annie and Claire work together across decades to save Annie's mother and in the process repair their own relationships with their mothers.
Further Reading: