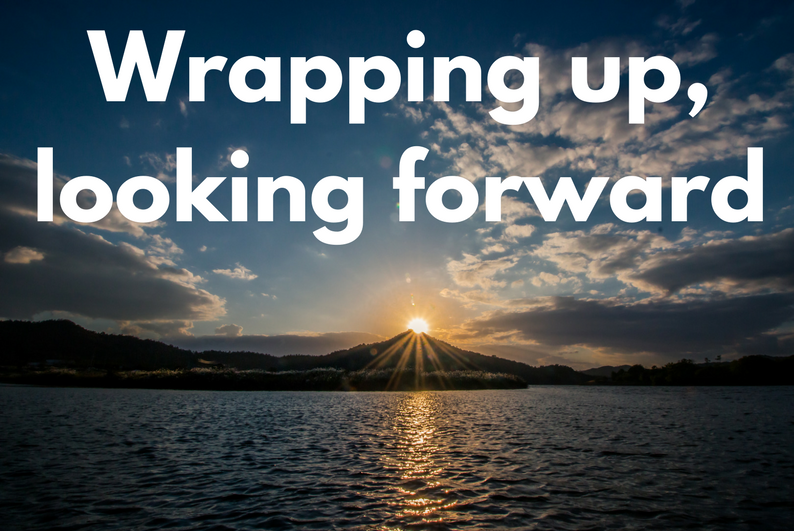 Welcome to my eighth annual 'Wrapping Up, Looking Forward' post. In this post, I like to take a general look back at how I did with my goals in 2017, and set some new goals for 2018.
Posting and Reading Overview
I posted 81 times. I had a vague goal for posting this year, thinking about two posts (incl. one review) a week. I didn't distribute my posts in an ideal manner, but (factoring in a two month hiatus) I did hit that goal of 80 posts/year! I also wrote 39 review posts, so that just about works out as well. 🙂
I read 85 books, falling short of my goal of 100. I read over 100 books in 2016 so I inspired myself to strive for that goal again this year, lol. Though I realized I would have grad school to contend with, I still wanted to aim high.  This year I will adjust my goal to account for four busy months of grad school (I found two months in the term were hectic, but the first and last month were much more manageable).
Jenna
has
read 1 book toward
their goal of
100 books.
Reading Challenges
5/6

books by Indigenous Canadians  – Almost made it…should have read a different book than The Absolutely True Diary of a Part-Time Indian 😛

1/4

books about Japanese spirituality  – I keep setting this goal but I don't keep reading these books 😛

6/5

books about/by J.R.R. Tolkien (not including re-reads) – Finally! A success!
Read more picture books and graphic novels – This goal went well in the first half of the year but I kind of forgot about it. I think I'll make it a quantitative goal for 2018.
Read more classic middle grade and speculative fiction middle grade – I did read more in these genres than I did last year, so that's something!
Read more non-fiction – I read

17

non-fiction books, which is pretty good for me.
Reread more – I reread

6

books. Oh well.

7/12

2017 Diverse Reads Challenge – This challenge consisted of monthly themes. I plan to read the books I didn't get to in the next couple of months.

15+ reviews

for Read Diverse Books – I stopped keeping track of this challenge when I realized the host blog was no longer active, but I am certain I passed the mark.

0/6

Diversity Bingo 2017 – I don't think I read any books for this challenge… I have noted the prompts that address gaps in my reading and will continue look for books that fulfill them.

2?/12

Canada 150 Bingo – I halfheartedly participated in this challenge. As with the challenge above, I think some of the prompts are interesting and will keep them in mind in the future.

6/15

points Newbery Reading Challenge – Although I didn't make the goal, I squeezed in two books that I probably wouldn't have read otherwise.
2018 Goals
My stance on participating in official challenges seems to swing back and forth on a yearly basis. I won't be participating in any official challenges this year. Two full terms of grad school will limit my reading time. I want to really hone in on my own goals and interests, so I'll just be setting some personal goals for myself.
7

books about/by J.R.R. Tolkien (not including re-reads)

6

books by Indigenous people raised in Canada

3

books about Japan

20

 middle grade speculative fiction books

6

rereads (not including the usuals)

10

graphic novels (does not count towards book total)

2

posts/week (not including hiatuses)

75

books read
My goals are largely similar to 2017. I may think of some more specific targets over the next few months. I plan on taking two two-month hiatuses during the busier times of my semester (February and March; October and November). I'm not sure how I'll tackle posting then, but I'll try not to disappear as much as I did last semester. How was your 2017 reading year? What goals or challenges are you undertaking in 2018?