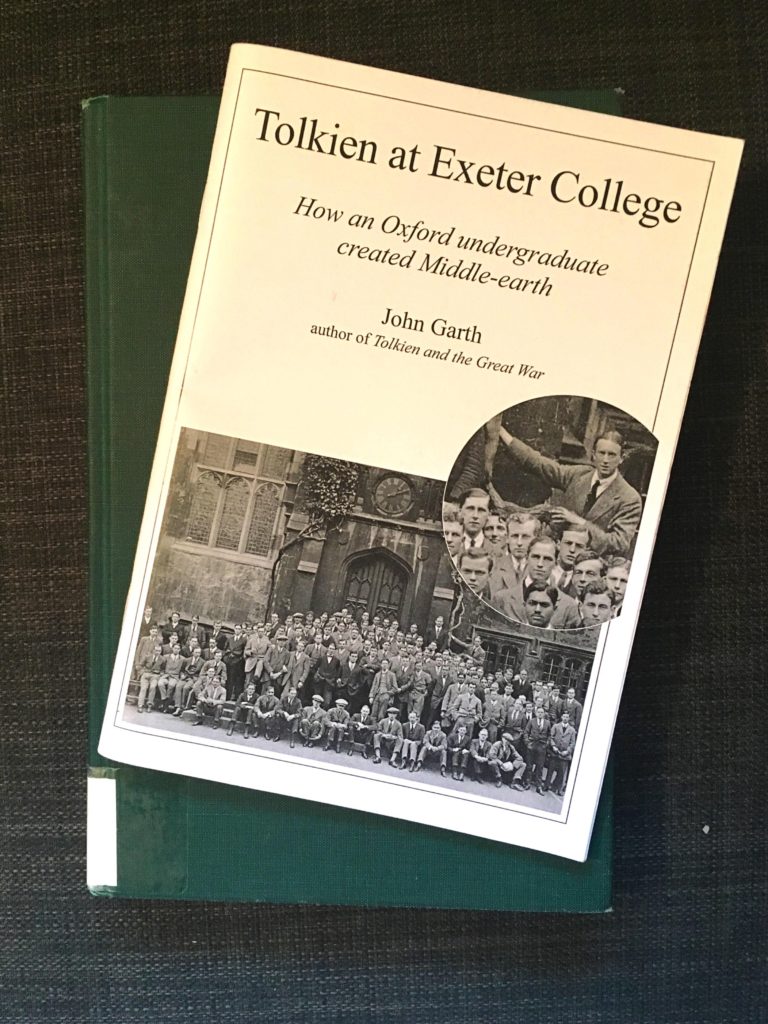 War and the Works of J.R.R. Tolkien by Janet Brennan Croft
Having participated in the First World War, and having seen two of his sons serve in the Second, Tolkien was concerned with many of the same themes that interested other writers in the post-war period. The rhythm of war flows through his writings, but his own interpretation of the themes, symbols, and motifs of war, however, were influenced by his religious views and his interest in fantasy, which add another layer of meaning and a sense of timelessness to his writing. Croft explores the different aspect of Tolkien's relationship with war both in his life and in his work from the early "Book of Lost Tales" to his last story "Smith of Wootten Major," and concentrating on his greatest and most well-known works "The Hobbit" and "The Lord of the Rings." This timely addition to the critical literature on Tolkien sheds new light on the author's life and works.
★★★★

What Croft does well in this book is place  Tolkien's writing in a grander historical context in which it's not often considered. He was an author writing primarily in the time following the terrible experience of WWI. Croft juxtaposes other critical writing on war writers and explores how Tolkien was similar or dissimilar, drawing primarily from Paul Fussell's The Great War and Modern Memory. Croft draws reasoned connections between Tolkien's war experiences and personal faith, and what he wrote in his fiction, without making allegorical claims.
One key theme which Croft is explores is the concept of courage without hope. This is not a book just about the physicality of war – grander philosophical concepts are explored throughout.
Not only does she explore the overall influence of war on Tolkien's writing, she also explores concrete manifestations of ideas of war when discussing, for example, the leadership style of key characters in The Hobbit and The Lord of the Rings. In describing Bilbo's actions after freeing the dwarves from the Mirkwood spiders, she writes, "This episode is the closest Bilbo gets to military leadership, and he shows a fine command of strategy in rallying and deploying his followers and drawing the spiders off with a series of feigned attacks" (82).
The titles of the six chapters that comprise the book offer a clear representation of the different approaches to the influence of war that Croft explores:

"The Great War and Tolkien's Memory"
"World War I Themes in The Hobbit and The Lord of the Rings"
"World War II: 'The Young Perish and the Old Linger, Withering'"
"Military Leaders and Leadership"
"Training, Tactics, Strategy, and Battlefield Communication'
"Philosophy, Pathology and Conclusions".

I recommend this book to readers curious about the influence of war in Tolkien's work, an influence that should not be casually overlooked or dismissed.
Perhaps one reason Tolkien is so frequently voted "Author of the Century" is because he took what was a pivotal event in world history and transformed it into a comprehensible myth to help us understand how our world has changed and learn how we can still live in it with courage (32).
Tolkien at Exeter College by John Garth
Tolkien at Exeter College is the definitive account of J.R.R. Tolkien's life as an undergraduate at Exeter College, Oxford, from peacetime into war. It is also the tale of how he first created his mythological world of Middle-earth in 1914–15. Rich with archive material, it includes more than 40 images, including previously unseen original sketches by and photographs of Tolkien. The 64-page booklet complements and adds significantly to the account in Tolkien and the Great War.
★★★★

I don't have much to add to the summary above. I can say that it's quite accurate! I recommend it for readers whose appetite for biographical information about Tolkien's early years cannot be satisfied.
I particularly enjoyed the anecdotes about the shenanigans Tolkien got up to as a undergrad. In one, Tolkien recounts how he and a friend 'captured' a bus and drove it around town, filling it up with other students. (Apparently this story is documented in Carpenter's Biography, but I did not remember it. Placing details like this one within the grander context of Tolkien's undergraduate years gives them room to be noticed). In some ways, Tolkien's undergraduate experience is vastly different from anything I experienced (I marvel at his involvement in literary clubs), and yet in other ways, not so much…
Garth writes, "Already revealing a fluent grasp of vivid detail, an ability to crank up dramatic tension, and an interest in the clash of order and chaos, Tolkien's mini-epic is his earliest known prose narrative" (27).  To which mini-epic is Garth referring? Tolkien's report of an university club meeting. A sample: "When Mr. Trevor Oliphant arose with the white face of bitter determination and demanded that the House go back to Private Business for the discussion of the shelved constitutional question, all bounds, all order, and all else was forgotten; and in one long riot of raucous hubbub; of hoarse cries, brandished bottles, flying match-stands, gowns wildly flourished, cups smashed, and lights extinguished, the House declared its determination to have its will and override the constitution" (27).
The book contains a variety of images, including sketches by and photos of Tolkien, some of which have not been published before. The booklet is worth it for the images alone, but I also recommend it for the in-depth and illuminating look at Tolkien's undergraduate years. If nothing else, you might have some fun comparing your own university experience to Tolkien's…
You can purchase this booklet directly from the Garth's website (approx. $15 including shipping).