Born out of a desire to get a family of book lovers to connect more over what they're reading, Family Reads is an occasional feature where my mom, dad or sister and I read and discuss a book.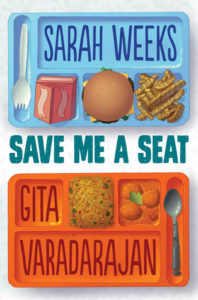 Why we chose Sarah Weeks and Gita Varadarajan's Save Me a Seat

Ash (my sister) and I had originally chosen The Queen of Blood for this month's Family Reads. She tried reading it for a few weeks and couldn't get into it. I suggested she choose a book from my Cybils reading stack instead. She chose Save Me a Seat because it sounded cute.
Joe and Ravi might be from very different places, but they're both stuck in the same place: SCHOOL.

Joe's lived in the same town all his life, and was doing just fine until his best friends moved away and left him on his own.

Ravi's family just moved to America from India, and he's finding it pretty hard to figure out where he fits in.

Joe and Ravi don't think they have anything in common — but soon enough they have a common enemy (the biggest bully in their class) and a common mission: to take control of their lives over the course of a single crazy week.
Our Discussion
The authors write in first person, alternating chapters between Ravi and Joe. We have both had bad experiences with co-authored novels, but Sarah Weeks and Gita Varadarajan have struck the right balance in Save Me a Seat. A reader might assume that Weeks wrote Joe's chapters and Varadarajan wrote Ravi's chapters. Though each boy has their own voice, the writing styles don't differ hugely between them. The chapters flow nicely from one to the next. We both prefer this type of co-authoring (where you can't especially tell who wrote what, and the style remains consistent throughout the book).
We both appreciated how realistic the story seemed. According to the author bios in the book, Weeks  was "born and raised in the United States […] and teaches in [an] MFA program in NYC", while Varadarajan was "born and raised in India […] and now teaches second grade in Princeton, New Jersey." Does that qualify this book as an own voices narrative? Ash and I think that it is at least safe to guess that the authors' own experiences have informed their writing. Ash especially pointed out the frustration Ravi experiences when people cannot correctly pronounce his first name (rah-VEE, not RAH-vee), let alone his last name (Suryanarayanan). One might imagine Gita Varadarajan has encountered similar experiences.
Accents
I asked Ash if she 'heard' Ravi's voice in an Indian accent. She said that she didn't; that she never hears characters unique voices – it's always just that 'voice in her head'. I asked her that question because, although it's usually the same for me (no differentiation in character voices), I actually did hear Ravi's voice with an Indian accent. I wondered if this was because I'd  been tutoring an Indian student for about 10 hours a week and I was more 'in tune' to the accent. His voice was very clear in my head when I started reading. Some features of Ravi's language that I noticed were the use of continuous tense (ex. "am playing", "will be going") and a slightly more formal vocabulary. After awhile, though, I stopped hearing his accent and he settled into my generic middle grade voice.
I note this observation because one of Ravi's challenges throughout the book is that (apparently) nobody can understand his accent. When I finished the story, however, I started to think that was an assumption made by his teachers and friends. They weren't really listening to him; they just assumed they couldn't understand what he was saying because he had an accent.
Storyline
Joe and Ravi do not really interact throughout the story. This surprised me, as I imagined the book follow a structure of them directly arguing and fighting in the first part, then begrudgingly teaming up to take down the bully in the second half. Ash expected Joe and Ravi would defeat the bully in a stereotypical or negative way (ex. he would turn out to be a misunderstood new friend or they would bully him back). We liked how the alternating perspectives revealed how Joe and Ravi misunderstood each other (and other characters), and how they learnt about the problems with making assumptions. Overall, we enjoyed the plot of the novel, and we were happy with the conclusion.
Reading and Recommending Middle Grade
Ash doesn't usually read middle grade. At the start of our discussion, she asked if she is judging the book for herself, or for other people (children or adults) who might read it. I explained that I generally evaluate a book for how it satisfied my taste, while making some general comments about aspects that other readers may or may not enjoy. At the end of our discussion I returned to this point, asking Ash if she thought this would be a good read for the intended audience (children 8 to 12 years old). She said, "A lot of the things I said I like will apply, I think, to kids as well and other adults. Especially in our current culture where there is a lot of immigration and many ESL learners in classrooms. The story is cute and interesting, not cliched.
Final Thoughts
We liked a few other components of this book. Non-English words are not italicized. "Ravi's Glossary" (ex. tennikoit, Ovaltine) and "Joe's Glossary" (ex. index card, tofu) can be found in the back. There are also two recipes – one for the cookies Ravi brings his teacher and one for apple crisp. Finally, Ash pointed out that the title (Save Me a Seat) can refer to the story's conclusion, creating a full circle from the cover to the last page.
Save Me a Seat impressed us both with its storyline and well-written characters. Have you read Save Me a Seat or any similar middle grade books? What do you think about co-authored books?