This post is linked up at the Monthly Round-Up Wrap-Up @ Feed Your Fiction Addiction.
Is summer here yet? The season has been slow to arrive where I live. But if the weather forecast can be relied on, then I should only have to wait a few more days! I finished work on 23 June and move in mid August. In the meantime I'm want to enjoy my last few weeks here as best as I can. This means as maximizing lake time, biking to the library and, in a couple weeks, attending lots of Fringe shows. I'm also going on a four day camping trip with my best friend to a national park I enjoyed as a kid. As for blogging goals, since we're halfway through the year, I'll have a post up in a couple days for a check in of my overall yearly progress. June overall was a good month for posts and books read.
Books Finished
The Blossoming Universe of Violet Diamond by Brenda Woods
The Castle Behind Thorns by Merrie Haskell
Borne by Jeff VanderMeer
Strangers in Their Own Land: Anger and Mourning on the American Right by Arlie Russell Hochschild
Rooftoppers by Katherine Rundell
Yours Sincerely, Giraffe by Megumi Iwasa
When the Moon Was Ours by Anna-Marie McLemore
Star-Crossed by Barbara Dee
Bannerless by Carrie Vaughn
Books Reviewed
Features
Shared on Twitter
We Need Diverse Books will be launching the OurStory book discovery app on June 15th https://t.co/76KzGvcsXo

— WeNeedDiverseBooks (@diversebooks) June 5, 2017
Good articles! I was curious about the character/actor after seeing the movie https://t.co/KKWMPI7230

— Jenna (@fallingletters) June 7, 2017
It's #NationalAboriginalDay! Here are 108 Indigenous writers to read, as recommended by you: https://t.co/uUrgagiCBF pic.twitter.com/PnbKGaT7a1

— CBC Books (@cbcbooks) June 21, 2017
"Please Don't Talk About Your LGBTQ+ Book": Barbara Dee on "Star-Crossed" and Her Recent School Visit Experience https://t.co/csUJkfoVlA

— Jenna (@fallingletters) June 26, 2017
come share your passion for kids/Ya books at Kidlitcon! Authors, bloggers, publishers, teachers, librairans, readers welcome! https://t.co/jRPGK5Np6T

— Charlotte (@charlotteslib) June 27, 2017
thread https://t.co/KipSAEZRuZ

— Jenna (@fallingletters) June 29, 2017
Book Chat: Happy vs. Hopeful Endings https://t.co/BczCHkYgQU via @ParchmentGirl37

— Jenna (@fallingletters) June 29, 2017
Thread https://t.co/YGtTLtsjWt

— Jenna (@fallingletters) June 30, 2017
literary criticism peaked in 1944 pic.twitter.com/p1lMTfiJU6

— ? (@oscarewilde) June 30, 2017
Upcoming in July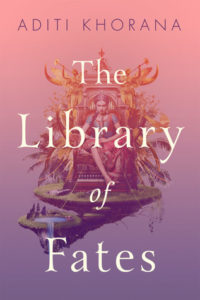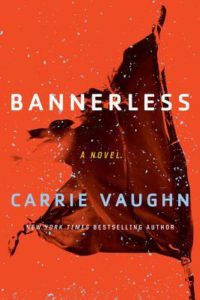 11 July – Publication of Bannerless by Carrie Vaughn (post-apocalyptic story in which households have to earn a banner, giving them the right to have a child. Sneak preview of my forthcoming review: don't bother with this one.)
18 July – Publication of The Library of Fates by Aditi Khorana ("A romantic coming-of-age fantasy tale steeped in Indian folklore […]" I'm willing to ignore that romantic bit because the cover is so gorgeous.)
How was your June? What July events or releases should I check out this month?