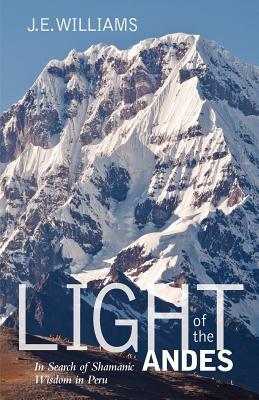 Author: J.E. Williams
Title: Light of the Andes
Format/Source: eBook/ARC
Published: June 2012 (new edition released June 2014, I think)
Publisher: Irie Books
Length: 200 pages
Genre: Spiritual non-fiction
Why I Read: Browsing 'religion and spirituality' on NetGalley; mountain caught my eye
Read If You're: A mountain lover or interested in Indigenous spirituality, esp. of Peru's Q'ero people
Rating: ★★★★ [ratings guide]
I received a complimentary copy from the publisher through NetGalley in exchange for my honest review.
Links: GoodReads | IndieBound | Chapters
In university I took a few courses about Indigenous spirituality, particularly that of the Cree and Inuit. I know very little about Indigenous cultures outside of Canada, so I thought this book would be a good choice to learn more about a people who live far away. The Andean setting also attracted me because I love mountains, though I live on the prairies so unfortunately mountains do not play a large role in my life. The highlight of my younger years was heading out West to camp in the Rockies. I've never seen any mountains as huge as those to be found in South America. That's what I liked most about this book – how Williams captures the majesty of these grand mountains and conveys how deeply moving they can be, even for someone who has never seen them before (the photos and glossary are welcome inclusions). I loved reading about his journey up Apu Ausangate, "the spiritual ruler of [the Andes]" (preface). Williams balances a spiritual perspective and a scholarly perspective, blending his roles as immersed participant and outside scholar. These two perspectives are naturally merged in the book. While the book is about his spiritual journey up Ausangate, he also draws parallels to other religious traditions and ponders about the place of the Q'ero in the world-at-large.
The book begins with long sentences with too many words. For example:
A small, solid man with reddish brown sun-darkened, chestnut-colored skin, Sebastian stands on the corner of the busy city street wearing traditional Q'ero short charcoal apalaca pants and black tunic, the unku, hand wove by his wife, Filipa, from the wool sheered from his own alapacas, over which he wears a natural-colored beige poncho and on his head a multicolored knitted cap called a chu/ulhu, intricately beaded with designs representing Inti, the sun.
I didn't really mind this, though, because I was interested in all the information given. I found the style manageable because I felt there was a good story caught inside all the words. If this is not your style, no worries – the prose settles into a more natural, rhythmic style about 1/4 of the way in. Here is a short excerpt from a larger passage I particularly enjoyed, as Sebastian, Williams' friend and spiritual mentor, and Williams have reached their destination near the top of Ausangate:
In the shadow of the mountain, memory is intangible. Most of my experiences escape; the process of forgetting is already begun. Whatever I am is being erased by the wind, lost in clouds and snow. Where lies the prefect empty mirror? Where falls the condor feather? How silent is the snow and ice? How thin is the blue canopy of sky? Sebastian is already at work. He has chosen a place for the ceremony near the shoreline.
A more cynical reader could easily approach this work with a heavy does of skepticism, dismissing Williams' involvement in the Q'ero community as self-righteous or exploitative, as he is a white man publishing a book about his experiences. I can be such a reader at times, but I honestly did not feel that sort of vibe from this book. It truly seems like Willliams is doing good work with the Q'ero and is personally invested beyond getting a good story to publish. Sebastian's role is not diminished in the book, and Williams has included a note from Sebastian at the end. Williams founded the non-profit
Ayniglobal
"to further his mission and honour the commitment he made with Sebastian". The mission of Ayniglobal is to "protect and preserve traditional indigenous cultures and ancestral lands including people, animals, plants and water systems". Williams and Sebastian are currently on a
tour
to share the teachings of the Q'ero. Williams does offer "
sacred journe
y" tours, but these appear to be in cooperation with the Q'ero and in line with Sebastian's desire to spread the Q'ero teachings.
The Light of the Andes
is something of a sequel to
The Andean Codex
, which I have not yet read. I don't think it's necessary to read
The Andean Codex
first, but I think doing so would give one better background knowledge of the issues discussed in
The Light of the Andes
. I've added
The Andean Codex
to my TBR pile.
The Bottom Line: Another reader might have a more cynical attitude towards William's involvement with the Q'ero, but he comes across as sincere in this book. A good story if you want to learn more about the Indigenous Q'ero spirituality that has grown over centuries around the Andes in Peru, or if you have a deep love of mountains.