Here are the five book blogging community challenges I'm participating in for 2017. A lot of these challenges will have overlap. I've only listed specific choices for 2017 Diverse Reads, as that challenge has monthly mini-challenges. Otherwise, I will list and link up books as I read them. 'No crossover' means I read a book specifically for that challenge and cannot count it towards my total for another challenge. My general goals are:
12 books for 2017 Diverse Reads (including crossover)
15+ reviews for Read Diverse Books (crossover N/A – this isn't a reading challenge)
6 books for Diversity Bingo (no crossover with other challenges)
10 books for Canada 150 (including crossover)
15 points for Newbery (min. 5 Newbery medal winners) (no crossover with other challenges)
2017 Diverse Reads Book Challenge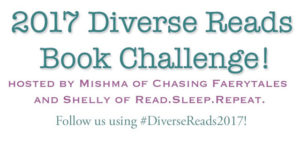 February

–

Shadowshaper

by Daniel Jose Older (POC/biracial/multiracial MC – Afro-Latina)

July – Nevada by Imogen Binnie (sexuality and gender identity – transwoman)

August – One Half From the East by Nadia Hashimi (non-Western setting – Afghanistan)

September – Sanaaq: An Inuit Novel by Mitiarjuk Nappaaluk (Own voices – Inuit)

October – A Two-Spirit Journey: The Autobiography of a Lesbian Ojibwa-Cree Elder by Ma-Nee Chacaby (Intersectionality – LGBT+ and Indigenous)

November – The Seafarer's Kiss by Julia Ember (Diverse retelling – lesbian Little Mermaid)

December -TBD (2017 release)
Read Diverse Books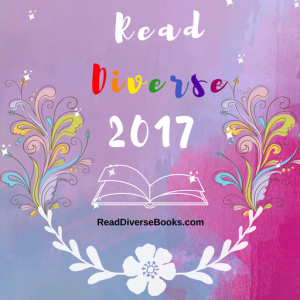 Diversity Bingo 2017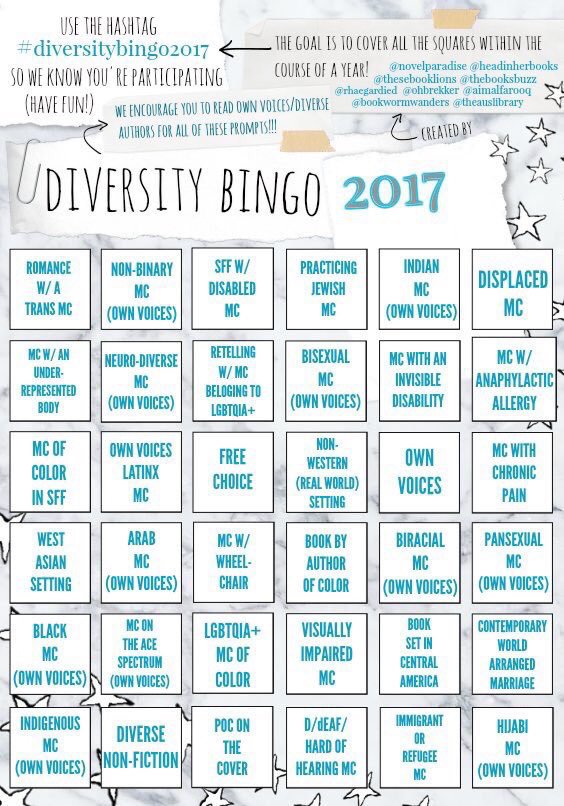 My goal in participating in this challenge is to read books I wouldn't have read if I hadn't participated. Some boxes I could check off in the course of my regular reading plans (Indigenous MC, romance with a trans MC, etc.) – i.e. I would have read them with or without the challenge. I'm not interested in checking off those boxes because that's not pushing me to read diverse books; that's just me reading what I usually read. I want to use this challenge to highlight areas of my reading that lack diversity. Below are some particular squares which I don't think I would check off in the course of my normal reading habits.
Deaf/hard of hearing MC
Hijabi MC (own voices)
Central America setting
Ace MC (own voices)
Displaced MC
Non-binary MC (own voices)
 Canada 150
B1 – a book from the CBC's 100 novels that make you proud to be Canadian
B2 – a book from a province/territory you want to visit
B3 – Canadian memoir
I2 – Written by an Indigenous author
I5 – Scifi/dystopia novel
N2 – non-fiction
G2 – Book about someone immigrating to Canada
G3 – Book published in 2017
G4 – Translated novel [from Quebec]
G5 – Book written in your province
O1 – Canadian novel published the year you were born [1992]
O5 – A book from the CBC's 100 true stories that make you proud to be a Canadian

Newbery Reading Challenge

From the Mixed-Up Files of Mrs. Basil E. Frankweiler by E.L. Konigsburg (3 points)