Elizabeth and Zenobia by Jessica Miller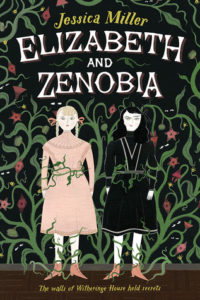 Format/Source: eBook/Netgalley
Published: September 2017
Publisher: Amulet Books
Length: 208 pages
Genre: Middle grade gothic
Rating: ★★★★
GoodReads | Indigo | IndieBound | Wordery
I received a copy from the publisher via Netgalley in exchange for my honest review.
When Elizabeth and her unusual and fearless friend Zenobia arrive at Witheringe House, peculiar things begin to happen.

Especially in the forbidden East Wing.

The flowers and vines of the wallpaper sometimes seem to be alive.

A mirror has a surface like the water of a pond.

And an old book tells a different story after midnight.

Zenobia is thrilled by the strangeness, but Elizabeth is not so bold…

Until she makes a mysterious and terrifying discovery.
Here is a spooky middle grade tale I can get behind! There is a countryside estate that's been boarded up for some years, there is an overgrown garden and labyrinth, there is a distant father with a mysterious past. While the story doesn't scare, not in the way of Coraline or The Nest, it uses a handful of gothic tropes to create its own tense and atmospheric moments. Miller writes well for this genre. Her descriptions aren't too flowery, yet they are creative enough to set an evocative scene. What really brings the setting and story to life, however, are the delightful cast of characters.
Elizabeth and Zenobia play off each wonderfully. Miller gives each a distinct voice. If I described both girls, I might make them sound like caricatures, but they come across as believable young girls. Elizabeth makes for a unique protagonist in these kind of stories – she is not a daring and adventurous child. Zenobia is brash and bold; Elizabeth is scared of many things. Zenobia wants to contact the spirits she assumes inhabit Witheringe House; Elizabeth would rather not. And a similarity – Zenobia can only be seen Elizabeth; Elizabeth wishes her father would see her better. Zenobia's eager tendency towards the gruesome also helps shape the darker tone of the story. They are the best of friends, and the story explores how they navigate that friendship when their personalities clash. While the plot takes some time to show itself, I found the daily interactions of Elizabeth and Zenobia in their creepy new home entertaining enough.
In addition to Elizabeth and Zenobia, there is a housekeeper whose ability to appear without warning greatly impresses Zenobia and serves as a running gag. There is a tutor who is not the antagonist of the story. And there are a few more characters that I'll leave you to discover…
My primary criticism lies in the ending. I felt the story concluded abruptly. The mystery surrounding Zenobia never receives an explicit explanation. I like stories neatly wrapped up at the end, though I am coming to learn that's not always necessary. Zenobia's nature being revealed was never a promise of the main story line (though I crossed my toes hoping it would come up). The illustrations were not at all to my taste. I tried to be forgiving – "Maybe they're meant to look like they're drawn by a kid…" – but personally, I just think they're bad. Edit (Oct. 13): I did not think to consider that the illustrations were not finalized in my ARC. (As a blogger who's been reviewing ARCs for awhile, I am a little embarrassed…). Thank-you to the author for politely pointing this out to me. I have since purchased the book and am happy to report that the illustrations are much more tidy and refined, yet they still retain a quirky quality that's very appropriate to the story and characters.
The Bottom Line:
A delightful tale of friendship between two very different young girls, Elizabeth and Zenobia is an example of Victorian Gothic middle grade fiction that other books could look up to.
Further Reading: