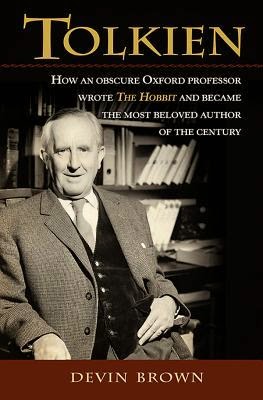 Author: Devin Brown
Title: Tolkien
Format/Source: eBook/NetGalley
Published: October 2014
Publisher: Abingdon Press
Length: 145 pages
Genre: Biography
Why I Read: New Tolkien book supposedly about The Hobbit
Read If You're: New to Tolkien and want to know about his life
Rating: ★★★ [ratings guide]
GoodReads | IndieBound | Chapters | Amazon
I received a complimentary copy from the publisher through NetGalley in exchange for my honest review.
The subheading of Tolkien implies it's about how The Hobbit was published (I suppose to draw in new fans of The Hobbit films), but Tolkien is actually just a very succinct general biography. I was about 60% in before The Hobbit came up. When I checked my progress, I was surprised to see I was that far into the book* and had only been reading basic biographical information about Tolkien one can find repeated in many places. There is nothing new to be found here. So, why would one read this instead of anything else that touches upon Tolkien's life? I suppose this book fills a gap in Tolkien literature for those are newly introduced to Tolkien and just want learn a bit about his life. It's a fine enough book if you come at it from that perspective – a good introduction to Professor Tolkien for those who have little knowledge about him (and perhaps this is a growing audience now again due to the films), but pass by if you've ever read anything about the Professor.
Brown attempts to distinguish his narrative by pointing out "If this one person didn't do this one thing…" many times to show the unlikeliness of Tolkien's Middle-earth being introduced to the public. Once or twice is a nice reminder of how everything really must fall in place, but after reading it numerous times I got a bit weary and started thinking "Well, isn't that the case with everything in life? One tiny change and everything could be different".
There isn't anything wrong or bad about this book beyond the minor note above; I'm just not the target audience. I still intend to check out Brown's The Christian World of the Hobbit. I hear a lot about Christianity and The Lord of the Rings but not so much about The Hobbit, so the subject caught my attention.
The Bottom Line: Nothing about this book makes it stand out, but it's still a solid if brief introduction that could be a good read for those with no knowledge of Tolkien.
*This is both the trouble and delight with ebooks – it's easy not to notice how far in you are or aren't. Although I find it's usually trouble – "Oh what, that's the end already?" "Oh what, I'm already that far in?" "Oh wait, the book is THAT long?"
Elsewhere: