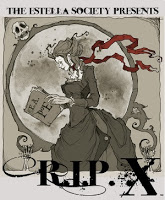 Huh, it's November now? I definitely fell short on this challenge, with my reading habits suffering through October. I did read one of my RIP selections during the Read-a-thon – Skary Childrin and the Carousel of Sorrow, the only book I read that I had originally selected for the challenge. I thought I would certainly have read The Fall of the House of Usher during the Read-a-thon, but I conked out much earlier than I anticipated. I plan to tackle it this week. I don't think I'll get to The Bird's Nest this year… I tried to read the Library of Souls preview, but it didn't catch my interest me. The Nest exceeded my expectations, though, so that makes up for something, I think! To wrap up, here are my two cents on Skary Childrin.
Skary Childrin and the Carousel of Sorrow by Katy Towell
Rating: ★★
This book has been on my shelf for years…it's an odd shape with an odd quality. I don't like the title much. The illustrations seem like fan art. But, I held onto it all these years because I know I shouldn't judge a book by its design…even though I don't believe that aphorism, I elected to follow it because I loved Towell's YouTube videos. I recommend those videos over this book. Here is my favourite:

Another book for the pile of potentially creepy middle grade reads that have disappointed me. I'm starting to realize I may just be very particular when it comes to these kind of books. Although, I don't think that's the case with this one. The characters and plot fall flat, and the prose is not very exciting either. Adelaide, Maggie and Beatrice have slivers of promise within them, but not enough to be compelling. Mostly this book feels like a mishmash of weak ideas that were done better elsewhere.