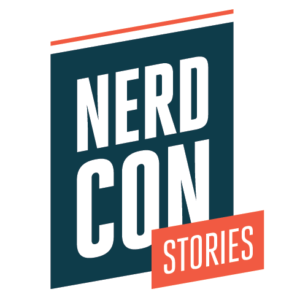 The second annual and likely final NerdCon: Stories took place this past weekend in Minneapolis. I drove down to attend with my sister and my best friend. We had a lot of fun when we made the trip last year.
What is NerdCon? NerdCon began as an experiment. It tends to defy description. This is probably a large factor in its failure, failure being here defined as not financially stable enough to support itself. Hank Green has made a couple videos about this. The simplest way to define the con's purpose might be "to celebrate stories".  I've seen a few posts that somehow pinned down why those who attended in 2015 loved it and would attend again. I've also seen just as well-reasoned posts about why people wouldn't attend again. I fell somewhere between the two camps. I initially went 60% for the conference and 40% for the trip (visit a big city, attend a Sia concert, do some shopping despite the exchange rate…). After attending NerdCon for the second time, though, I am now more excited about it than I was before I went. I am now a bit bummed that it won't happen again.
My travelling companions and I spent much of our not-at-NerdCon time discussing why NerdCon didn't take off like it should have/might have/deserved to. I'm sure we didn't come up with any great insights beyond what Hank and others have already noted. If there was a way to make NerdCon a success (i.e. sell enough tickets to be financially stable), then I would be happy to become involved in making that work. I think for now all I can do is share my experience as best as I can. Without further ado:
4 Reasons Why I Loved NerdCon: Stories
Being in a crowd of like minded people. I find it so refreshing and exciting and uplifting to find myself in a that kind of crowd – to see the hive of activity and ideas (that seem to live only in my computer) come to life.
Frank, open, caring, and normalizing discussions about mental health. From Amanda MacGregor's informative presentation on mental health in YA to John Green's talk on creativity and OCD, talk about mental illness and destroying stigmas was front and centre for me in a way I'd never experienced before.
David the ASL interpreter. The entertaining moments he created at both NerdCons may have been a 'you had to be there' kind of thing. However, I think anyone can appreciate his performance of "It's Raining Men." I wasn't even there for this and it's my favourite part of the con.
There's something for everyone. 'Stories' doesn't just mean books. The con included panels, workshops, and community-led programming on podcasts, gaming, oral storytelling, and more. This also applies to the variety of guests. Although there weren't many names with which I was familiar, I appreciated hearing from people with different experience. Another attendee may have had a totally different yet just as enjoyable weekend as me.
After attending NerdCon for the second time, I'm more excited about it now than I ever was before. I feel like the conference is being shuttered just as it might start to gain momentum (I know that's not the case; I understand there are many good reasons as to why it can't continue.) It's an unfortunate situation. In the end, I'm so glad I got to attend for the two years I did. I'd love to read your thoughts on NerdCon: Stories if you attended. Link me up in the comments!