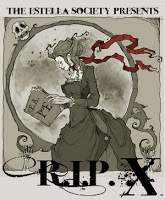 Mystery. Suspense. Thriller. Dark Fantasy. Gothic. Horror. Supernatural. Or anything sufficiently moody that shares a kinship with the above. That is what embodies the stories, written and visual, that we celebrate with the R.eaders I.mbibing P.eril event.
Last year I participated in the RIP IX Read-along, though I wasn't prepared to jump into the challenge itself. This year I'm not missing out! The RIP X Challenge runs September and October. Over the years, I've become more interested in what I label 'eerie' stories, those ghostly, atmospheric tales that blossom when read on a cool fall night. So, I'm happy to participate in a challenge that celebrates and embraces those stories. I want to complete Peril the First – "Read four books, any length, that you feel fit (the very broad definitions) of R.I.P. literature". My choices are:
The Bird's Nest by Shirley Jackson – The Read-along book last year was The Haunting of Hill House, which was my second Jackson read. I've loved both of her books that I've read, so this one is a natural choice.
Skary Childrin and the Carousel of Sorrow by Katy Towell – I've owned this book for a couple years and while I love Towell's Skary Childrin animations, I hadn't yet got around to reading her debut novel.
Library of Souls preview by Ransom Riggs – I won this back during the April Read-a-thon. The final book in Riggs' Peculiar Children trilogy!
The Fall of the House of Usher by Edgar Allen Poe – I've had a book on my TBR for awhile called The Fall, based on Poe's story. I've never read Poe…I plan to change that.
Are you participating in the RIP Challenge? Do you have any recommended reads?