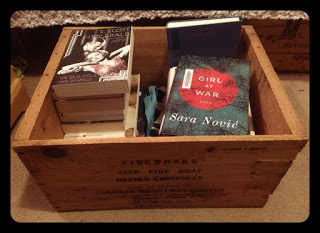 I don't own a lot amount of books. A rough estimate puts the total shy of 300 (a lot being totally subjective, of course…). I give careful consideration to each book I purchase. I don't usually buy a book without having read it first, exceptions being for authors I already admire. Most of these purchases come when long-held notions of "Hey, I thought I might read that someday!" or "Haven't I heard good things about this?" meet bargain prices. Because I own relatively few books that I haven't read yet, I don't feel any need yet to start getting through them. However, because I bought these books on a whim with no planned intention to read them, they often slip from my notice. They get lost on the physical shelf, or I forget to add them to my virtual shelf, and a book not on my Goodreads TBR may as well not exist. I started storing unread purchases in a crate under my bed, so I can easily pull it out and see what's waiting for me. (This crate also contains library books.) A few of these unreads I've already added to my 2016-maybes shelf. No pressure, but I don't want to let them languish forever 😉
The Hen Who Dreamed She Could Fly by Sun-Mi Hwang – Bargain book. A pretty little thing recommended by Andi.
Three Day Road by Joseph Boyden – Used book from a store where I had a credit. Was on my Indigenous authors TBR last year.
The Lexicographer's Dilemma by Jack Lynch – Bargain book. Author familiar to me from my History of English course.
The Mushroom Hunters: On the Trail of an Underground America by Langdon Cook – Bargain book. I like these kind of food books.

The Bird's Nest by Shirley Jackson – One of the few physical books I purchased while in Japan. Never got in the mood for it.
The Beautiful and Damned by F. Scott Fitzgerald – See above.
Japanese Portraits by Donald Richie – Bargain book.
Notre-Dame de Paris by Victor Hugo – Ahh, this one's a bit different. Bought from Shakespeare and Co. in 2010. More of a souvenir than a book I really want to read.
Little, Big by John Crowley – A rare book shopping therapy purchase! Meaning, I wanted to go to a bookstore and buy something without preplanning. I believe Neil Gaiman likes this one.
Beowulf by Seamus Heney – Bargain book. I've never read the whole thing through.
This post evolved out of a little debate with myself over whether I should take up Andi's Read My Own Damn Books challenge. I see a lot of bloggers write about how they own far too many unread books. Thankfully this is not yet the case for me, so in the end I decided there wasn't really any reason for me to take on that challenge 😛 Are you more like me, or do you have a daunting TBR at home?