Welcome to my seventh annual 'Wrapping Up, Looking Forward' post. In this post, I like to take a general look back at how I did with my goals in 2016, and set some new goals for 2017.
I posted 62 times. This number falls just two short of my goal of 64. Although I didn't follow the schedule I had dreamed of (8 posts/month, one review/week), I am satisfied with the posts I did write. I'm going to keep this goal – min. 8 posts/week, including one review or brief thoughts.
I read 114 books, smashing my goal of 84. My success can be largely credited to my participation in the Cybils as a round one judge for middle grade fiction. I believe this is the first time I've read 100+ books in a year. When I started 2016, I set my reading goal with the expectation that I would read very little during my four months of travel in New Zealand. I actually read 29 books while travelling. Most of the books I read were whatever my hosts happened to have lying around. Between travelling and Cybils, I had just four months to freely read and borrow from the library whatever I felt like. I am looking forward to taking charge of my reading choices in 2017. Hopefully I will make a better dent in my TBR list!
Jenna
has
read 63 books toward
their goal of
84 books.
I didn't make my reading challenges a priority during the middle part of the year, when I had ample reading time and no other obligations. Thus my poor performance . I am less bitter about this than last year, though, as travelling Middle-Earth and participating in the Cybils were wonderful experiences that I was happy to prioritize over reading. I started to recap my challenges, but the numbers are so low, best to pretend I just didn't have any. Instead let's move right on to my personal challenges for 2017! 😀 I have three goals with specific numbers, but also a number of undefined goals (i.e. read more than in 2016).
6 books by Indigenous Canadians
4 books about Japanese spirituality
5 books about/by J.R.R. Tolkien (not including re-reads)
Read more picture books and graphic novels (esp. ones people assume I've already read…)
Read more classic middle grade and speculative fiction middle grade
Read more non-fiction
Reread more!
This year, I also want to participate in some 'official' challenges. I don't have any specific goals, but I hope these challenges will help me expand my reading horizons. Diversity Bingo originated on Twitter. Naz @ Read Diverse Books is hosting a reviewing diverse books challenge that complements the bingo. I found another bingo (apparently I like concept of bookish bingos) for Canadian literature, which feels especially appropriate given that it's Canada's 150th anniversary this year. This one is hosted in the Goodreads group Canadian Content.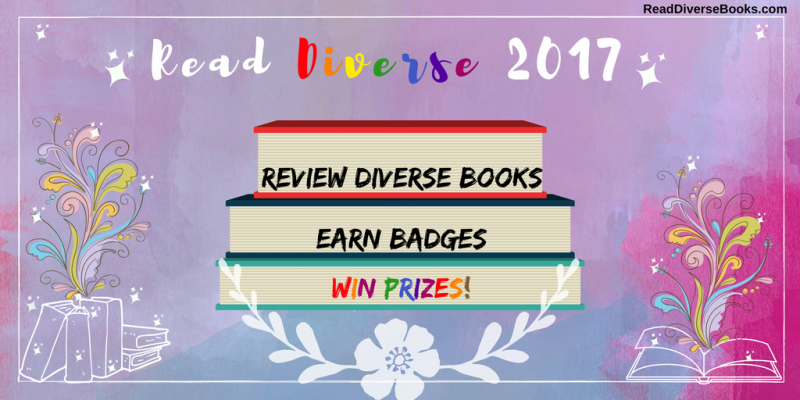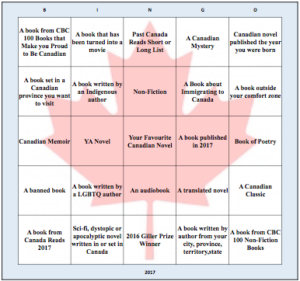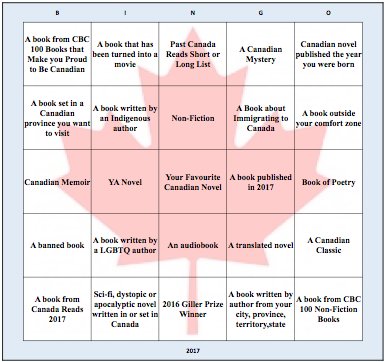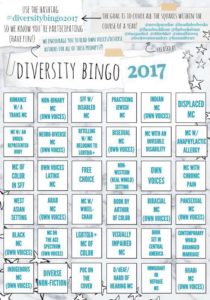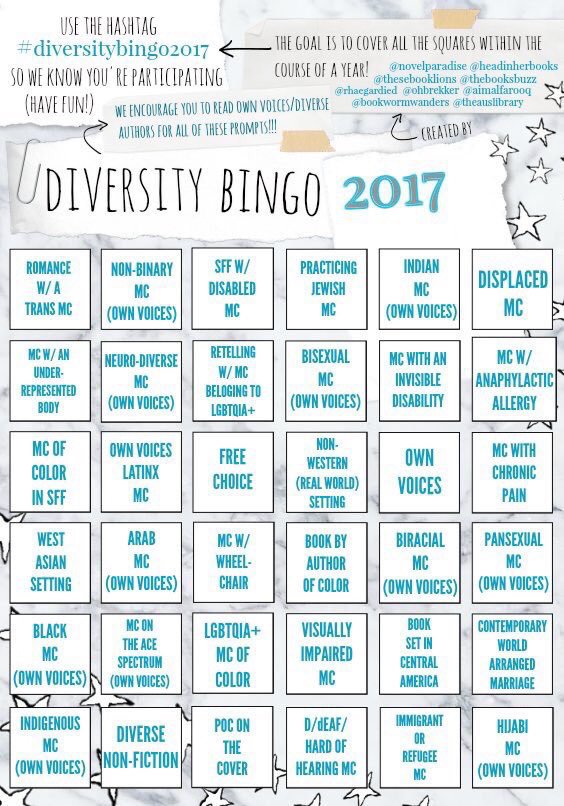 That's it for my 2017 goals! I may adopt additional challenges throughout the year. I haven't yet planned to participate in any events, but I'm sure I will. Now that I have a couple years of book blogging under my belt, I don't feel the need to plan out my year in much detail. I think I know enough to wing it 😛 How was your 2016 reading year? What goals or challenges are you undertaking in 2017?