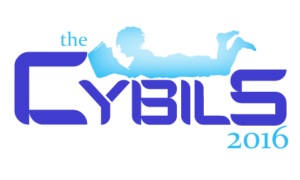 From October to December of last year, I read just over 50 middle-grade fiction books in my role as a round one judge for the Cybils. To share some of the Cybils nominees I've read, I've decided to create a few lists grouping books by similar characteristics. All of the books meet the Cybils nominating criteria, which means they were published in English in Canada or the US between 16 October 2015 to 15 October 2016. Today's list features four books in which a pet or an animal play a key role.
Pandas on the Eastside by Gabrielle Prednergast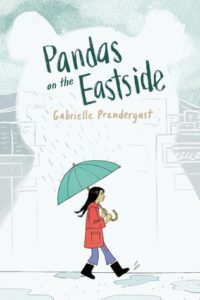 When ten-year-old Journey Song hears that two pandas are being held in a warehouse in her neighbourhood, she worries that they may be hungry, cold and lonely. Horrified to learn that the pandas, originally destined for a zoo in Washington, might be shipped back to China because of a diplomatic spat between China and the United States, Journey rallies her friends and neighbours on the poverty-stricken Eastside. Her infectious enthusiasm for all things panda is hard to resist, and soon she's getting assistance from every corner of her tight-knit neighbourhood.
Pandas on the Eastside is alternative historical fiction, something I hadn't previously come across in middle-grade fiction. The author's note at the back of the book states, "In 1972, the government of China gifted two giant pandas […] to the people of the United States[.]" Prendergast notes that although the relationship between China and America was strained that year, the gift of the pandas went "went off without incident." Her story imagines an alternate narrative "in which the panda's journey was not quite so smooth." I found this book tackled two unique topics for middle-grade fiction: a child's perspective of international diplomacy (conducted via pandas!) and neighbourhood life in an impoverished area of 1970s Vancouver. Journey learns how to engage in activism with the support of a varied cast of characters who live in her neighbourhood, including shop owner Mr. Huang, teacher Miss Bickerstaff, and homeless man Kentucky Jack. There are a lot of historical references in here, including hippie life, racial tension, and American war deserters.
Review @ Ms. Yingling Reads | Review @ CanLit for Little Canadians | Add to GoodReads
When Friendship Followed Me Home by Paul Griffin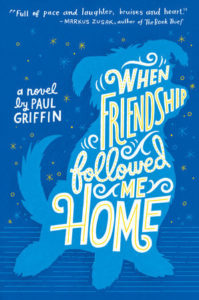 Ben Coffin has never felt like he fits in. A former foster kid, he keeps his head down at school to avoid bullies and spends his afternoons reading sci-fi books at the library. But that all changes when he finds a scruffy abandoned dog named Flip and befriends the librarian's daughter, Halley. For the first time, Ben starts to feel like he belongs in his own life. Then, everything changes, and suddenly, Ben is more alone than ever. But with a little help from Halley's magician father, Ben discovers his place in the world and learns to see his own magic through others' eyes.
Sad happenings fill the beginning and ending of this book. Some of those happenings could have been removed, probably to the improvement of the narrative. Halley comes across as a toned-down manic pixie dream girl, or at least a kind of inspirational cancer patient cliche. But Ben has a good outlook on life, and a nice relationship with his dog. Ben trains Flip as a service dog who assists children in a reading program at the library. That was my favourite part of the story. I don't think Halley's story needed to conclude as it did. Overall, not as sad as you might expect from all that happens in the first few chapters.
Review @ Book Diva Nerd | Review @ Ms. Yingling Reads | Add to Goodreads
Wish by Barbara O'Connor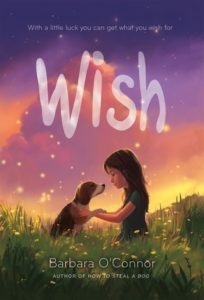 Eleven-year-old Charlie Reese has been making the same secret wish every day since fourth grade. She even has a list of all the ways there are to make the wish, such as cutting off the pointed end of a slice of pie and wishing on it as she takes the last bite. But when she is sent to the Blue Ridge Mountains of North Carolina to live with family she barely knows, it seems unlikely that her wish will ever come true. That is until she meets Wishbone, a skinny stray dog who captures her heart, and Howard, a neighbor boy who proves surprising in lots of ways. Suddenly Charlie is in serious danger of discovering that what she thought she wanted may not be what she needs at all.
I prefer this 'dog book' over the one above. Charlie's had a rough time. She'smoving to the mountains to live with relatives because her father's incarcerated and her mother's not well enough to take care of Charlie. Every day she makes the same wish. Will it ever come true? Charlie eventually recognizes that good people surround her in her new home, including friend Howard, stray dog Wishbone, and caregivers Aunt Bertha and Uncle Gus. I appreciated that Charlie had a rough temper and had to learn how to manage it.  I think the cover of this book captures the mood well – a soft and warm story about finding family.
Review @ My Shoestring Life | Review @ Ms. Yingling Reads | Add to Goodreads

The Nine Lives of Jacob Tibbs by Cylin Busby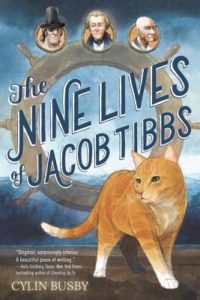 Captain Natick does not want to take a kitten on board his ship when it sets sail in 1847, but his daughter convinces him that the scrawny yellow cat will bring good luck. Onto the ship the kitten goes, and so begins the adventurous, cliff-hanging, lucky life of Jacob Tibbs. At first, Jacob's entire world is the ship's hold, where the sailors heave their heavy loads and despicable, long-tailed rats scurry in the darkness. But before long, Jacob's voyage takes him above deck and onward to adventure. Along the way, Jacob will encounter loss and despair, brave thunderous storms at sea, face down a mutiny, survive on a desert island, and above all, navigate the tricky waters of shipboard life and loyalties.
One of my favourite books growing up was Ragweed by Avi. I also enjoy stories of ships and sailing adventures. Jacob Tibbs, therefore, suits my tastes just fine. It may appeal only to a particular type of reader – this is, after all, historical fiction narrated by cat. I have only read bout a third of the book so far. There have been sad moments and humorous moments. The tough life aboard the ship is not toned down. Tibbs, being the only cat on ship, is fairly isolated. We get glimpses into the lives of men from what Tibbs overhears. (The cat tells the story in first person.) I like the style, with its touch of formality that reflects the time. I would call this a classic adventure book, especially a solid read for those who loves cats! (And I see on Goodreads even some self-declared dog lovers enjoy the book…)
Review @ Surreal Talvi | Add to Goodreads
Do you have any favourite middle-grade stories that feature animals?