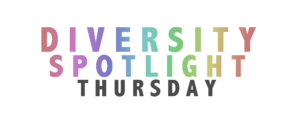 Finally, I've written a Diversity Spotlight Thursday post! The purpose of this meme is to share three diverse books: One you've read and enjoyed, one release that you haven't yet read, and one that hasn't yet been released. I actually enjoy reading this meme on other blogs. It's a great way to promote diverse books and find new ones to add to the TBR. (I haven't seen many posts about this lately so I'm not sure it's a still a thing?? I like the idea anyway, haha.)
Read and Enjoyed: Amina's Voice by Hena Khan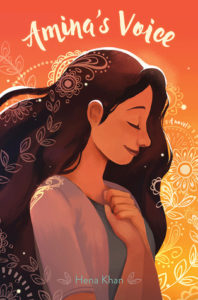 Amina has never been comfortable in the spotlight. She is happy just hanging out with her best friend, Soojin. Except now that she's in middle school everything feels different. Soojin is suddenly hanging out with Emily, one of the "cool" girls in the class, and even talking about changing her name to something more "American." Does Amina need to start changing too? Or hiding who she is to fit in? While Amina grapples with these questions, she is devastated when her local mosque is vandalized.
Goodreads | I'm also participating in the 2017 Diverse Reads Challenge, which has a theme for each month. I somehow mixed up April and May's themes, which meant I read Amina's Voice in April. (I had selected it to keep with May's themes of 'religious diversity'.)
I'm going to talk about this book from my personal perspective, a White girl who attended church as a kid. (I think this book would be a great read for Pakistani-American kids, but that's not really my case to make.) Many of my friends also attended Sunday school. I didn't know anyone who was particularly zealous about it. For most of us, it was just something we did. In Amina's Voice, going to a mosque, participating in a religious community, etc. are everyday activities – ones that won't seem so 'foreign' for church going kids.
Some of Amina's problems come from those activities (she has to participate in a Qu'ran recitation competition but she has severe stage fright), but she worries about her friendships as much as you would except a middle grader to. The relationships Amina has with her friends and family felt very realistic. Her parents are positive figures in her life. In particular, I appreciated the missteps and assumptions she made about her friendships with Soojin and Emily. There is a lot for readers to connect with in this book, whether in the joys and trials Amina finds in her religion or in her relationships with friends and family.
The book that I should have read in April (mental health) but am going to read this month instead is…
Released but Not Yet Read: More Happy Than Not by Adam Silvera
In the months after his father's suicide, it's been tough for 16-year-old Aaron Soto to find happiness again–but he's still gunning for it. With the support of his girlfriend Genevieve and his overworked mom, he's slowly remembering what that might feel like. But grief and the smile-shaped scar on his wrist prevent him from forgetting completely.
When Genevieve leaves for a couple of weeks, Aaron spends all his time hanging out with this new guy, Thomas. Aaron's crew notices, and they're not exactly thrilled. But Aaron can't deny the happiness Thomas brings or how Thomas makes him feel safe from himself, despite the tensions their friendship is stirring with his girlfriend and friends. Since Aaron can't stay away from Thomas or turn off his newfound feelings for him, he considers turning to the Leteo Institute's revolutionary memory-alteration procedure to straighten himself out, even if it means forgetting who he truly is.
Goodreads |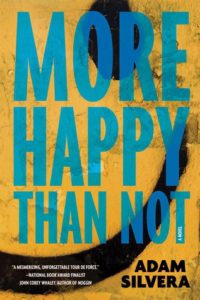 Twitter brought Adam Silvera to my attention. I decided to give him a go for the Diverse Reads challenge, as I likely wouldn't pick up his books otherwise (I'm not big on contemporary YA). I have heard a lot about his new release, History is All You Left Me, but MHTN's premise appeals to me more. I always forget about that little scifi bit at the end – I'm definitely curious as to how it plays out.
Not Yet Released: the Library of Fates by Aditi Khorana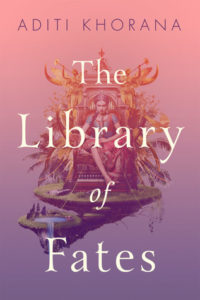 No one is entirely certain what brings the Emperor Sikander to Shalingar. Until now, the idyllic kingdom has been immune to his many violent conquests. To keep the visit friendly, Princess Amrita has offered herself as his bride, sacrificing everything—family, her childhood love, and her freedom—to save her people. But her offer isn't enough.
The unthinkable happens, and Amrita finds herself a fugitive, utterly alone but for an oracle named Thala, who was kept by Sikander as a slave and managed to escape amid the chaos of a palace under siege. With nothing and no one else to turn to, Amrita and Thala are forced to rely on each other. But while Amrita feels responsible for her kingdom and sets out to warn her people, the newly free Thala has no such ties. She encourages Amrita to go on a quest to find the fabled Library of All Things, where it is possible for each of them to reverse their fates. To go back to before Sikander took everything from them.
Goodreads | That gorgeous cover and library reference in the title convinced me to add this to my TBR without even knowing what it is about. Look for it on July 18.
This post focuses all on 2017 releases. I hope to highlight more backlist diverse books in future posts. What books would you select for Diversity Spotlight Thursday? Leave a link in the comment if you've already written about it!