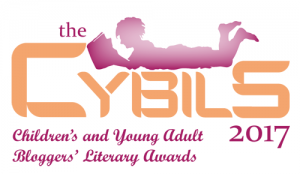 Today nominations open for the Cybils Awards. The Cybils are the Children's and Young Adult Blogger's Literary Awards. The award "aims to recognize the children's and young adult authors and illustrators whose books combine the highest literary merit and popular appeal".
How to Participate
Nominations will remain open from today until 15 October. Anyone can nominate a book (one nomination per category). There are 10 categories, ranging from board books to graphic novels to young adult speuclative fiction. Nominated books must be 1) published in Canada or the USA, 2) between 16 October 2016 and 15 October 2017, and 3) written in English. Books don't need multiple nominations to make the cut. If you nominate it, it will be considered! You can find out more about nominating at the Cybils website.
My Role
Last year, I had the opportunity to participate in the Cybils as a panelist for middle grade fiction. This year, I will be participating as a judge for middle-grade speculative fiction, my favourite genre 🙂 This means I will be part of the second round group that selects a finalist from the shortlist created by the round one panelists. I am honored and excited to work with a group of book bloggers who are experts in the genre. Be sure to check out their blogs.
Have you read any books this year that you think are worth nominating?