I wrote today's post as an assignment for a course on teaching children's literature.
***
The plight of refugees is one of the most notable crises of this decade. Devastating stories fill the news and reach the ears of children.  The reality of these stories can be difficult for children to comprehend. The people and experiences they see on TV may seem far away and unknowable. They may have misconceptions about a new student in class, who is a refugee. Picture books can help ease the difficult task of explaining the refugee crisis in ways that a child might grasp.
10 of the books on this list were published in the past two years. In 2017, The New York Times and Quill & Quire documented this growth in children's publishing on the refugee crisis. Authors are "taking on the subject in fiction to humanize and personalize the ongoing conflict for young readers" (Alter) and "try[ing to] come up with answers" to questions that children have about the crisis (Samson). Alan Grantz, author of a middle grade novel titled Refugee, has stated, "I wanted to make individual refugees visible and turn statistics into names and faces that kids could relate to" (as quoted in Alter). Picture books offer a way into a difficult subject, as artists and publishers find engaging and balanced ways to explain the harsh realities" (Samson). The books on this list function primarily as windows  – a way to look into another person's life.
The concept of children's literature as windows and mirrors was first introduced by Rudine S. Bishop in 1990. She described described books not only as windows, "offering views of worlds that may be real or imagined, familiar or strange" but as mirrors in which "we can see our own lives and experiences as part of the larger human experience" (as quoted in Harris, 153). Stories about the experience of refugees can play a valuable role in children's lives either as mirrors or windows. As windows, these books fulfill the goals stated by authors in the previous paragraph – they give children a way to begin to understand what refugees have experienced. As mirrors, these books show children that they are not alone in what they have been through. Children's literature's function as a window or mirror must be considered especially when looking at books that deal with real world experiences, such as the refugee crisis.
Our task is to give children some understanding of what is going on around them. It's our duty. – publisher Margie Wolfe (as quoted in Samson).
The majority of books appear to have not been written  to function as mirrors, due to the nature of their narratives and positioning of the authors. For example, the description of My Name is Not Refugee  invites the reader "to imagine the decisions he or she would make".  Suzanne Del Rizo, author of My Beautiful Birds, has said she wanted to provide children "a window onto the world" (Samson). One book – does indicate that it was written as a mirror. As its description notes, "Four Feet, Two Sandals was inspired by a refugee girl who asked the authors why there were no books about children like her". The Color of Home could function well as a mirror or a window, being told from perspective a boy from Somalia starting grade one in America. Stories like Brothers in Hope, which reference atrocities experienced beyond the trauma of being forced from one's home, should be used with particular care and consideration of the audience.
Canada saw the arrival of more than 40,000 Syrian refugees between November 2015 and February 2017 (Government of Canada).  Children, who now find themselves a part of Canadian communities and the Canadian education system, comprise a significant portion of that number. And that number only represents a portion of Canada's greater refugee community. Educators can use picture books to help children understand and empathize with people caught up in the refugee crisis, while also showing refugee children that they aren't alone in their experience and that their stories matter.
How This List is Structured
This list consists of 15 books about the contemporary refugee experience, plus two 'bonus' books. For each selection, I've included the authors/illustrators, book cover, and book description (covers and descriptions from Goodreads). A picture book bibliography as well as general bibliography follows at the end of the post. I divided the list into three parts:
General experiences – the country of origin for the refugees in these books is not specified.
Country specific – the country of origin for the refugees in these books plays a significant role in the story. I have noted which country each book features.
Non-fiction – these books can be used to help expand on the fictional stories, connecting them to the real world and answering children's more pragmatic questions.
Bonus – the two books in this section do not explore the experience of refugees, but may be useful in introductory or extension activities.
General Experiences
Playing War by Kathy Beckwith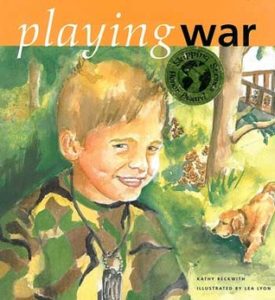 One hot summer day Luke and his friends decide to play their favorite game of war, using sticks for guns and pine cones for bombs and grenades. Sameer, who hasn't lived in their neighborhood for very long, hesitates to join in. When he tells Luke and Jen and Jeff and Danny that he has been in a real war, they don't believe him. "No way! You haven't told us anything about that! A real war? Did they let kids be soldiers? Did you have an M-16?" Then, as Sameer explains what happened to his family, the other children start to see their game in a new light. While Playing War is a book about understanding what war can be like for families, and that it's not a game, it's also a sensitive story about the power of friendship and how children can learn from one another.

The Journey by Francesca Sanna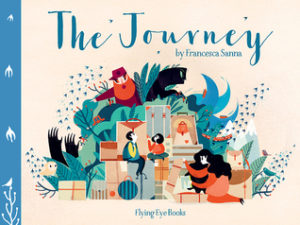 With haunting echoes of the current refugee crisis this beautifully illustrated book explores the unimaginable decisions made as a family leave their home and everything they know to escape the turmoil and tragedy brought by war. This book will stay with you long after the last page is turned. From the author: The Journey is actually a story about many journeys […] I knew I wanted to create a book about these true stories. Almost every day on the news we hear the terms "migrants" and "refugees" but we rarely ever speak to or hear the personal journeys that they have had to take. This book is a collage of all those personal stories and the incredible strength of the people within them.


Out by Angela May George and Owan Swan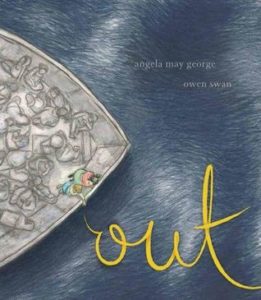 I'm called an asylum seeker; but that's not my name … A little girl flees her homeland, making a long and treacherous boat journey with her mother to seek asylum in Australia. Starting a new life is challenging, but they work hard to create a new home. Told from the little girl's point of view, the story is both heartbreaking and triumphant, allowing timely and sensitive discussion of what drives people to become refugees and the challenges they face.

My Name is Not Refugee by Kate Milner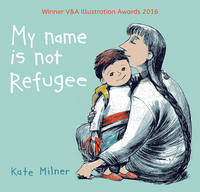 A young boy discusses the journey he is about to make with his mother. They will leave their town, she explains, and it will be sad but also a little bit exciting. They will have to say goodbye to friends and loved ones, and that will be difficult. They will have to walk and walk and walk, and although they will see many new and interesting things, it will be difficult at times too. A powerful and moving exploration that draws the young reader into each stage of the journey, inviting the chance to imagine the decisions he or she would make.


A Story Like the Wind by Gill Lewis and Jo Weaver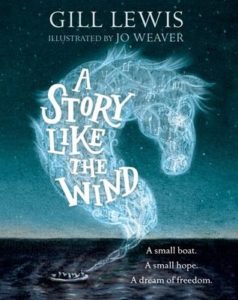 In a small boat spinning out on the sea sits a group of refugees, fleeing their war-stricken homes. They have nothing – except their memories, their stories, and their music. An unforgettable tale of displacement, hope, and the search for freedom.


Teacup by Rebecca Young and Matt Ottley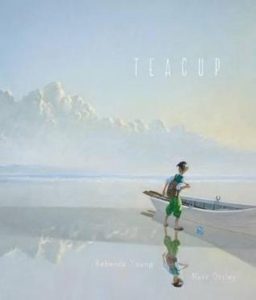 A boy must leave his home and find another. He brings with him a teacup full of earth from the place where he grew up, and sets off to sea. Some days, the journey is peaceful, and the skies are cloudless and bright. Some days, storms threaten to overturn his boat. And some days, the smallest amount of hope grows into something glorious. At last, the boy finds land, but it doesn't feel complete . . . until another traveler joins him, bearing the seed to build a new home.

Country Specific
Joseph's Big Ride by Terry Farish and Ken Daley (Sudan)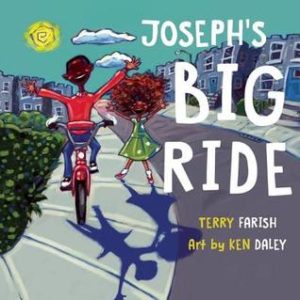 A refugee boy's determination to ride a bicycle leads to an unexpected friendship. Joseph wants only one thing: to ride a bike. In the refugee camp where he lives, Joseph helps one of the older boys fix his bike, but he's too small to ride it. Joseph and his mother travel to America, where everything is strange and new. One day, he spots a red bike that seems just right for him! It belongs to a girl with a whoosh of curly hair. When Whoosh crashes her bike, Joseph offers to fix it. His big chance has finally come, except that Joseph doesn't know how to ride! He crashes a few times, picks himself up, and tries again, until suddenly, with a shout of triumph, he's riding the bike. Inspired by the author's interviews with refugee children from Sudan, this gentle story evokes the experience of a new immigrant. Vibrantly colorful paintings bring a warm and humorous portrait of friendship and diversity to life.


Brothers in Hope by Mary Williams and R. George Christie (Sudan)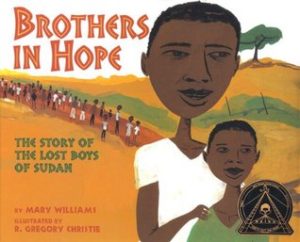 A young boy unites with thousands of other orphaned boys to walk to safety in a refugee camp in another country, after war destroys their villages in southern Sudan. Based on true events.


Four Feet, Two Sandals by Karen Lynn Williams, Khadra Mohammed, and Doug Chayka (Afghanistan and Pakistan)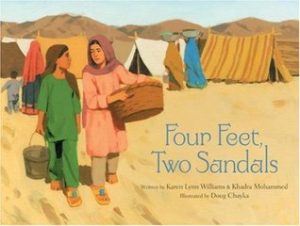 When relief workers bring used clothing to the refugee camp, everyone scrambles to grab whatever they can. Ten-year-old Lina is thrilled when she finds a sandal that fits her foot perfectly, until she sees that another girl has the matching shoe. But soon Lina and Feroza meet and decide that it is better to share the sandals than for each to wear only one. As the girls go about their routines washing clothes in the river, waiting in long lines for water, and watching for their names to appear on the list to go to America the sandals remind them that friendship is what is most important. Four Feet, Two Sandals was inspired by a refugee girl who asked the authors why there were no books about children like her. With warm colors and sensitive brush strokes, this book portrays the strength, courage, and hope of refugees around the world, whose daily existence is marked by uncertainty and fear.


The Color of Home by Mary Hoffman and Karin Littlewood (Somalia)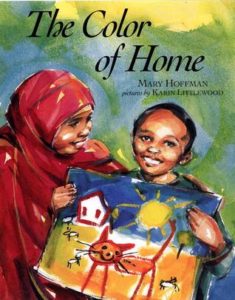 This remarkably moving picture book follows first-grader Hassan through his first few days at school. Hassan has only recently arrived in the United States after he and his family were forced to flee Somalia, and he deeply misses the colorful landscape of his former home in Africa. But with the help of his parents, an understanding teacher, and a school art project, Hassan finds that by painting a picture of his old home and sharing his story, his homesickness and the trauma of leaving a war-torn country are lessened. And he finds that there are many things to like about his new home in America. The colorful, impressionistic illustrations are a perfect complement to the wonderful text by Mary Hoffman, author of the highly acclaimed Amazing Grace. Together art and text make this poignant story accessible and affecting for a young audience.


My Beautiful Birds by Suzanne Del Rizzo (Syria)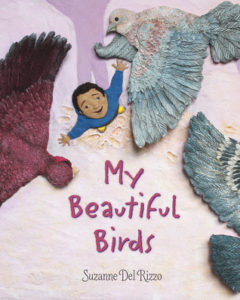 Behind Sami, the Syrian skyline is full of smoke. The boy follows his family and all his neighbours in a long line, as they trudge through the sands and hills to escape the bombs that have destroyed their homes. But all Sami can think of is his pet pigeons–will they escape too? When they reach a refugee camp and are safe at last, everyone settles into the tent city. But though the children start to play and go to school again, Sami can't join in. When he is given paper and paint, all he can do is smear his painting with black. He can't forget his birds and what his family has left behind. One day a canary, a dove, and a rose finch fly into the camp. They flutter around Sami and settle on his outstretched arms. For Sami it is one step in a long healing process at last. A gentle yet moving story of refugees of the Syrian civil war, My Beautiful Birds illuminates the ongoing crisis as it affects its children. It shows the reality of the refugee camps, where people attempt to pick up their lives and carry on. And it reveals the hope of generations of people as they struggle to redefine home. 


Stepping Stones by Margriet Ruurs and Nizar Ali Badr (Syria)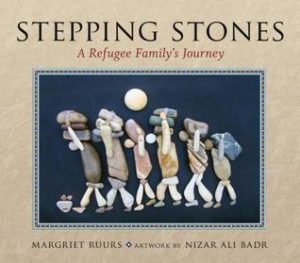 This unique picture book was inspired by the stone artwork of Syrian artist Nizar Ali Badr, discovered by chance by Canadian children's writer Margriet Ruurs. The author was immediately impressed by the strong narrative quality of Mr. Badr's work, and, using many of Mr. Badr's already-created pieces, she set out to create a story about the Syrian refugee crisis. Stepping Stones tells the story of Rama and her family, who are forced to flee their once-peaceful village to escape the ravages of the civil war raging ever closer to their home. With only what they can carry on their backs, Rama and her mother, father, grandfather and brother, Sami, set out to walk to freedom in Europe. Nizar Ali Badr's stunning stone images illustrate the story.


Lost and Found Cat by Doug Kuntz, Amy Shrodes, and Sue Cornelison (Iraq)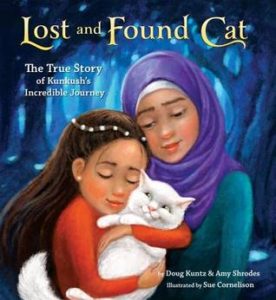 The true story about one cat's journey to be reunited with his war-torn family has been seen by millions of people and is now a heartwarming picture book. When an Iraqi family is forced to flee their home, they can't bear to leave their beloved cat, Kunkush, behind. So they carry him with them from Iraq to Greece, keeping their secret passenger hidden away. But during the crowded boat crossing to Greece, his carrier breaks and the frightened cat runs from the chaos. In one moment, he is gone. After an unsuccessful search, his family has to continue their journey, leaving brokenhearted. A few days later, aid workers in Greece find the lost cat. Knowing how much his family has sacrificed already, they are desperate to reunite them with the cat they love so much. A worldwide community comes together to spread the word on the Internet and in the news media, and after several months the impossible happens—Kunkush's family is found, and they finally get their happy ending in their new home. This remarkable true story is told by the real people involved, with the full cooperation of Kunkush's family.


Non-fiction
Where Will I Live? by Rosemary McCarney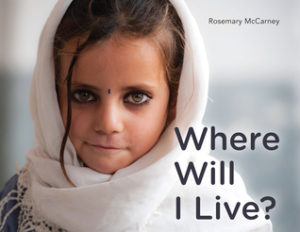 Where do you go if your home is no longer safe? Every child needs a home. They need somewhere safe where they can be happy, eat their meals with their family, play with their toys, and go to sleep at night feeling unafraid. But many children all over the world have had to leave their homes because they are no longer safe. Because of war and conflict, they and their families have become refugees. For them life is hard and full of questions. In spite of everything, they find time to laugh, play, and make friends. And most importantly, they have hope that somewhere, someone will welcome them to a new home. Written by Canada's Ambassador to the United Nations, Where Will I Live? will help children whose lives are not directly affected by this crisis think about the importance of home, and what life is like for a child refugee who does not have a permanent, safe home to shelter them and their family. The beautiful photographs in this book were taken by the UNHCR—the United Nations High Commissioner for Refugees—and include images of children on the move and in refugee camps in countries such as Lebanon, Rwanda, Iraq, Niger, Hungary, Jordan, South Sudan, and Greece.

Refugees and Migrants by Ceri Roberts and Hanane Kai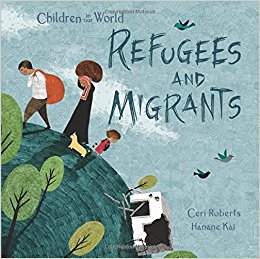 This non-fiction series takes a timely look at today's biggest issues and sensitively explains the crises that dominate the news in an appropriate way for young children. Each book uses relatable comparisons, carefully researched text, and striking illustrations to help kids understand the many difficulties that children just like them face in the world today. Refugees and Migrants discusses the questions "What does it mean to be a refugee—or a migrant? Why would people leave their homes?" It answers kids' questions, offers reassurance, and empowers them with ways they can help those affected. Where issues are not appropriate to describe in words, award-winning illustrator Hanane Kai uses a deft hand to create powerful illustrations that help children visualize the people impacted by poverty, hunger, war, racism, and more. All of the images are sensitively rendered and perfectly suited for younger children. 

Bonus
Children Just Like Me: A New Celebration of Children Around the World by DK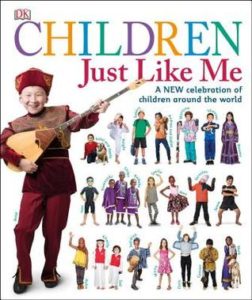 A favorite in classrooms, libraries, and homes, Children Just Like Me is a comprehensive view of international cultures, exploring diverse backgrounds from Argentina to New Zealand to China to Israel. Children will learn about their peers around the world through engaging photographs and understandable text laid out in DK's distinctive style. Highlighting over 30 countries, Children Just Like Me profiles over 40 children and their daily lives. From rural farms to busy cities to riverboats, this celebration of children around the world shows the many ways children are different and the many ways they are the same, no matter where they live.


The Arrival by Shaun Tan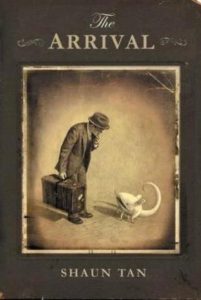 In a heartbreaking parting, a man gives his wife and daughter a last kiss and boards a steamship to cross the ocean. He's embarking on the most painful yet important journey of his life- he's leaving home to build a better future for his family. Shaun Tan evokes universal aspects of an immigrant's experience through a singular work of the imagination. He does so using brilliantly clear and mesmerizing images. Because the main character can't communicate in words, the book forgoes them too. But while the reader experiences the main character's isolation, he also shares his ultimate joy.


Picture Books Bibliography
Beckwith, Kathy. Playing War. Illustrated by Lea Lyon. Tilbury Publishers House, 2005.
del Rizzo, Suzanne. My Beautiful Birds. Pajama Press, 2017.
DK. Children Just Like Me: A New Celebration of Children Around the World. DK Children, 2006.
Farish, Terry. Joseph's Big Ride. Illustrated by Ken Daley. Annnick Press, 2017.
George, Angela May. Out. Illustrated by Owen Shan. Scholastic Australia, 2016.
Hoffman, Mary. The Color of Home. Illustrated by Karin Littlewood. Dial, 2002.
Kuntz, Doug and Shrodes, Amy. Lost and Found Cat: The True Story of Kunkush's Incredible Journey. Illustrated by Sue Cornelison. Crown Books for Young Readers, 2016.
Lewis, Gill. A Story Like the Wind. Illustrated by Jo Weaver. Oxford Children's Books, 2017.
McCarney, Rosemary. Where Will I Live? Second Story Press, 2017.
Milner, Kate. My Name is Not Refugee. The Bucket List, 2017.
Roberts, Ceri. Refugees and Migrants. Illustrated by Hanane Kai. Wayland, 2016.
Ruurs, Magriet. Stepping Stones: A Refugee Family's Journey. Illustrated by Nizar Badr. Orca Book Publishers, 2016.
Saan, Francesca. The Journey. Flying Eye Books, 2016.
Tan, Shaun. The Arrival. Lothian Books, 2007.
Williams, Karen Lynn and Mohammed, Kadra. Four Feet, Two Sandals. Illustrated by Doug Chayka.  Eerdmans Books for Young Readers, 2007.
Williams, Mary. Brothers in Hope: The Story of the Lost Boys of Sudan. Illustrated by R. George Christie. Lee & Low Books, 2013.
Young, Rebecca. Teacup. Illustrated by Matt Ottley. Scholastic Press, 2015.
Additional Bibliography
Is this a subject you've had to explore in the classroom? Have you read any of these books? Can you recommend other children's books about the contemporary refugee experience?