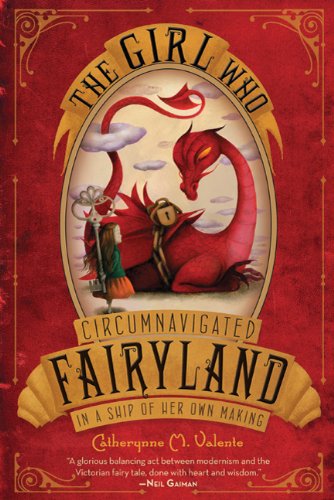 Author: Catherynne M. Valente
Title: The Girl Who Circumnavigated Fairyland In a Ship of Her Own Making
Published: May 2011
Publisher: Feiwel and Friends
Length: 256 pages
Genre: Fantasy, fairy tale
Target age: Preteen (10+)
Why I picked it up: Browsing Amazon, sounded like something I would love
Rating: 4.5 stars
Challenges:
100+
Buy:
Chapters
|
IndieBound
| Check your local bookstore!
It may be that I have a weakness for these kind of stories. Young brave girl is whisked off to have an adventure in a fantastical land, she encounters all sorts of wondrous places, creatures and people while accomplishing great deeds but more often than not eventually has to return home. I also have a weakness for books with long titles and chapter subheadings such as 'In Which We Turn Our Attention to a Long-Forgotten and Much Suffering Jewelled Key.' The Girl Who Circumnavigated Fairlyand In a Ship of Her Own Making contains all these elements, and so I may be somewhat biased in my judgment of this novel, but I believe it is a lovely story and a fantastic read. When I read the first page, I knew this was going to be a story to savour.
While this book certainly has all the elements I previously described, Catherynne M. Valente puts her own distinct twist on her elegantly crafted tale. As do most authors when they tell their version of this sort of story, but I am absolutely in love with Valente's style. Her prose dances around the page and comes to life in magical ways. The main way that the author distinguishes her tale from other similar ones, I believe, is through often breaking the fourth wall, but not so often as in, for example,
The Princess Bride
, and in an unobtrusive manner that flows with and is appropriate for the story. An example:
The Key entered the Autumn Provinces far too late but followed the trail of September's memory into the Worsted wood. There, it met with the Death of Keys, which is a thing I may not describe to you. It is true that novelists are shameless and obey no decent law, and they are not to be trusted on any account, but some Mysteries even they must honour.
Valente also breaks the fourth wall, in a way, through her role as narrator and through the character of September (oh, I love that name! I used to use it as an online name years ago) by voicing similarities and differences between September's adventure and other little girls' adventures. I didn't mark any examples while I was reading, but again, she does this in tasteful and creative ways that enhance the story.
The characters and scenarios that September encounters were more creative than anything I can ever imagine. A capital city that is woven entirely out of fabric? An island full of furniture that's come to life once it reaches 100? A wyvern who believes his father was a library and who is called A-Through-L because those are the encyclopedia volumes he read? Death as…well, I won't spoil it. But all these ideas, I think, are brilliant. I love these little things, these little sparks of ideas that can be woven together to make a fun and unique story.
The only thing that felt a little off to me was September's age, which is 12. At times it felt too old. Perhaps that's because I've been conditioned to think of girls in stories such as these as being closer to six years old (Wendy and Alice being two of my favourite female protagonists) than to their teen years, but there were times when I thought 'A 12-year-old would not behave like that'. And then, there were parts when I thought 'She's only 12 and she's saying things like that?'. Those thoughts only distracted me if I dwelled on the age, otherwise they were not bothersome. So this is a minor criticism and more so on myself than on the writing. Just something to note, though.
As for the plot/story, I quite enjoyed it. The story moved along at an acceptable rate, with interludes to follow the progress of A Key. I felt that the actual 'circumnavigating Fairyland' part, maybe 3/4s of the way through the novel, was a bit dry and difficult to get through. But, I'm sure September felt the same way. 😛 Unexpectedly, the story quickly picked up after an appearance from the Green Wind (hooray! Did I mention I have a weakness for those mysterious, funny, odd, kind, strange male characters that always appear in these stories? Of course I do.) and moved along to a conclusion I had not seen coming and was pleasantly surprised by. The last 40 pages of the novel were fairly impressive with regards to the action, what was happening with the plot. I felt myself being drawn in to the story and very eager to reach the outcome, a feeling I don't often experience nowadays. An outcome, mind you, that I didn't even guess at beforehand [unlike I seem to be doing so often with Doctor Who lately =.=].
To finish this up, an excerpt of a bit I particularly liked, for some reason…:
"Good girl," chuffed the Green Wind. "When little ones say they want to go home, they almost never mean it. They meant they are tired of this particular game and would like to start another."
"Yes, please, I would like to start another."
"That's not a magic I have, love. You're in this story. You must get out on your own if you are to get out at all."
My concluding thoughts: Read this book if you like fairy tales. If you don't, best stay far away, but if you do…I am sure you will find this a delightful and enjoyable novel. It has taken me a long time to find a 'children's book' that I can fall in love with, but Valente has managed to create one for me 🙂