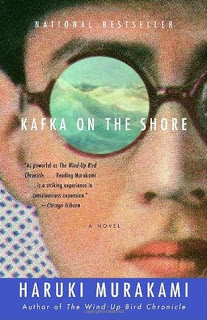 Author
:
Haruki Murakami
Title
:
Kafka on the Shore
Format/Source
: Paperback/my copy
Published
: 2005
Publisher
: Vintage International
Length
: 467 pages
Genre
: Magical realism
Why
I Read
: Love this book, wanted to reread it while I'm living in Shikoku (where most of the story takes place)
Read If You:
Love a strange tale
Rating
:
★★★★★
Links
:
GoodReads
|
IndieBound
|
Chapters
|
Amazon
Fifth book for the Reread Challenge. Read my original review.
WHEN I First Read – January 2011
WHAT I Remember –Being absolutely captivated and awed by this story that seemed written just for me. Really identifying with a character for the first time in a long time, perhaps ever. Boy finds comfort in a quiet library and a distant cottage? Take me with you. Strange happenings alongside deep introspection? You're in my imagination. My first Murakami novel and still my favourite one.
WHY I Wanted to Re-Read – I wanted to reread my favourite Murakami novel while living in Japan. When I first read this book, the place names meant nothing to me. When I started rereading, however, I realized that most of the novel actually takes place near where I live! I visited a cafe in Tokyo dedicated to Murakami's works. I had a lovely time there and chatted with the owner, Kunio Nakamura, who gave me his guidebook to real-world places from Murakami's novels. Next week, I will visit Takamatsu. Even though the guidebook is only in Japanese, I'm going to do my best to visit the locations that Nakamura matched the story.
This place is too calm, too natural – too complete. I don't deserve it. At least not yet. (151)
HOW I Felt After Re-Reading – I felt very content, like I was comfortably full after a delicious meal. I was surprised by how much of the storyline (especially the conclusion) I didn't remember. Some parts shocked me (note on page 407 – "WELL I FORGOT THAT HAPPENS!"). I forgot how much of a role Hoshino played (when he first appeared, I thought "I think he does something important?" but I didn't remember him being around so much). I forgot how much I liked Oshima's advice (he says many of the parts I highlighted). I seem to have only remembered the feeling I got from the story, rather than the actual story. This was a pleasant surprise, though, because it was almost like reading the story for the first time again! Only this time I knew I was in for a treat.
"…But listening to the D major, I can feel the limits of what humans are capable of – that a certain type of perfection can only be realized through a limitless accumulation of the imperfect. And personally, I find that encouraging. Do you know what I'm getting at?" (112)
WOULD I Re-Read Again – Yes! Perhaps in a couple years when I've hopefully forgotten most of the story again and I can have another fresh read.
"The people who build high, strong fences are the ones who survive the best. You deny that reality only at the risk of being driven into the wilderness yourself." (316)
Once again, I'm extremely pleased that I was still able to find comfort and meaning in the pages of Kafka on the Shore. I noted a number of lines and passages that stood out to me. I don't think I did that on my first read because I was so absorbed in the encompassing narrative. Are there any books you discovered as a new adult that you still love today?