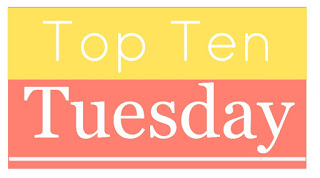 The prompt for this week's Top Ten Tuesday is "books I'm looking forward to in the first half of 2017." I don't go searching for books that haven't yet been released. My TBR is long enough as it! A book usually makes it onto my list if it's received positive buzz from a blogger whose tastes match mine, or if it's an upcoming release from a favourite author. Turns out I have seven books from 2017 on my TBR. Coincidentally, they'll all be released in the first half of the year. 🙂
Minds of Winter by Ed O'Loughlin (Feb. 4) – Historical fiction surrounding the emergence today of artifacts from Sir John Franklin's 1845 voyage (the one where everyone died and the ship was lost until a couple years ago).
A Conjuring of Light by V.E. Schwab (Feb. 21) – Conclusion to the Shades of Magic trilogy. I can't believe we're already at the end!! Feels just like yesterday that I was enchanted by A Darker Shade of Magic.
The Hate U Give by Angie Thomas (Feb. 28) – If you read about books online, you've probably heard of this one. YA own voices novel inspired by Black Lives Matter.
Amina's Voice by Hena Khan (Mar 14) – Middle grade own voices novel about a Pakistani-American Muslim.
Triangle by Mac Barnett and Jon Klassen (Mar. 28) – Picture book by one of my favourite author/illustrator teams.
Borne by Jeff VanderMeer (May 2) – Scifi. Sounds like an excellent follow up to the Southern Reach trilogy.
The Gentleman's Guide to Vice and Virtue by Mackenzi Lee  (Jun. 20) – I love these kind of covers… Best to just copy the description for this one: "

An unforgettable tale of two friends on their Grand Tour of 18th-century Europe who stumble upon a magical artifact that leads them from Paris to Venice in a dangerous manhunt, fighting pirates, highwaymen, and their feelings for each other along the way.

" I'm not really a romance person but this sounds like fun.
Are any of these books on your TBR? What 2017 releases are you looking forward to?