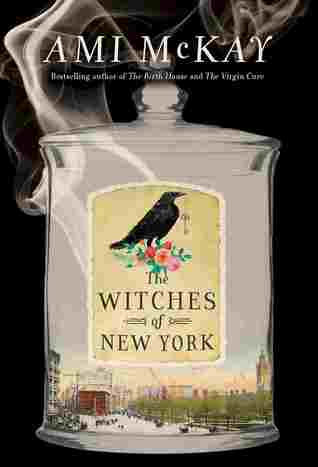 Author:
Ami McKay
Title
:
The Witches of New York
Format/Source
: ebook/Netgalley (hardcover since purchased)
Published
: 25 October 2016
Publisher
: Knopf
Length
: 504 pages
Genre
: Magical realism/historical fiction
Why I Read
: Browsing NetGalley, cover caught my eye
Rating
:
★★★★½
GoodReads
|
Indigo
|
The Book Depository
I received a copy from the publisher via Netgalley in exchange for my honest review.
Is there a better feeling than when you accurately judge a book by its cover? I requested The Witches of New York on NetGalley solely because of the cover.  I have since purchased a copy. This is one of those editions that reminds me how beautiful books can be. If the image above intrigues you, then you probably don't need to read the rest of my review – go grab a copy now and enjoy. Ami McKay has penned an excellent tale about three witches living in 1880 New York City. I am already crossing my fingers for a follow-up tale. Here are six reasons why this book is one of my favourites of 2016.
6 Reasons Why You Should Read The Witches of New York
The witches, of course (Eleanor St. Clair, Adelaide Thom, and Beatrice Dunn) – I loved the characterization of these three ladies. They each felt deeply real to me, with their flaws and mannerisms and talents. I felt as though they were real people the author might have known. I rarely connect so well with one character, let alone three. I also appreciated how, despite their differences and disagreements, they always cared for each. It would be easy to reduce them to stereotypes in an attempt to briefly describe them, but Eleanor, Adelaide, and Beatrice are much more than that. (Plus, they all have charming names.)
Feminine magic – I have recently discovered that I enjoy stories of feminine magic, where women have their own special power and work fight the patriarchy. That is not a sentence I would have written even just two years ago. I am a novice feminist when it comes to literature (see note after the list for more about feminism in this tale). But I do know that I loved the magic in this book. McKay differentiates the witch's talents. Their magic felt real to me; I believe in it while reading the story (and I think that ties in to my point above about the realness of the characters).
Historical context – McKay strikes the perfect blend of historical fiction and magical realism for me in this tale. The Witches of New York sits neatly in history, as McKay incorporates things such as the installation of Cleopatra's Needle, the Victorian interest in spiritualism and science, and of course women's rights. The witch's magic fit snugly in the setting McKay crafts.
Supporting characters –  I haven't mentioned Dr. Brody, who wants to work with Beatrice to test her abilities and who may have a crush on Adelaide and who is an actually lovely man. The Reverend functioned well as the villain of the tale. (I get squirmy and angry when I think about the twisted logic people like him use to justify their actions.) He may be a one-dimensional character, but this isn't his story. He symbolizes what's working against women in society.  There are additional characters who we occasionally read passages about. I like stories like this where threads about seemingly unconnected people come crashing together.
Additional texts  – Included throughout the book are bits of news, snippets of spells, excerpts from writings about witches, and other ephemera. These are nicely integrated into the text (both the physical book and the narrative) and give the story a little more flavour.
Hints of more to come?? – While the story works fine as a stand alone, there were a few things not entirely explained that I would love to read more about. Not to worry, the plot is largely tied up in this volume, but I'm keeping my fingers crossed for a sequel! Adelaide features as her younger self Moth in McKay's The Virgin Cure, so there's always that to check out in the mean time.
I haven't really discussed the feminist aspects of this story. Honestly, I hadn't thought about how this book can be considered feminist literature until I attended an 'Evening With' event with Ami McKay. The area was packed with women. The discussion focused on the persecution of female witches by a patriarchal society,  and how relevant this book is today (especially in context of the US election, which happened two days before the event). I appreciated the discussion as it expanded my understanding of the story. I want to learn more about the role of witches and their treatment throughout history. Can you recommend any great books (fiction or non-fiction) about historical witches?
The Bottom Line:
Ami McKay is spot on when she describes her book as "historical fiction with a twist—part Victorian fairy tale, part penny dreadful, part feminist manifesto". Eleanor, Adelaide, and Beatrice make The Witches of New York a 2016 must read.
Further Reading: