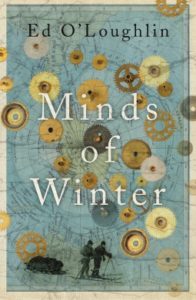 Author:
 Ed O'Loughlin
Title
:
 Minds of Winter
Format/Source
: ebook/Netgalley
Published
: 7 March 2017
Publisher
: Quercus
Length
: 496 pages
Genre
: Historical fiction
Why I Read
: Browsing NetGalley, cover + topic caught my attention
Rating
:
★★★½
GoodReads
|
Indigo
|
Wordery
I received a copy from the publisher via Netgalley in exchange for my honest review.
Fay Morgan and Nelson Nilsson have each arrived in Inuvik, Canada, about 120 miles north of the Arctic Circle. Both are in search of answers about a family member: Nelson for his estranged older brother, and Fay for her vanished grandfather. Driving Fay into town from the airport on a freezing January night, Nelson reveals a folder left behind by his brother. An image catches Fay's eye: a clock she has seen before. Soon Fay and Nelson realize that their relatives have an extraordinary and historic connection — a secret share in one of the greatest unsolved mysteries of polar expedition. This is the riddle of the "Arnold 294" chronometer, which reappeared in Britain more than a hundred years after it was lost in the Arctic with the ships and men of Sir John Franklin's Northwest Passage expedition. The secret history of this elusive timepiece, Fay and Nelson will discover, ties them and their families to a journey that echoes across two centuries.
At 500 pages long, Minds of Winter dwarfs the kind of books I usually prefer to read. Had I known that, I might not have requested it. Still, I wanted to give it a go because of the focus on Arctic exploration. I hadn't read any fiction about the Franklin expedition. Knowledge of the disastrous undertaking stuck in my mind from a video I watched a few times throughout grade school and from the recent discoveries of Franklin's ships. Minds of Winter is far more the story of lost explorers than it is of Fay and Nelson. Their story serves as a framing device. Nelson and Fay piece together documents gathered by Nelson's missing brother, connecting mysteries and the lives of various historical figures.
Characters who actually existed include Francis Crozier, Roald Amundsen, Jack London, and "the Mad Trapper of Rat River", whose true identity remains unknown today. The years in which each chapter takes place range from 1841 to 1957 (plus 2009 for Nelson and Fay's storyline). Many of the characters I had a passing familiarity with. One character I didn't know turned out to be a strong thread throughout. The beginning of the book had me constantly looking things up on Wikipedia to discern fact from fiction (more so I was just confirming things that I suspected were 'real'). Apparently there are some notable deviations from known fact, but none that I could recognize. That doesn't really matter anyway. This is historical fiction; let's have some fun. Either way, the story is based in quite a lot of fact. O'Loughlin did his research, as his acknowledgements confirm.
Fun fact: Of all the fact-based storytelling in this novel, I assumed that the chronometer had to be a contrivance, as it just fit so neatly into the plot. I was shocked (and pretty amused) to learn that the chronometer is real and that the 2009 Guardian article about it that appears in the book is also real. You can read that article here.  Kudos to O'Loughlin for tying so many elements of history together.
The story finally comes together in the epilogue. That's pushing it for me (I would have liked things to start making sense earlier). The stories didn't come together in the way I anticipated. However, the epilogue pleased me so much that I forgave the later half of the book, which I thought dragged on a bit. When I rated the book on Goodreads, I was sure I would calm down after a couple hours and go back to whining about how long the book was. That's why I gave it three stars instead of a euphoric four. Yet that good feeling remains a week later, and so thankfully I can give three and half stars on my own blog. Some readers won't like the ending, if not because it doesn't hand out easy answers, then perhaps because it's too blunt in its message.
The Bottom Line:
Minds of Winter may not satisfy those who want to uncover secrets about Franklin's voyage, but it will likely satisfy those who love tales of Arctic exploration or hefty historical novels.
Further Reading: