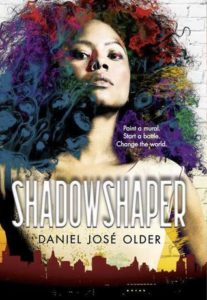 Author: Daniel José Older
Title: Shadowshaper (Book 1)
Format/Source: Hardcover/Library
Published: June 2015
Publisher: Arthur A. Levine
Length: 297 pages
Genre: YA urban fantasy
Why I Read: Heard DJO reading
Rating: ★★★★
GoodReads | Indigo | Indiebound | Book Depository
I don't read urban fantasy. That was my main reason for not checking out Shadowshaper. I could see why people would like it, but despite the awesome cover and the positive reviews, the premise didn't catch my interested. Then I attended NerdCon. Daniel José Older read from Shadowshaper. His vivid reading convinced me to finally check out his book.
Sierra Santiago, the Afro-Latinx (Puerto Rican) teen discovering her shadowshaping abilities, shines as the protagonist. She's my favourite part of the book. Here are some reasons why: On the first page, she's painting a mural of a dragon on the side of an abandoned building. I love that she doesn't hesitate to call out Robbie (her crush and guide to the world of shadowshaping) when he's not making sense. Robbie's not the only one Sierra calls out. I was cheering for her in the scene where she shuts down her aunt. Sierra has to deal with too real situations of racism and sexism. She takes ownership of her power. She's confident in her own skin. She steps up for her friends even when she's afraid. I can see Sierra inspiring a lot of young women.
"You ever look at those old family albums Mom keeps around?" Sierra went on. "We ain't white. And you shaming everyone and looking down your nose because you can't even look in the mirror isn't gonna change that. And neither is me marrying someone paler than me. And I'm glad! I love my hair. I love my skin. I didn't ask your opinion about my life and I don't wanna hear it. Not now, not ever." (151-152)
If Sierra's my favourite part of Shadowshaper, Older's world building comes in a close second. He fuses his magical world of shadowshaping with the real world of Brooklyn in such a way that his story reads true. Shadowshaping (the ability to bring one's art to life by channeling spirits through it) is a pretty cool concept. Older has created a fast-paced and action-filled story by providing just the right amount of information on shadowshaping – no info dumping or leaving out key details here. He leaves room to expand on the concept and community in future books.
Shadowshaping comes to life in the setting Older creates. This story could not be set anywhere other than Brooklyn, where Older lives and spent years working as a paramedic. The setting, in turn, is brought to life by its characters. Sierra isn't the only cool kid in this story. Her friends, integral to the story, are just as well-defined as Sierra. I could imagine any one of them starring in their own story (I was excited to learn there's a novella from the perspectives of girlfriends Izzy and Tee). The conversations between all characters (not just Sierra and her teen friends) flow so realistically, I felt like I was eavesdropping.
There are a lot of great things going on in this novel and I feel like I've only superficially scratched the surface. Whether you're looking for a creative contemporary fantasy or for a young adult novel that doesn't back down from topics such as racial identity and white supremacy, Shadowshaper is an excellent read.
The Bottom Line:
Shadowshaper finally has me hooked on an urban fantasy series! A fast-paced story built on a cast of a diverse characters, I'm looking forward to what Sierra gets up to in the forthcoming sequel Shadowshouse. 
Further Reading: