Hosted by Lory @ Emerald City Book Review
Back in March, Lory announced she would once again be inviting readers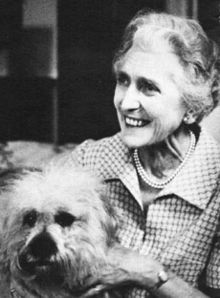 to celebrate the birthday of Elizabeth Goudge by reading one of her works and sharing their thoughts. I hadn't heard of Goudge, so I ventured over to Wikipedia and learnt that one of the works she is most known for is called The Little White Horse, a children's novel I would classify as a mix between historical and fantasy. Although this book won't appeal to everyone due to its particular tone and simple plot, I found it a comforting read.
When orphaned young Maria Merryweather arrives at Moonacre Manor, she feels as if she's entered Paradise. Her new guardian, her uncle Sir Benjamin, is kind and funny; the Manor itself feels like home right away; and every person and animal she meets is like an old friend. But there is something incredibly sad beneath all of this beauty and comfort—a tragedy that happened years ago, shadowing Moonacre Manor and the town around it—and Maria is determined to learn about it, change it, and give her own life story a happy ending. But what can one solitary girl do?
This book kept me grounded this week. I had just begun to take my apartment search to the next level by scheduling a few viewings. I had always known this would be the most stressful part of the 'getting into grad school' process. Starting the search made that really sink. The point being, I read The Little White Horse when my mind was all abuzz with concerns of practical adult life. Although I found it difficult at times to focus, this lovely little tale kept me grounded by being the just what I needed to put my head in the clouds. 😉
Despite the title, the 'little white horse' plays only a small role in the story. The conflict stems from historical family feuds, with Maria stepping into the role of the one who can finally set everything right. That story is simple enough and resolved relatively easily. What I enjoyed most about this book are the descriptions of the Kindgom of Moonacre. Maria finds herself in a wonderful world, tucked away in its own corner of England. I think many lovers of fantasy would be happy to trade places with Maria, to experience the decorated manor, homecooked meals, and beautiful woodlands would appreciate the scenes depicted in this book. Illustrations by C. Walter Hodges compliment the mood of the story. I particularly liked the map of Moonacre Manor.
Some aspects of the story feel dated. 10 year old me, accustomed to the middle grade fantasies of the nineties, probably wouldn't have enjoyed this book.  There is some emphasis on God, and womanly duties (though Maria certainly isn't constrained by them – I think she exemplifies how a character can be feminine and still a hero). The talk of marriage between Maria and Robin felt a bit out of place. But these things all gave the book a unique sort of charm, different from the sorts of contemporary fantasies I read today.
I'm glad I picked up this book. This is one of those little gems I wouldn't have stumbled upon without book blogging. Goudge has a number of other novels, including more children's. I wonder how her other works compare to this one… Have you read anything by Elizabeth Goudge? Check out Lory's blog tomorrow (Friday) for a wrap-up of Goudge Reading Day posts.