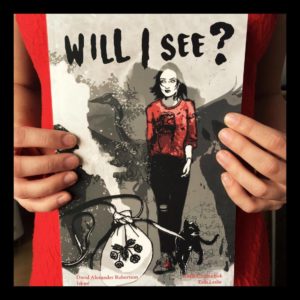 Author: David A. Alexander Robertson
Illustrator: GMB Chomichuk
Title: Will I See?
Format/Source: Paperback/Purchased
Published: March 2017
Publisher: Highwater Press
Genre: Graphic novel
Rating: ★★★★
GoodReads | Indigo | IndieBound | Wordery
May, a young teenage girl, traverses the city streets, finding keepsakes in different places along her journey. When May and her kookum make these keepsakes into a necklace, it opens a world of danger and fantasy. While May fights against a terrible reality, she learns that there is strength in the spirit of those that have passed. But will that strength be able to save her?
How many graphic novels have been written about missing and murdered Indigenous woman (MMIW)? I am aware of two, both written by local Cree author David A. Robertson. Highwater Press published Betty: The Helen Betty Osborne Story in 2015. Helen was 19 years old when she was violently abducted and murdered in the 1970s. Robertson has commented, "Her story is one of the first times that, as a country and as a province of Manitoba, we became aware of things that were happening with our Indigenous women" (HuffPost). Now Robertson has collaborated with one of my favourite local comic illustrators, GMB Chomichuk, to create a graphic novel based on a story by IsKwé (a singer with Cree, Dené and Irish roots).
I attended the book's Winnipeg launch last month, where I learnt a lot about the book's collaborative creation. IsKwé contacted Robertson because she was interested in an illustrated video for one of her songs, and the collaboration eventually grew to a graphic novel. Two songs by IsKwé inspired Will I See?. She wrote the songs in response to the 2015 murder of Tina Fontaine, a young Indigenous girl. I had the privilege of hearing IsKwé perform "Nobody Knows" at the launch. You know when a friend goes on and on about how some song is so great, they loved it, it's the best, and you say "Sure, I'm sure it's nice", but you think to yourself it's probably just the same as any other good song? That's how I felt listening to Robertson and Chomichuk discuss "Nobody Knows". But then I heard IsKwé perform it and whoa. I was blown away. The power and emotion that came out of her was incredible. I don't think I'd ever heard another song like it.
Chomichuk's gritty black and white images suit the story's mood. He is known for more fantastical illustrations, often featuring monsters you're glad don't exist in real life. There are still monsters to illustrate in Will I See?, ones that are more terrifying because they do exist. Chomichuk touched on this in discussion at the launch. How do you illustrate real life monsters? Those monsters, the men, are never depicted too clearly. Red is used sparingly to great impact throughout the gray scale pages. Will I See's images pack a punch and though they can be disturbing, I think/hope most readers will not find them too graphic.
I don't have much to say about the story itself that the description above doesn't cover. This is a short story, and I don't want to spoil it with too many words. The story is naturally dark because of its subject matter. The narration style and panel layouts meant it took me a few reads to feel like I really understood what the story was about. It doesn't offer false hope (the tragedy of MMIW will not be resolved over night), but there is positivity in the relationship between May and her kookum (grandmother).  Notes in the back provide details on spirit animals, the seven teachings, and medicine bags. For readers who may just be beginning to learn about MMIW, a more detailed afterword may have been helpful.
The Bottom Line:
A graphic novel about missing and murdered Indigenous women is not going to be your easiest read. But Will I See? offers a vivid story and a strong way to open up discussion of a topic that should not be ignored.
Further Reading: