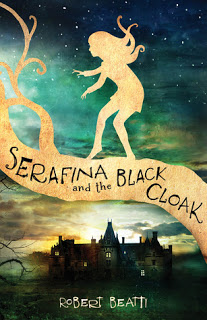 Author: Robert Beatty
Title: Serafina and the Black Cloak
Format/Source: eBook/Netgalley
Published: 14 July 2015
Publisher: Disney-Hyperion
Length: 304 pages
Genre: Middle grade historical fantasy
Why I Read: Browsing NetGalley, caught my attention
Read If You: Like stories set on sprawling historical estates, maybe?
Rating: ★★½
Links: GoodReads | IndieBound | Chapters | Amazon
I received a complimentary copy from the publisher through Netgalley in exchange for my honest review.
"Never go into the deep parts of the forest, for there are many dangers there and they will ensnare your soul." Serafina has never had a reason to disobey her pa and venture beyond the grounds of Biltmore Estate. There's plenty to explore in the shadowed corridors of her vast home, but she must take care to never be seen. None of the rich folk upstairs know that Serafina exists; she and her pa, the estate's maintenance man, have secretly lived in the basement for as long as Serafina can remember. But when children at the estate start disappearing, only Serafina knows who the culprit is: a terrifying man in a black cloak who stalks Biltmore's corridors at night. Following her own harrowing escape, Serafina risks everything by joining forces with Braeden Vanderbilt, the young nephew of Biltmore's owners. Braeden and Serafina must uncover the Man in the Black Cloak's true identity before all of the children vanish one by one. Serafina's hunt leads her into the very forest that she has been taught to fear. There she discovers a forgotten legacy of magic that is bound to her own identity. In order to save the children of Biltmore, Serafina must seek the answers that will unlock the puzzle of her past.
Rarely do I read a book, compare my thoughts on it to others, and then ask myself, "Did I read the same book as everyone else?" Usually when I dislike a book, I can pinpoint the reason to personal taste, not because I think it's actually terrible and no one would like it. Reading other reviews of Serafina and the Black Cloak, I found myself thinking, "Um, I didn't see those great characteristics at all…?" There's a big gap between how I felt about this book and the positive reviews on GoodReads. I'm not sure how to explain that, but at least I can try to explain why I feel so meh about this one. (Recently I notice I compare my thoughts to others quite a lot…not sure if this helps or hinders my review style; that's a subject for another time.)
I initially rated this three stars upon completion. However, the more I thought about it, the more I realize there isn't any reason to give this three stars. It's definitely a two star read on the GoodReads scale – 'It was okay' -, though two stars on the Reno scale sounds a bit harsh. It's not that I didn't have anything better to read. I didn't mind following this one through, I guess because it's so easy to breeze through a middle grade read. That's another thing. I hate to be hard on middle grade. I can't help but thinking I'm not the intended audience, I'm judging it by unrealistic standards, it's gotta be alright if it'll get kids to read, etc. But this is my blog; I'm writing to document my own thoughts on what I read. I touched on those struggles when I reviewed The Night Gardener. Serafina falls similarly flat for me. So much promise in the premise! But the narrative doesn't live up to that the promise. I think I'm always trying to recapture the magic of A Series of Unfortunate Events, Inkheart, Artemis Fowl or Coraline – tales that I loved as a child and still love now. Is it just because of nostalgia or were those books really much better than the ones I'm finding now? (Another question for another day!)
The plot develops weakly and feels at times loosey goosey and dull. There's little world building or back story, and this is important to me in stories with fantasy elements. (This especially bothers me when it comes to antagonists. I love a little more complexity, or at least explanation, for them. Count Olaf always comes to mine… granted, he did have 13 books to develop across.) The reader learns a lot through telling (as opposed to happening rather than showing), especially at the beginning and whenever new ideas are introduced. They're just dropped in, with no strong incorporation into the tale (the 'story' of Serafina's mother is the best example of this.) It's a bit like deus-ex-machina, when something you're not really expecting just pops up and becomes part of the story, no questions asked. This differs, though, from just being surprised by something. Not sure I can explain this…
That was the major aspect of the book I took issue with – lack of cohesion and developed back story – but there were other small components that didn't work so well. A lot of is made of her unusual appearance, but it doesn't affect her budding relationships. The conclusion felt odd. Too sweet, but also not sweet enough. I expected more from Mrs. Vanderbilt just "Ah, that's great, I'll give you a bed, then". There's a hint of an argument between Serafina and Braedon, which could have created a meaningful conflict beyond the problem of the cloaked man, but it peters out quickly with no consequence. There's a relatively graphic death that I wasn't expecting.
Some positives about the story are the setting and Serafina herself. I generally like the protagonists of these middle grade novels, even if I find their stories contrived or their worlds undeveloped. Her origins and upbringing make for a spunky character. Her voice defines the narrative. The Biltmore Estate is a great setting for a story like this. I wish it played a more prominent role, but a lot of time is spent in the forest surrounding the estate. I liked the description of the cemetery, though again – no explanation or real incorporation into the story.
The Bottom Line: I wanted to enjoy this story, and I wonder what a 10 year old would make of it. It wasn't bad, certainly not 'bad enough' for me to stop reading, but after reaching the end, I realize there wasn't anything that good about it. The story contains kernels of promise, though, and I'll be watching to see how Beatty's next attempt turns out.